Have you ever wondered how many doors there are on a cruise ship?
It's one of those questions that occasionally goes viral on social or gets asked in a quiz: are there more doors in the world, wheels or windows?  That type of thing.
Well, I've heard the question asked more than a couple of times now, so I thought I'd take a proper look and dive into deck plans to get the answer and count all the doors!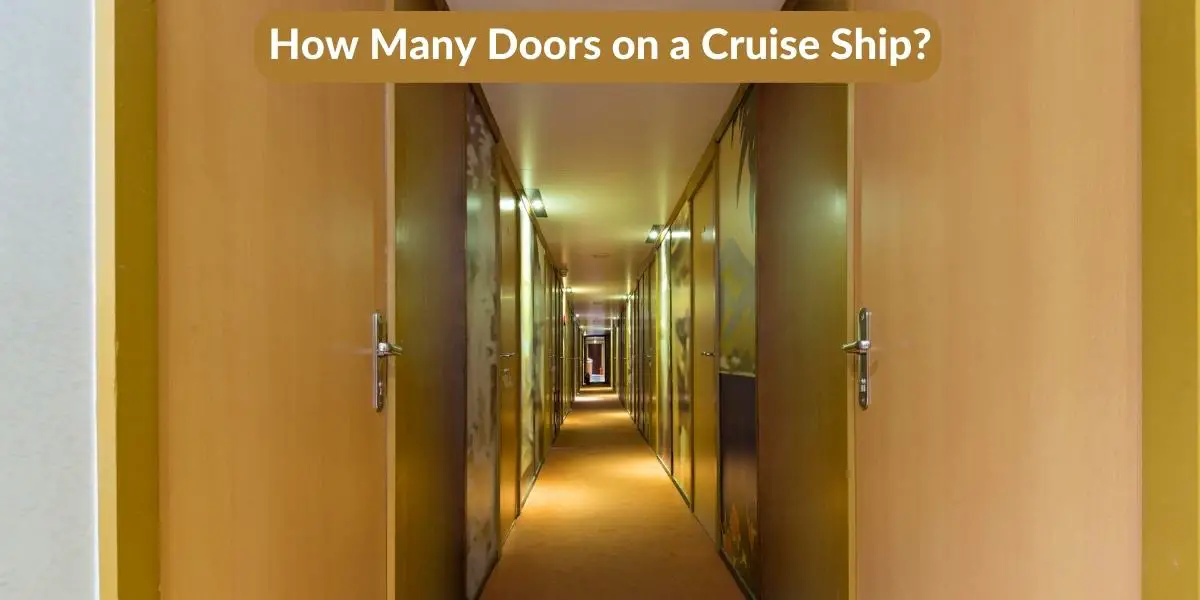 Oh, and if you think I need to include any doors, please let me know.
How Many Doors are on the Average Cruise Ship?
After going through the deck I estimate 5218 doors on an average cruise ship.
Read on to find out how I came to this conclusion.
In part, how many doors are on a cruise ship depends on the size of the cruise ship. The larger the cruise ships, the more rooms and hence, more doors they have!
So to find the answer, I first had to choose a cruise ship.
Taking an average size cruise ship at approximately 1000ft long (around 300m) and 100,000 gross tonnes and carrying around 3000 passengers.
The ideal average cruise ship that I opted for was Carnival Splendor.
Carnival Splendor
Year: 2008
Length: 950 ftn (290 m) 
Gross tonnage: 113,300
Capacity: 3,012 passengers
Crew: 1,150
Bearing in mind some of the largest Royal Caribbean cruise ships can be double the size of this, to work out the number of doors, you'd have to double the figures or adjust accordingly to whatever the size difference each.
But more on that later.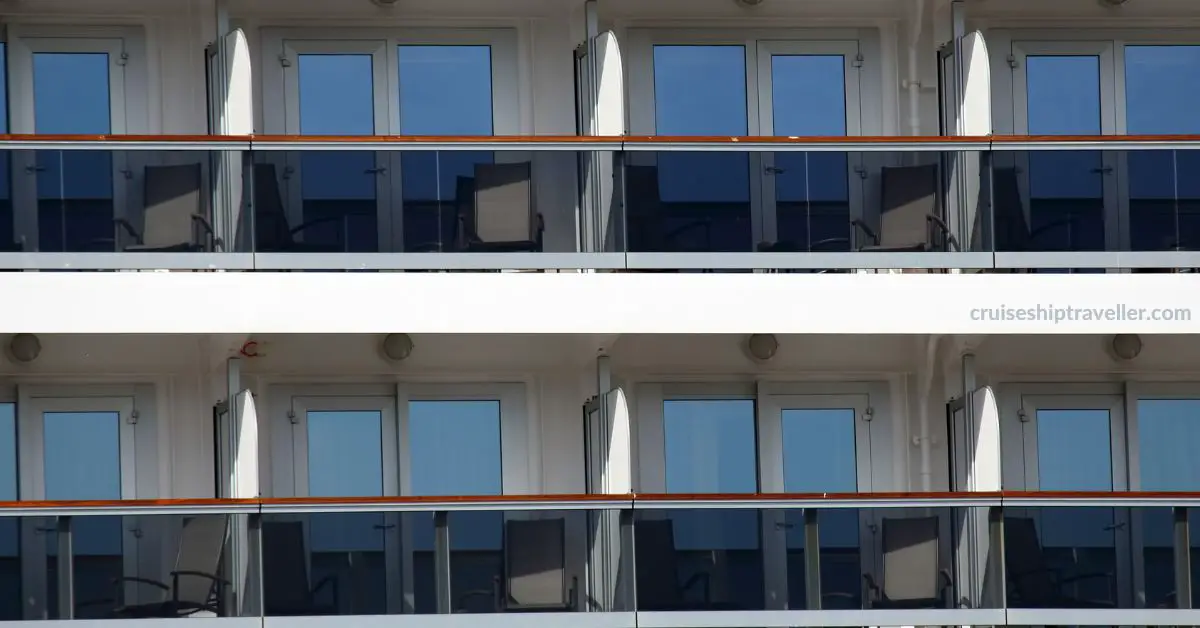 | Area of Ship | Whats Included | Total No. of Doors |
| --- | --- | --- |
| Cabin Doors | Entrance, restroom, verandah & internal doors | 3799 |
| Crew Cabin Doors | Estimate 383 crew cabin, 2 doors each | 766 |
| Captains Quarters Doors | Slightly more than a suite | 6 |
| Elevators | Asssume 1 door per elevator | 14 |
| Bridge & Offices | Bridge and offices | 8 |
| Non Cabin Doors | Casino, restaurants, spas, theatre, restrooms etc | 515 |
| Below Deck Doors | Crew cabins, engine rooms, laundry, storage etc | 110 |
| | | |
| Total | | 5218 |
On going through every deck we come to the conclusion there are 5218 doors.
Breakdown of Door Numbers for Each Part of Cruise Ship
Below is a breakdown of the the number of doors we counted for each part of the ship so you can see how we arrived at the totals.
Cabin Doors
I've counted 1568 cabins and a total of 3799 doors.  An average of 2.42 doors per cabin.
This was mostly made up of entrance doors, cabin restroom doors, and verandah doors for those with one.
Large suites have more rooms and an extra door or two 
Although very few staterooms have four or more doors.
Number of Cabin Doors on a Cruise Ship
| Cabin / Suite Name | No. of Rooms | No. of Doors per room | Verandah | Total No. Doors |
| --- | --- | --- | --- | --- |
| Captain's Suite  | 2 | 6 | Yes | 12 |
| Grand Suite | 10 | 4 | Yes | 40 |
| Ocean Suite | 36 | 4 | Yes | 144 |
| Aft Extended Balcony Cabin | 20 | 3 | Yes | 60 |
| Premium Vista Balcony Cabin | 6 | 3 | Yes | 18 |
| Balcony Cabin | 511 | 3 | Yes | 1533 |
| Scenic Oceanview Cabin | 6 | 2 | Yes | 12 |
| Oceanview Cabin | 329 | 2 | No | 658 |
| Porthole Cabin | 6 | 2 | No | 12 |
| Walkway View Interior Cabin | 12 | 2 | No | 12 |
| Interior Cabin | 535 | 2 | No | 1070 |
| Small Interior Single Cabin | 29 | 2 | No | 58 |
| Cloud 9 Spa Suites (with Verandah) | 4 | 4 | Yes | 16 |
| Cloud 9 Spa Staterooms | 30 | 3 | Yes | 90 |
| Cloud 9 Spa Staterooms | 32 | 2 | No | 64 |
| | | | | |
| Totals | 1568 | | | 3799 |
Verandah Doors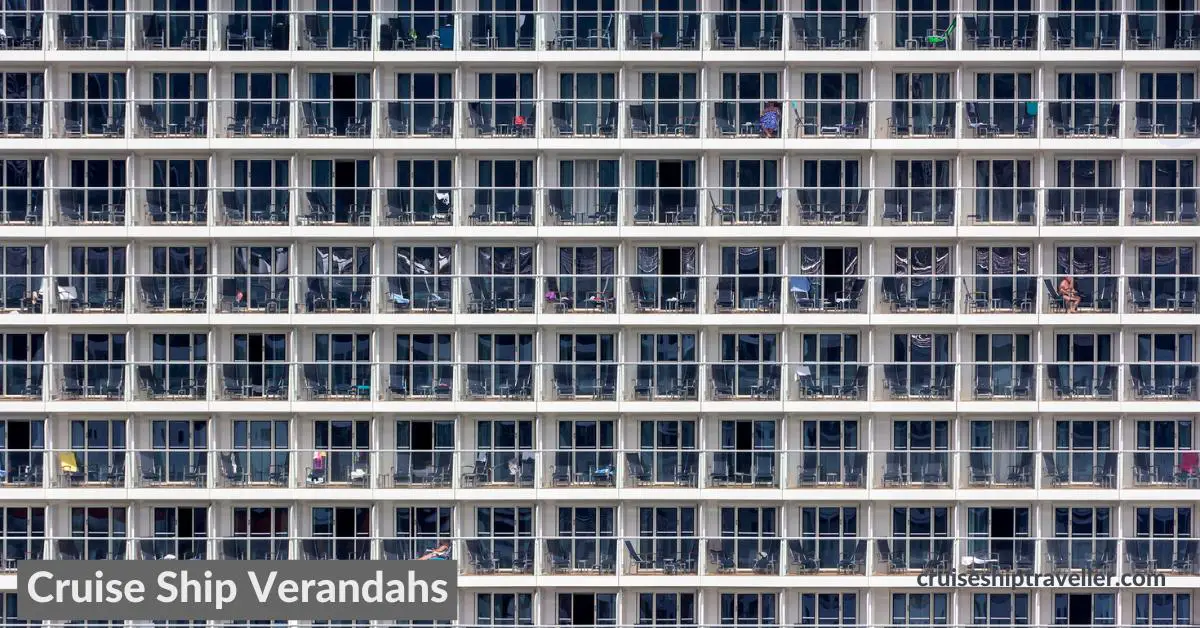 We counted 625 rooms with balconies and assumed access to each balcony by just one doorway, so 625 verandah doors in total.  
The balcony door count is included in the total number of doors per cabin.
Crew Cabin Doors
There can be between 2 to 4 crew members in a crew cabin.
An average of 3 crew per cabin and 1150 crew members in total gives us an average of 383 cabins.
Crew cabins are usually pretty basic accommodations, typically with just two doors, the entrance and a door to the restroom. 
That gives us a total of  
There won't be any balconies in these, they are located on the lower decks at the bottom of the cruise ship.
Captains Quarters Doors
The cruise captain's quarters are usually on par with a typical suite on the ship. 
Suites typically have 4 doors, but a captains quarters normally two entrances, one main entrance and another direct entrance from the bridge and possibly an extra office door. We shall estimate 6 doors.
Here you can check a couple of real captains quarters, including video tours! 
There's typically only one captain on a cruise ship at a time, so only one captain's quarters.
Closet Doors
I haven't counted closet doors or doors on any cupboards. I've only counted doorway doors.
Certainly, larger suites and rooms like the captain's quarters would have more closets and cupboard doors.
Do you think these should be included? If so, let me know.
Elevator Doors 
We counted 14 elevators on the Carnival Splendor deck plan, each one counted as one door.
Other Rooms on the Ship
Many of these are estimates just to get an idea.
The Bridge – We estimate eight doors. Assuming the door to the captain's quarters is counted already, there will be at least 1 or 2 doors to the bridge, and we have counted six more to surrounding offices in the area.
There may well be a few more.
Shell Doors
On each side of the ship, the hull is shell doors. These open to let passengers in and out of the ship and harbor pilots onboard to assist the bridge team in navigating in and out of ports.
Non Cabin Doors on Decks
Deck 3 – Galley, art room, restaurants, guest services, Restaurants estimate 90 doors
Deck 4 – library, gallery, bar, restaurant  estimate 90 doors
Deck 5 – Casino, Piano bar, coffee shop,  internet cafe and lost more estimate 140 doors
Deck 9  – Deli, Burger and Pizza Place, Lido Marketplace, toilets estimate  70 doors
Deck 10 – Seaside Theatre, Camp Ocean, Ol Fashion BBQ, estimate 35 doors
Deck 11  – Salon, fitness center, pinnacle Steakhouse, etc – estimate 55 doors
Deck 12 – Treatment and spa rooms – estimate 35 doors
Total non cabin doors 515.
We have not counted passenger cabin decks, like deck 1 and deck 2, 6, 7  & 8, because those cabins have already been accounted for.
We have only counted the extra rooms not already accounted for elsewhere
Public restroom doors, doors to the rooms, and doors to toilets within the room.
Below Deck Doors
There are decks below deck 1 on a cruise ship that is out of bounds to passengers and, therefore, not shown on deck plans.
Many of these rooms were accounted for when we counted the crew cabins.
However, there are also several other rooms below the deck, which, again, we can only estimate the number of doors for.
These include:
Crew social rooms & dining areas
Engine rooms
Freezers
Hospital / Medical Center
Brig (Jail)
Laundry Rooms
Refrigerators
Storage rooms
Okay, some guesswork and estimations have had to take place, and many of these areas of out of bounds to passengers, and even most crew members don't have whole ship access.
We estimate 110 doors in the lower decks.
Average Doors per Person
With 5218 doors on an average size cruise ship with a 3012 passenger capacity gives an average of 1.73 doors per person (if maximum capacity).
We can then apply this average to other cruise ships.
In the table below we include some example, including some of the largest cruise ships in the world.
| Cruise Ship | Passenger Capacity | Est. No. of Doors |
| --- | --- | --- |
| Wonder of the Seas | 6,988 | 12,089 |
| Symphony of the Seas | 6,680 | 11,556 |
| MSC World Europa | 6762 | 11698 |
| AIDAnova | 6654 | 11511 |
| P&O Iona | 6600 | 11418 |
Estimated Number of Doors on Large Cruise Ships
Wonder of the Seas and Symphony of the Seas are the largest cruise ships in the world.
MSC World Europa, AIDAnova and P&O Iona are some examples of the largest cruise ships of their cruise lines.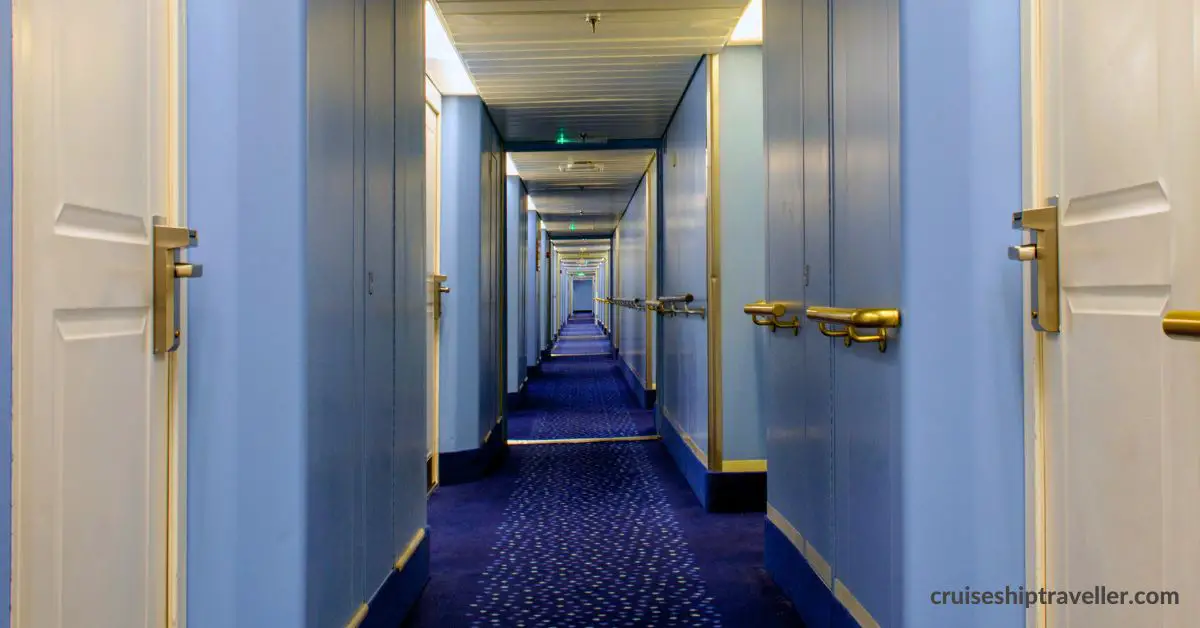 How Wide are the Cabin Doors on a Cruise Ship?
The cabin doors on most cruise ships are 23 -24 inches wide. This applies to all the main cruise lines, Royal Caribbean, Carnival, Disney, MSC, AIDA and Costa.
If you have any specific needs are regards door width it is always best to double-check with your cruise line in advance.
Did You Know?
Many passengers love to add decorations to their doors.      
On Disney cruises, in particular, Disney magnets are a popular decoration on cruise doors.
Also, Disney Cruise line fish extenders act as hanging personalized gift bags.
On some more adult orientated cruise ships, a different message can be sent from cruise ship door decorations.
Yes, some passengers use their cruise ship doors to send secret code messages for adult fun, including  upsidedown pineapples and pink flamingoes, which have certain meanings to certain people.
Further Reading
Some more articles relating to cruise ship doors you might find of interest:
What do you think?
Do you agree this is a good estimation of the number of doors on a cruise ship?
Did I miss any? Should any have been counted as double?
Feel free to let me know if the comments.