If you often travel and stay in hotels, you might commonly take a clothes steamer to quickly and easily steam out any wrinkles in your clothes.
However, on a cruise ship, steamers are a prohibited item due to being a potential fire hazard.
If security spots you have a steamer in your luggage, it will be confiscated until you disembark.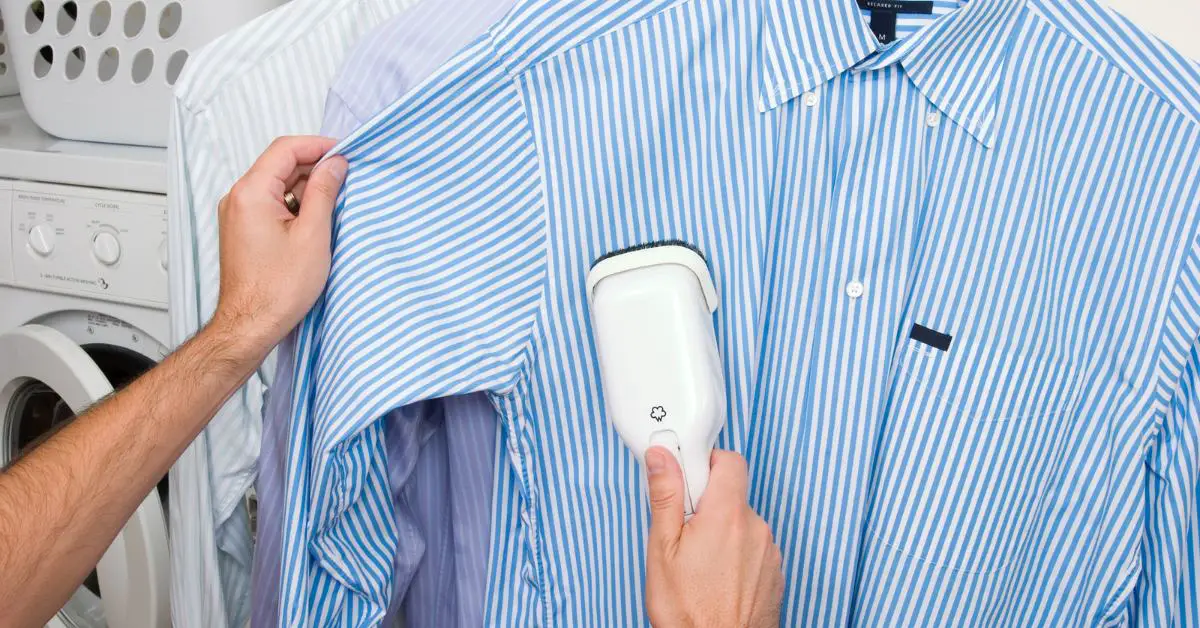 Can I Bring a Clothes Steamer on a Cruise Ship?
Due to being a potential fire hazard, steamers and irons are listed as prohibited items and not allowed onboard a cruise ship.  Instead, passengers can use self-service laundry facilities or pressing services for a small per-item fee.
Irons and steamers are generally treated the same, although there are rare exceptions where irons are sometimes loaned out to guests. Generally, they are not allowed in rooms.
For many tips on how to keep your clothes wrinkle-free when on a cruise ship vacation, read our do cruise ships have irons (and tips for wrinkle-free clothes) post.
| Cruise Line | Steamers |
| --- | --- |
| Carnival Cruise | No |
| Royal Caribbean | No |
| Disney Cruise | No |
| Norwegian Cruise | No |
| Celebrity Cruises | No* |
| Holland America | No* |
| MSC | No* |
| Princess Cruises | No* |
| Virgin Voyages | No* |
*While not explicitly mentioned in the prohibited items list, steamers are expected to be confiscated if attempted to be brought on board.
Again, for the most accurate information, it's recommended to visit each cruise line's official website or directly contact their customer service. Policies can and do change over time.
We checked all cruise line's prohibited items, of which the main ones we have directly highlighted below.
Can You Take a Steamer on Carnival Cruise?
From the Prohibited Items list, Carnival Cruise directly lists clothes steamers as one of those items.
Electrical and household appliances containing any kind of heating element, such as irons, clothes steamers,

Carnival Cruise – Source
Can You Bring a Clothes Steamer on Royal Caribbean Cruise?
Royal Caribbean specifically state that clothes steamers cannot be brought on board.
This question has been directly answered by Royal Caribbean here, confirming clothes steamers and not allowed on board.
They specifically state:
Irons and clothes steamers are prohibited items and should not be brought with you on your vacation.

Royal Caribbean
Can You Take a Clothes Steamer on a Disney Cruise?
Clothes steamers are not allowed on Disney Cruises.
On the Disney Prohibited Items list, under "Electrical appliances and components," they explicitly mention:
Electric irons and Steamers (all ships offer self-service laundry facilities equipped with irons and ironing boards)

Disney Cruises
Can You Take a Clothes Steamer on a Norwegian Cruise?
Norwegian Cruises do not allow clothes steamers onboard and explicitly mention them in their list of "What not to bring on board",
Guests are not permitted to bring and use their own irons or steamers onboard.

Irons and steamers would both be taken from guests at embarkation and returned at the end of the sailing.

Norwegian Cruise
Are Steamers Allowed on Other Cruise Lines
Many other cruise lines do not explicitly mention steamers in their prohibited items lists, for example:
Celebrity Cruises
Holland America
MSC
Princess Cruises
Virgin Voyages
However, you can still expect them to be confiscated if you attempt to take them on board.
Why Can't You Bring a Steamer on a Cruise?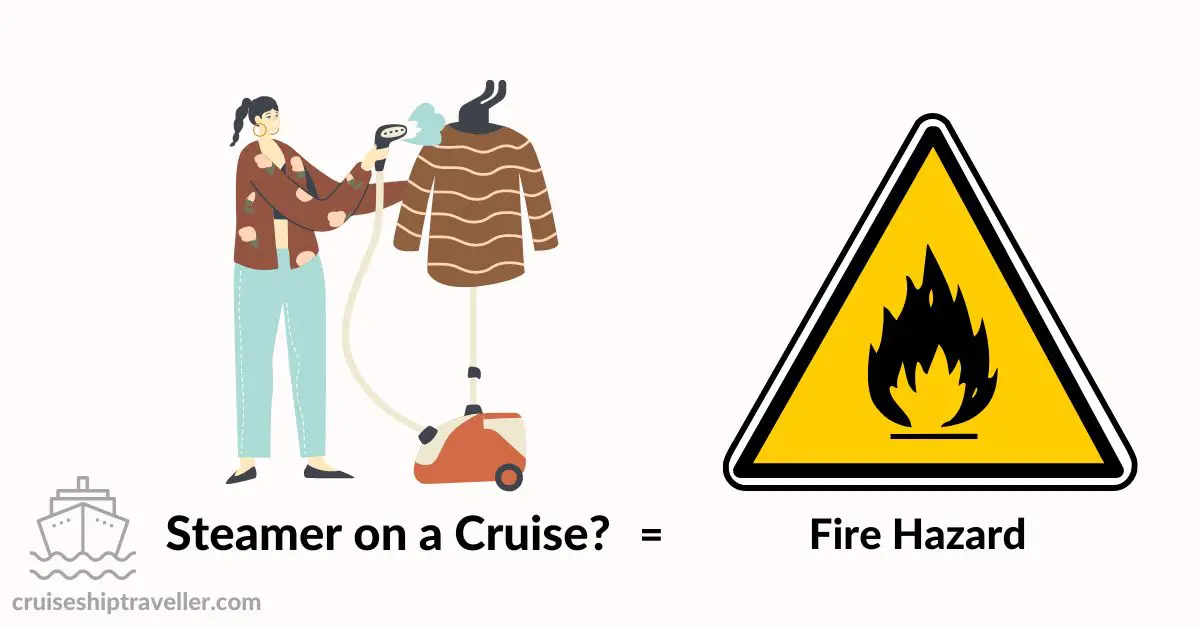 The main reason clothes steamers are not allowed onboard is because they are a potential fire hazard. 
With most irons and clothes steamers, you have to plug them into an outlet to use them. If they were to malfunction, they could quickly start a fire. 
Although this also applies to electrical grooming appliances we have already covered, such as hair dryers, straighteners, and curling irons, which, in some cases, are allowed on boards.  These are, however, deemed less of a risk.
Since cruise ships have many items plugged in at any given time, they want to minimize the risk of a fire as much as possible, which they can do by not allowing items like clothes steamers onboard.
Another reason clothes steamers are not wanted is that the steam they generate could set off smoke alarms, especially with the small confines of a cabin.
Alternatives to Clothes Steamers
The most obvious alternative would be to iron, which is also not allowed in cruise ship rooms.   We have covered where you can find irons on a cruise and wrinkle-free clothes tips which is well worth a read to help you keep your clothes free of wrinkles and easily fix any that you get.
While on your cruise, you always have the option of using the self-service, which may have irons set up.  Or pay to use the pressing service where you pay a per-item fee.
You can expect to have your pressed items back within 24-48 hours.
If you are looking for free similar alternatives to a clothes steamer, would include the following methods.
How to Steam Clothes in a Shower
One steaming option you can use on a cruise is the cabin shower.
Hang your wrinkled clothing on a hanger in the bathroom.  Turn the hot water temperature to its highest level while ensuring the clothes are out of the way of the shower head, as you don't want your clothes to get wet.  Simply close the door for 10-20 minutes.
The humidity and heat produced by the shower steam softens the fabrics and allows the creases to open up.
If your wrinkles haven't completely fallen out by the end of your shower or you need them before you shower, simply run the water in the hottest temperatures and close the door on the bathroom for a few minutes.
You can expect it to take 10 – to 20 minutes for the wrinkles to completely disappear. 
D.I.Y Wrinkle-Release Spray
One particularly good cheap solution is to take a spray bottle with some fabric softener.  Top up with water when you arrive in your room and use it as a quick and easy wrinkle-release spray.
You can also buy branded sprays from most discount and general merchandise stores like Walmart, Target, or online can be found on our cruises essentials list.
Rolling Clothes as an Alternative to a Steamer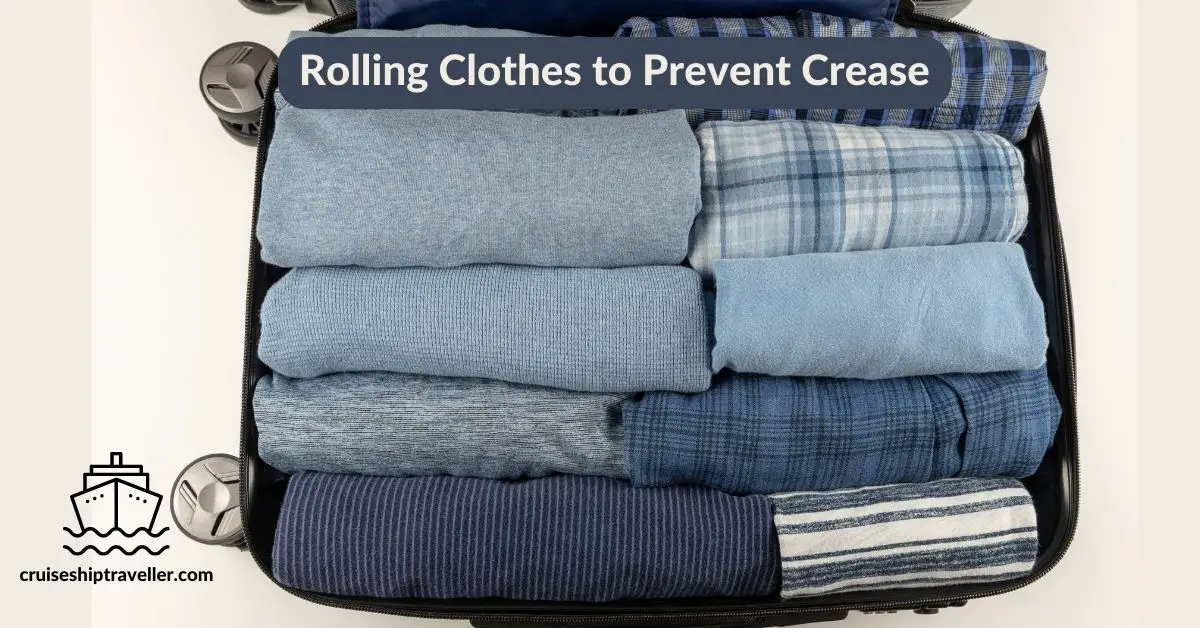 Rolling your clothes when packing is an age-old technique that not only saves space but can also help in preventing creases and wrinkles, reducing the need for a steamer.
The idea behind this method is quite simple in that by rolling the clothes, you're minimizing the surfaces where folds (which later become wrinkles) can occur.
Here's how to make the most out of this method:
Lay out your clothing flat – Start by laying your item of clothing flat on a clean, hard surface. Smooth out any wrinkles with your hands.
Fold in halves or thirds – For shirts, fold the sleeves in so the shirt forms a rectangle. For pants, fold them in half so the legs are together.
Start rolling from the top – Start rolling the clothing item from the top down as tightly as possible without stretching the fabric. The goal is to create a compact roll to save space and reduce wrinkles.
Packing cubes -If you're finding the rolls come undone, packing cubes can help maintain the shape of your rolled clothes, while also organizing your suitcase.
Remember, delicate fabrics such as silk or satin may still wrinkle regardless of how well they're rolled, so it's wise to save this method for more durable fabrics like cotton or denim. When you arrive at your destination, unroll your clothes and hang them up as soon as possible to avoid any wrinkles setting in. Even if you notice minor wrinkles, they often release themselves after a day or two of hanging.
This simple method can be a great alternative to carrying a prohibited item like a steamer on a cruise ship, helping you enjoy your cruise with neat, wrinkle-free clothes.
How to Sneak a Steamer on a Cruise Ship?
While we don't recommend trying to get a clothes steamer onboard a cruise ship, I have heard of a few people taking a Rowenta handheld steamer onboard. 
The reason they gave for it getting through security was that through the scanners, it looks the same as a hair dryer, so if the cruise company lets those onboard, this particular steamer sometimes makes it through too.
However, remember you would effectively be sneaking a fire hazard onboard!  It would be best to consider an alternative and safer option, such as a wrinkle-release spray.
Related Posts
Frequently Asked Questions
Can You Bring a Travel Steamer on a Cruise Ship?
All steamers, including travel and small portable steamers, are forbidden onboard all cruise ships.  As a heating item, they are a potential fire hazard, and for the safety of all passengers, they are not allowed.
Is There a Cruise-Approved Steamer?
Currently, most cruise lines do not endorse or approve specific steamers due to safety hazards. Most cruise lines prohibit such items that generate heat and are a potential fire hazard. Alternatively, consider the ship's laundry services, wrinkle-release sprays, or careful packing to maintain wrinkle-free clothing.
What If I Pack a Steamer in My Luggage?
If a security team member spots a steamer in your luggage, it will be confiscated until you disembark.  As a solid metal object, the shape of the steamer will clearly show up on the security baggage scanners.  You can see examples in our Can Cruise Ship Scanners Detect Alcohol post.
Can I Bring a Steamer in My Carry On
While a clothes steamer is ok to take in your carry-on if you are going on a plane and it's free of liquid, it is not allowed in your carry-on if you are going on a cruise due to being a fire hazard.
Conclusion
While you might not be able to pack a steamer in your luggage, don't worry, most cruise ships have ironing and laundry services available onboard, so you can still keep your clothes looking wrinkle-free. 
If you want to avoid using these services, we suggest packing wrinkle-free clothes or clothes that won't need to be ironed.
As a final option you can always try steaming your clothes using a hot shower in the bathroom.