When you're on a cruise ship, the last thing you want is to be hot and uncomfortable.  Or perhaps you are used to the sound of a fan that helps you sleep.
Whatever the reason, you might be wondering if you can take a fan on your next cruise and if so what type of fan, size, and power source.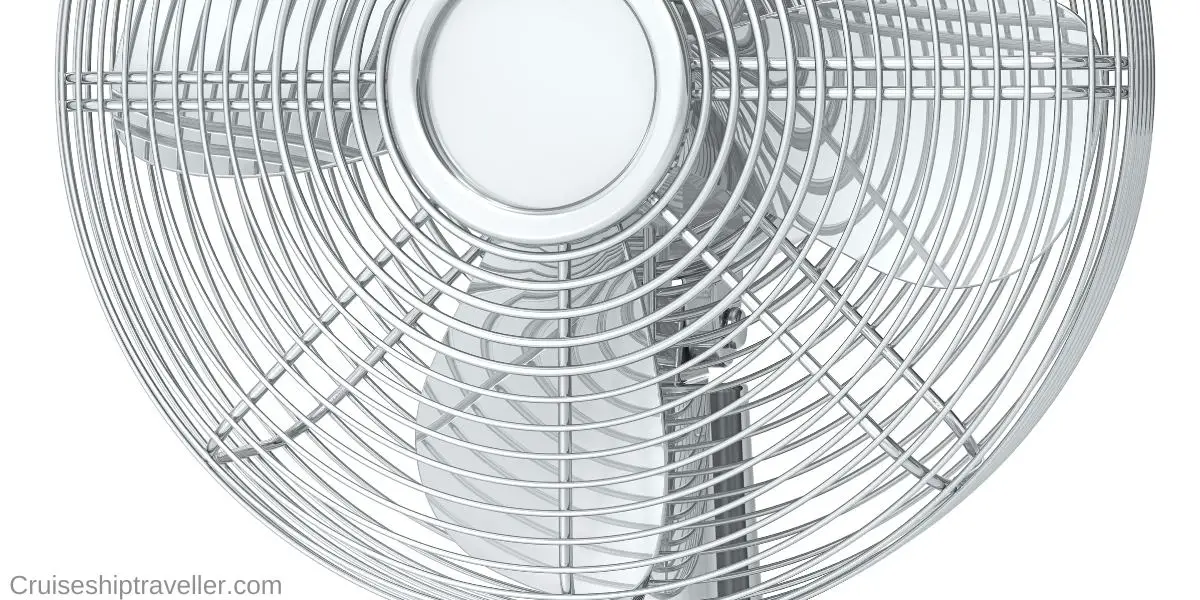 Before we break it down further, let's get to the point.
Can You Take a Fan on Cruise?
Almost all of the major cruise lines allow passengers to bring aboard certified electric and portable fans of a reasonable size.  
Fans that aren't approved safe or create heat are not permitted aboard.
Read on for everything you need to know about fans and cruises. We'll cover which types of fans are allowed, as well as which cruise lines allow them.
If you don't have a fan, don't worry! We'll also tell you what to do if that's the case.
Types of Fans You Can Bring on a Cruise Ship
Electric Fans
Electric fans with fused plugs are generally allowed on board cruise ships, as long as they are certified safe and ideally have a UL sticker to confirm this.
Portable Fans
Portable fans are also allowed on most cruise ships and are one of the most popular types to take onboard and one of our cruise essentials.
Depending on how your portable fan is powered make sure it is certified safe and isn't powered by lithium batteries.
Battery Powered Fans
Battery-powered fans are a great option for taking on a cruise as they can be used both inside and outside your cabin.
Just make sure if you take additional spare batteries they are well packed and not likely to get damaged in transit as some cruise lines will confiscate damaged or swollen-looking batteries.
Lithium batteries are generally allowed on cruise ships as long as they are in good working order and when required stored safely.
Neck Fans
Neck fans are great for keeping cool whilst on a cruise and are one of the newer types of fans available.
They are worn around your neck and can be powered by batteries or a USB.
Neck fans are a great option as they are small, lightweight, and can easily be stored in your luggage or carry-on bag when not in use.
They are also very affordable.
Desk Fans
Desk fans are another option and ideal for use in your cabin.
They come in a range of designs, some more sturdy than others, so just make sure you pack it well so it doesn't get damaged in transit.
They are good because typically allow you to angle the flow of air, or have it rotating so as to cover a wider area.
Box Fans
Box fans are allowed on cruises and as far as packing they are a good sturdy choice, just make sure they are certified safe.
They have the advantage of being quite powerful, but the disadvantage of not being able to not control the direction of the air as they blow it in a straight line.
Clip-on Fans
Clip-on fans are a good choice if you want a fan that can be attached to something like a stroller or chair.
They typically run on AA or AAA batteries or similar so you might want to take some spares.
Folding Handheld Paper or Fabric Fan
Let's not overlook old-fashioned paper fans which are a great choice if you want a gentle fan that is easy to pack and won't take up much space. 
Paper fans are generally very lightweight and can easily fit into your travel bags or even your pocket.
They also don't require any batteries or power cords, so you can use them anywhere.
The only downside is that they don't tend to be very powerful, so if you're looking for something to cool you down on a hot day, this might not be the best option.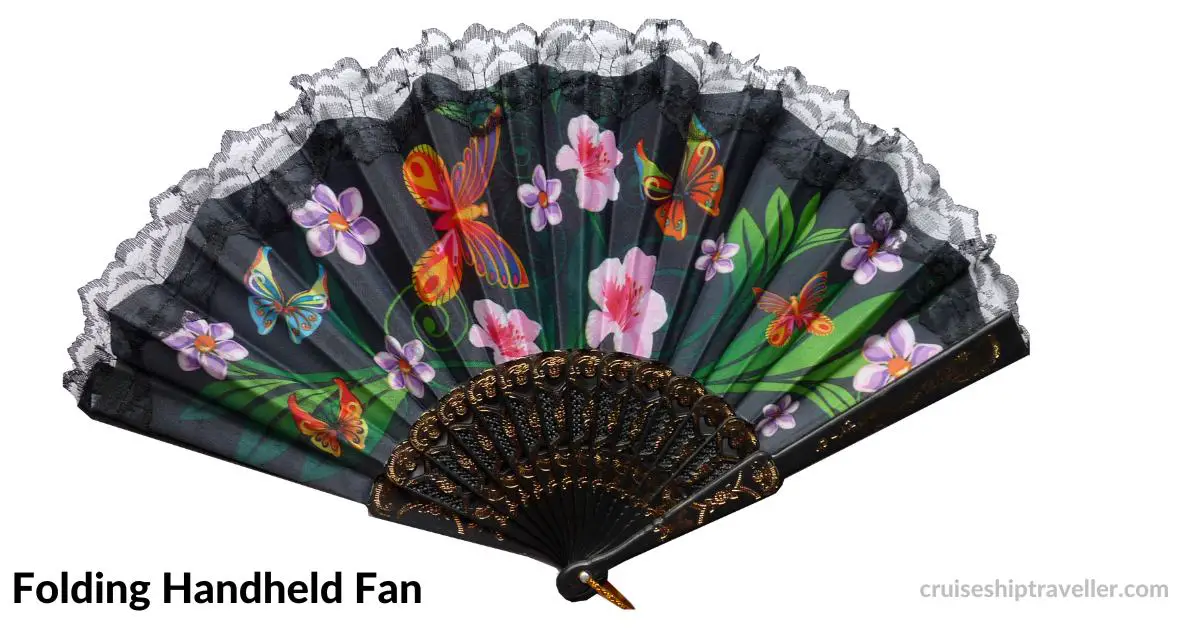 Certified Safe Fans
The most important thing to remember is that whichever fan you choose if it's electrical it must be certified safe. This means it should have a UL sticker or similar.
It's also a good idea to check with your cruise line before you travel as they may have specific requirements or restrictions in place.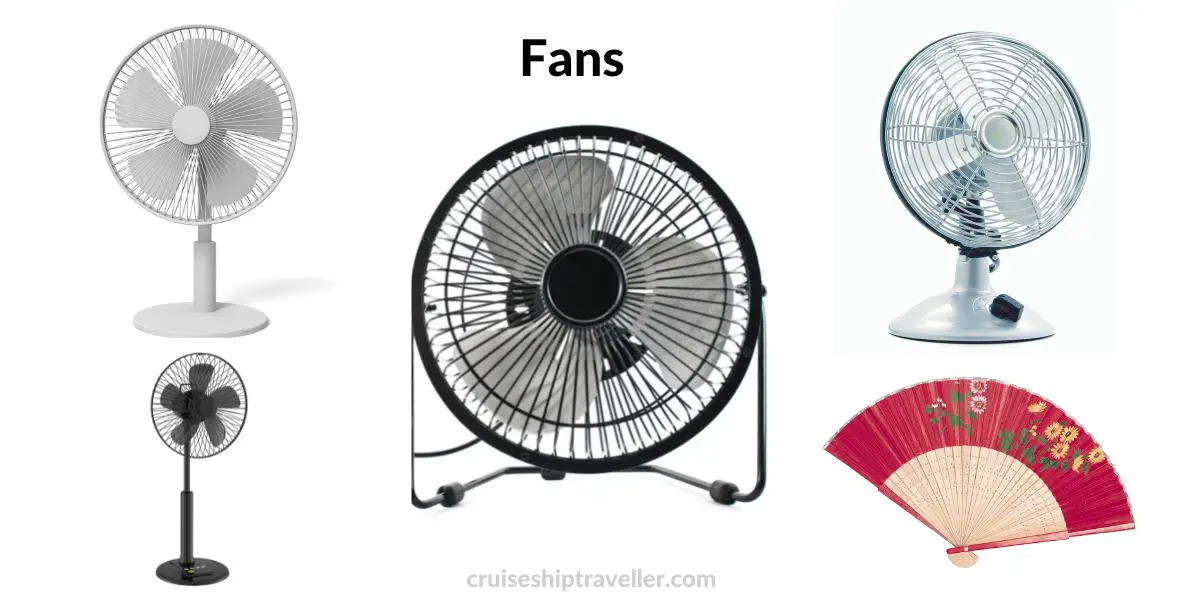 Fans You Shouldn't Take on a Cruise Ship
Tower Fans
Tower fans are not generally recommended as some are not very robust and potentially easy to break in transit.   They also tend to be quite large which can make them difficult to pack as well as exceed any size restrictions.
Non-Certified Safe Fans
If your fan plugs into a wall socket it will need to be UL certified.
Any fan that is not certified safe is not allowed on board cruise ships. This includes fans without a UL sticker or similar.
In some instances taken on board may be checked by onboard electrical engineers and if they certify it safe you may be allowed it onboard.  However, is it worth the risk?
Packing Your Fan for a Cruise
When packing your fan for a cruise it's important to remember that you'll need all the necessary accessories such as batteries, power cords, etc.
You'll also want to make sure your fan is packed securely so it doesn't get damaged in transit.
Depending on the type and size of the fan in question it might be a good idea to pack it in your carry-on luggage in case your checked luggage gets delayed.
The Best Fan To Take on a Cruise Ship
The best fans for a cruise cabin are the ones that are certified safe, are under 12 inches in diameter, are lightweight, and can be packed easily and safely for the journey.
Box fans, neck fans, clip-on fans, and desk fans are all good choices depending on your needs.
Which Cruise Lines Allow Fans?
Now that we've gone over the types of fans, let's take a look at the policies of some of the major cruise lines.
We have read through the cruise lines' lists of prohibited items so you don't have to.
Can You Take a Fan on a Carnival Cruise?
Carnival specifically states that fans no larger than 12 inches in diameter are allowed on Carnival cruise ships as long as they are deemed not to pose a hazard.
Extension cords without surge protectors are also allowed.
If you forget your fan, you can request a fan on carnival cruise from the stateroom attendant.
Can You Bring a Fan on a Royal Caribbean Cruise?
Fans are allowed onboard Royal Caribbean cruises as they are not on the prohibited items list.
Electrical extension cords are prohibited.
Can You Take a Fan on a Disney Cruise?
Disney cruises state that both portable fans and white noise sleep machines will be collected for inspection by the Chief Electrical officer and returned to you once they have been deemed safe.
Extension cords, power strips, and surge protectors are all prohibited.
If you are cruising on a Disney cruise ship you might find th video below interesting. She needs a fan to sleep. She states also that if you need a fan Disney cruise will provide you with a Tower fan.
Can You Bring a Fan on a Norwegian Cruise line?
Yes, you can bring a fan onto a Norwegian cruise ship.
Norwegian make no direct mention of fans in their prohibited items list.
Can You Bring a Fan on a Princess Cruise line?
Fans can be taken onboard Princess cruises, in fact, they directly mention fans in their list of prohibited items:
Electrical devices such as small fans, power strips, multi plug box outlets/adaptors, and extension cords without surge protectors are allowed on board when used with proper caution. However, if such devices are determined to pose a hazard they will be removed and returned the last day of the cruise prior to disembarkation.

Princess Cruises
Can You Bring a Fan on a Celebrity Cruise line?
You can take a fan onto a Celebrity Cruise. 
Celebrity doesn't specifically fan in their list of prohibited items, instead only specifically mention devices that produce heat, which fans do not.
You won't be able to take an accompanying electrical extension cord.
Can You Bring a Fan on an MSC Cruise line?
Fans are allowed on board MSC cruise ships.
In their list of forbidden items on board they only state electrical devices which produce heat are forbidden.  There is no other mention of any other electrical items.
Can You Bring a Fan on a Holland America Cruise?
Holland America state you can take small fans and extension cords without surge protectors on board when used with proper caution.  
However, if upon inspection these items are deemed to be dangerous, they will be confiscated until the day of disembarkation.
Can You Bring a Fan on a Virgin Voyages?
You can take a fan on a Virgin Voyage cruise.
There is no mention of fans in the list of items prohibited from being brought on board.
 Extension cords and multi-plug power strips are directly mentioned as prohibited items.
Can You Bring a Fan on a Viking Cruise?
Fans are allowed on Viking cruises.
Viking cruises don't specifically mention fans in their prohibited items.  They just state any electrical device with surge protectors is not allowed as well as extension cords.
What to Do If You Don't Have a Fan
If you realize you need a fan once onboard aim to ask a stateroom attendant as soon as possible to see if you can borrow one.  They often have some box fans but numbers will be limited.
If you still don't have a fan, there are still a few things you can do to stay cool on your cruise.
First, try to request a cabin with a balcony.  Obviously, this will depend on how filled to capacity the cruise ship is.
The fresh air will help keep you cool.  However, if you leave the balcony doors open to your cabin this could affect the air conditioning temperature of the room.
Another tip to keep the room cool is to close any curtains to reduce the effects of the sun's rays heating the room up.
You can also take advantage of the ship's common areas and spend time in the air-conditioned theater, library, or casino.  
Do cruise ships have air conditioning?
Cruise ships have air conditioning, but it's not always strong enough to combat the heat, especially if you're in a cabin without a balcony.
There's also always the potential for the air conditioning to stop working, as with any mechanical system.
Do Cruise Ships Provide Fans?
Most cruise lines do provide at least a few fans for guests to use, but it's always a good idea to bring your own just in case.
You can usually find fans in the common areas such as the pool deck, theater, and dining rooms, but they're not always available in every room.
If you're worried about not having a fan in your room, you can always call guest services and ask if they can provide one for you.
What to do if Your Fan Gets Confiscated?
If your fan does get confiscated go to the guest services and request the cruise ship's electrical engineer inspect the fan.  It it passes they will return it. 
If it fails you'll have to wait until disembarkation day to collect it.
Need a Fan for Sleep But Don't Have One?
Some people need a fan purely to help them sleep.  The white noise can block out other noise on board and help you drift off. 
In this instance, one option could be to play the sound of a fan via a smartphone or tablet.
Here's an example of one on Youtube that plays for 10 hours with no ads.
If the above video is unsuitable have a look for other options.
FAQ's
Can I Bring a Small Fan on a Cruise?
Carnival cruise line state that small fans under 12 inches in diameter are permitted onboard.  Most other cruise lines do not directly mention fans or their sizes in terms of what they allow.