Whether you are new to cruising or just need a reminder of key essentials to pack, we have put together a list for you.
We have e found packing for a cruise is different in many ways from a land-based vacation.
Over many years of cruising, we have added to the must-have list of cruise essentials that just help or improve our everyday cruising experience.  
Many of the now "must haves"  on the packing list are things we have forgotten to take in the past because we simply didn't remember or realize we needed them until we were onboard.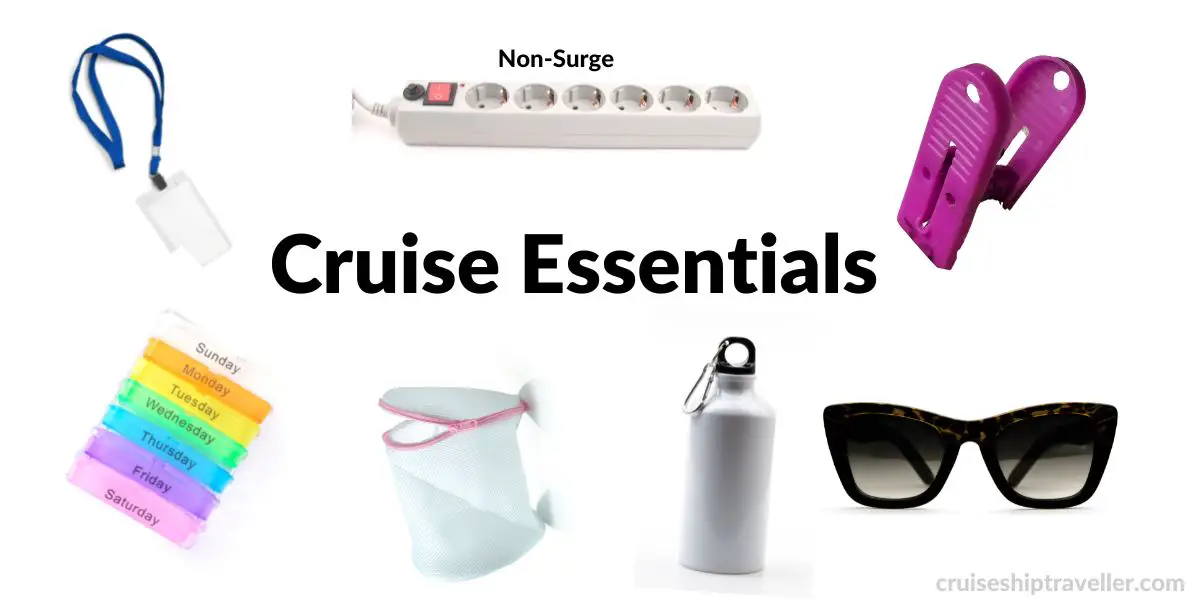 Hopefully, you, too, can learn from our experiences, and if we have missed anything you find extra useful, please do feel free to mention it in the comments.
These are cruise essentials, the things you absolutely should consider taking on your next cruise.
The more essential items you take with you, the less time you will have to spend trying to find where to purchase them when you realize you do need them at some point on your cruise vacation.
If you don't yet have any of the items on the essentials list, you can buy most of them from Amazon or perhaps, in some cases, your local dollar store or thrift store.
Cruise Must Haves Checklist – Essentials for 2023
Cruise Power Strip – Non-Surge Protector
One of the first things you will notice when you arrive in your cabin is the lack of power outlets.   Quite often, you'll only have one.
With us all having more devices than ever, it helps to have extra outlets, including multiple USB sockets for phones, tablets, and anything else that needs charging.
Remember: It needs to be a cruise-friendly non-surge protected power strip that is suited for use on a cruise.  Standard surge-protected power bars will be confiscated when you embark because they pose a safety hazard.
I.D – Passport – Drivers License
To embark on the cruise ship, you will need two forms of I.D, so be prepared to have your Passport, driver's license, and birth certificate with you.
Your passport and one of the others are essential to get on board your cruise (and yes, I have known people forget them!).
Printed Boarding Pass
Even if you expect your terminal to accept an electronic version of your boarding pass its always handy to have a printed boarding pass as a backup at the very least.
Tech and Gadget Essentials
Travel Alarm Clock
If you like a visual time on display in your cabin, you must remember to take a travel alarm clock.
If you typically charge your phone at night, remember you might not be able to charge it at your bedside, so not close enough to check the time.
Nightlight
A battery-powered portable nightlight with a motion sensor is essential if you need to get up in the night for the bathroom and want to make it without walking into anything or tripping. 
The cabins are very dark at night, and the inside cabin is pitch black.
Make sure it's battery-powered because you won't have any outlets to plug it into.
Another option is little LED tea lights.  Small and light, they won't take up much space in your luggage.  They are ideal for doting around the cabin and in the bathroom and providing a low light level.   Great for kids that don't like to sleep in the pitch black.
Portable Fan
Have you ever wondered if you can bring a fan on a cruise?  The answer is yes for most types, including small battery-powered fans.
A fan can be essential for people.  Cabins can get quite stuffy at times, especially if a few people stay in one, and sometimes you just want that feeling of a bit of movement in the air.
Portable fans you can also use outside to keep cool in the sun.  
Some people also need the feeling and or sound of a fan to help them get off to sleep.
Phone Chargers
Don't forget your phone charger.  We take a portable phone charger and a spare charging lead, just in case.
Portable Power Bank
If you want to charge your cell phone or other devices on the go, a portable power bank is always handy, especially if you are out for the day on excursions and may not have easy access to a charging point.
You also just charge your phone while sitting around the pool or bar, which saves going back to the cabin every so often if you use your phone a lot, perhaps taking lots of photos or videos, or you have one of those phones where the battery seems to die quickly.
We opt for a portable charger with dual USB ports so more than one person can use it at a time. 
Waterproof Phone Pouch
A Waterproof phone pouch with a neck strap is ideal for keeping your phone close and safe in and around the pool.  It can also be used for carrying cash, credit cards, and your license.
Must Have Cruise Accessories
Remember to bring some accessories to complete and compliment the look of your outfits and individual style.
 For example, accessories for hair, pieces of jewelry, glasses, belts, ties, and much more.
When it comes to jewelry, take costume jewelry, as sometimes it's better to leave your best jewelry at home for safety.
Lanyard for Cabin Key
For ease of access to your room key card or your sail and sign card, you'll need a lanyard.  Make sure to choose one with a waterproof plastic slip.
You can pick up some colorful sets, so there's one for the whole family.
Refillable Water Bottles
As there is no likely no bottled water available on the ship, refillable water bottles become essential.   You can take it with you on the go to keep hydrated, whether traveling on through the airports or ports.  
Or you can take one just for onboard use, this is when collapsible water bottles come in handy so as not to take up much space when packing.
Towel Clips or Bands
Even in beautiful sunshine, it can get pretty breezy at times on a cruise ship, and when you're relaxing by the pool, the last thing you want to be doing is constantly putting your towels back in place.
Towel clips are a simple solution that simply clips your towel to the lounger and holds your towel in place.
This is one of those things you'd never even think of until you experience the need for them and then realize all seasoned cruises have them already.
I've also seen some people using Towel Bands which work well.  However, the advantage of clips is you can also use them to clip items to dry on your balcony.
Corkscrew
If you take your own bottles of wine on cruise, make sure you pack a travel corkscrew.  This will also save you money on corking fees if they are charged.
Sunglasses
Whatever cruise you are on, whether hot or cool, you should be hoping for some sunshine so make sure you take some sunglasses with uv protection which will also protect your eyes. 
Sunscreen / Aftersun
If you are cruising in a sunny location, make sure you take some sunscreen to protect yourself from getting sunburnt and ruining a day or more of your vacation.
There are many different types of sunscreen on the market. Choose what works best for you and members of your family.
If you are sunbathing in areas where there are coral reefs, such as the Caribbean, make sure you have mineral sunscreen, which is reef friendly and safer for the environment than the typical chemical-filled alternatives.
Some countries and islands, such as the Caribbean have laws in place banning the use of chemical sunscreens.
Aftersun is another one to consider taking if you are likely to suffer from sunburn. 
Stainless Steel Straws
Due to their long-lasting damage to the environment, many cruise lines have banned plastic straws in drinks.
Instead, they use paper straws or don't give one with your drink at all.   The problem with paper straws is that they can soon get soggy and, in some instances, affect the enjoyment of your drink, especially if your favorite cocktail.
The best solution is to use reusable stainless steel straws with cleaning brushes.  They even come in their own portable bag.
Binoculars
While undoubtedly essential for Alaskan sightseeing cruises, if you catch sight of whales or dolphins on any cruise, you'll wish you had some binoculars with you.
They are also great for checking out the sights as you sail into new ports or go on any specific sightseeing excursions.
You can get good strong, and compact binoculars ideal for travel at a reasonably low price.
Cruise Clothing Essentials
Sun Hat
If you are on a hot sunny cruise, it can be well worth having a sun hat to reduce some of that constant heat exposure.
Men often wear caps, whereas women tend to wear hats with wide brims that shield the sun from their face and neck areas.
Light Jacket
No matter how hot and sunny the days on your cruise, the evening temperatures can drop, or at times you just might need a little extra protection from the winds.  
This is when a light-fitting jacket can come in handy.
Belt
Don't go packing all your pants and forget your belts, especially for evening wear and formal nights.  
Belts are one of those accessories that seem obvious but have been known to be overlooked by some.
Wrinkle Release Spray
A  wrinkle release spray and be a quick and easy way to rid some of your clothes of untidy-looking wrinkles.  
We typically use Downy Wrinkle Release spray, which comes in handy little travel bottles.
There are many other ways to release the wrinkles from your clothing which we cover in these two posts:
Stain Remover Pen
A stain removal pen is one of those items you don't realize you need until you do.  The more you cruise, the more likely you are to need it, so it's just to always take one when you need it.
Whether it's a splash of wine or food stain, whereas at home you could choose something different to wear when you are away, you are limited to the options you have taken, especially if it's a special outfit for a formal night.
Cruise Excursion Essentials
Beach Bag or Backpack
Lightweight beach bags are ideal for any beach excursions or just chilling around the onboard pools.   You can comfortably fit loads in them, and they are easy to carry.  Some people use as a carry-on bag.
An alternative option is to take a backpack.  
Water Shoes
If you are going on any stoney beaches or perhaps snorkeling near some rocky areas, water shoes become an essential item you wish you had.
If you take them with you, it will save you having to search for some buy in the right size.
Tidy Organized Cabin Hacks
Magnetic Hooks and Clips
are ideal for helping to keep your cabin tidy and adding some extra storage space. Attach the magnetic hooks to the metal cruise ship doors and walls and use them for lanyards, towels,  bathing suits, and hats. 
If you get heavy-duty hooks that hold a decent weight, you can also hang up quite heavy bags.
Magnetic Clips can also be used for Keeping your cabin tidy, like living any cruise-related Cruise and excursion-related paperwork on the metal cabin walls. 
Door Hanging Toiletry Bag & Organizer
Cruise bathrooms can be extremely tight when it comes to space.  This is where the door-hanging toiletry organizer can prove essential.  
Hook to or hang over the toiletry bathroom door. It will give you easy access to all your bathroom accessories, including using as a makeup cosmetic bag and shampoo, soaps, cleaners, toothpaste, and toothbrushes.
You might even want to get two if you are traveling as a family.  We have a separate one for the kids. 
Or you can get mesh organizers that almost cover the whole door and allocate different compartments to each person.
Another advantage is that you can pack it before you leave and just pull it out, unfold and hang it up ready to use when you arrive.
Laundry Bag 
A laundry bag for your dirty clothes helps keep your cabin nice and tidy. 
They come in various sizes and are usually compact and lightweight, so they can easily be packed into small luggage or bags.  If you intend to use the self-service laundry facilities on the cruise ship, choose one that is easy to carry to the laundry room.
You can also get pop-up laundry bags that pack flat and pop-up ready for use in your cabin.
Whiteboard and Pens
A magnetic whiteboard with pens could help leave messages in the cabin to friends and family with who you are traveling with
It's an old-fashioned way of communication when the new methods such as wifi or cell phone messaging don't always work well on a metal cruise ship.
Some people prefer a simple whiteboard to carry around walkie-talkies on a cruise, which in this case could be an alternative option if you prefer.
Poo-Pourri 
Poo-Pourri is a popular essential for some passengers staying in cabins with friends or family who want to leave the bathroom smell free whenever they leave it and free from any embarrassment. 
As the "Before you go" label suggests, you should spray it before you go to the loo for maximum effects.
Luggage  Essentials 
Cruise Luggage Tags
Start your cruise as you mean to go on, and if cruise luggage tags reduce the chance of your luggage ending up is lost property because the tags you taped to your baggage have come off, then they are well worth it.
You can get generic tags or ones designed to perfectly fit Carnival, Celebrity, or Royal Caribbean.   Just print your luggage tag and fold it to fit the holder.
They are of good durable quality and easy to fit on, and you should be able can reuse them many times too on future trips.
Packing Cubes
It's highly likely the more cruises you go on and the more packing and unpacking you do, the more you will appreciate packing cubes.
They are great for organizing and grouping your clothing and keeping it wrinkles-free.   For example, you can pack your swimwear, day wear, etc.
They make packing more straightforward and compact.
Medicine and First Aid Essentials
Medicine Pill Case
A travel pill case is recommended to keep your medicines compact and secure if you take any form of pill medication.
You can get them in various sizes and numbers of compartments.  
We recommend choosing one that has individual lids for each compartment and securely folds shut, so there's no risk of it opening and pills falling out and getting mixed up.
In addition to any regular medication you take, it might be worth taking some for upset stomach or constipation, which can affect some travelers more than others when eating different foods.
Travel First Aid Kit
A small first aid kit is one of those essentials you hope you won't need but is always good to have just in case you do.  
They just give you peace of mind that you can deal with basic self-care health issues for yourself and your immediate family, especially if you have young kids who are more prone to minor accidents.
Sea Bands
Sea bands can help if you suffer from motion sickness.  They are relatively cheap and come in various colors and sizes from kids up.  They will help reduce that feeling of nausea from sea sickness.
They are especially popular with cruisers who prefer natural products that work via pressure points on your wrists.  
They can be washed and reused multiple times.
Motion Sickness Medicine
Another option for helping with seasickness is to take medicine.  
The most popular brands are Dramamine and Bonine.  It is worth noting they can cause drowsiness in some people, which is why some people prefer the Sea Bands option.
Bug Spray
Depending on where you are traveling, insect repellent is essential in some locations, especially the hot and tropical excursions and when near water and beaches.
It's best to be prepared in advance rather than suffering itchy bites for days.    
If you are prone to be bitten, consider taking some ointment to ease the itching and antihistamines if you suffer from allergic reactions.
Alaska Cruise Essentials
While many of the above cruise essentials apply to Alaska, you can expect an Alaskan cruise to be a lot more varied regarding the weather and what sights you might expect to see.
So bearing those factors in mind, we would recommend an extra emphasis on the following:
Clothing Layers
Ideally, you want to pack clothing that works well in layers, so as the temperatures or weather conditions change, you can add or remove layers as required.
Layers of clothing (puffer vest, light jacket, rain jacket
Sweaters
Scarf
Hats and Gloves
Waterproof boots
You'll still need a good pair of sunglasses to protect your eyes from the sun's rays but all the glare from the surrounding snow and ice.
Binoculars are a must for a wildlife sightseeing cruise.
Caribbean Cruise Essentials 
If you are cruising in the Caribbean with popular cruise lines like Carnival or Royal Caribbean, you must consider most of the must-have items we list above.
However, being hot tropical, you will need to be sure you have:
Mineral sunscreen
Aftersun
Bug spray
Beach bag
Sun hat
Sunglasses
Water shoes (if taking part in water activities)
Hopefully, these essentials stand you in good stead for your next cruise. 
Are there any you would have overlooked?
 If you think we have missed any essential must-haves, please us know in the comments.