Do you want to curl your hair while on your cruise vacation but are unsure if you can take your curling irons or an alternative?
As you may be aware, many items produce heat that are forbidden to be taken on board cruise ships, such as coffee makers, hot plates, and clothes steamers.
However, the exception to this rule across all the main cruise lines is hair grooming products such as curling irons or curling tongs as they are sometimes referred to.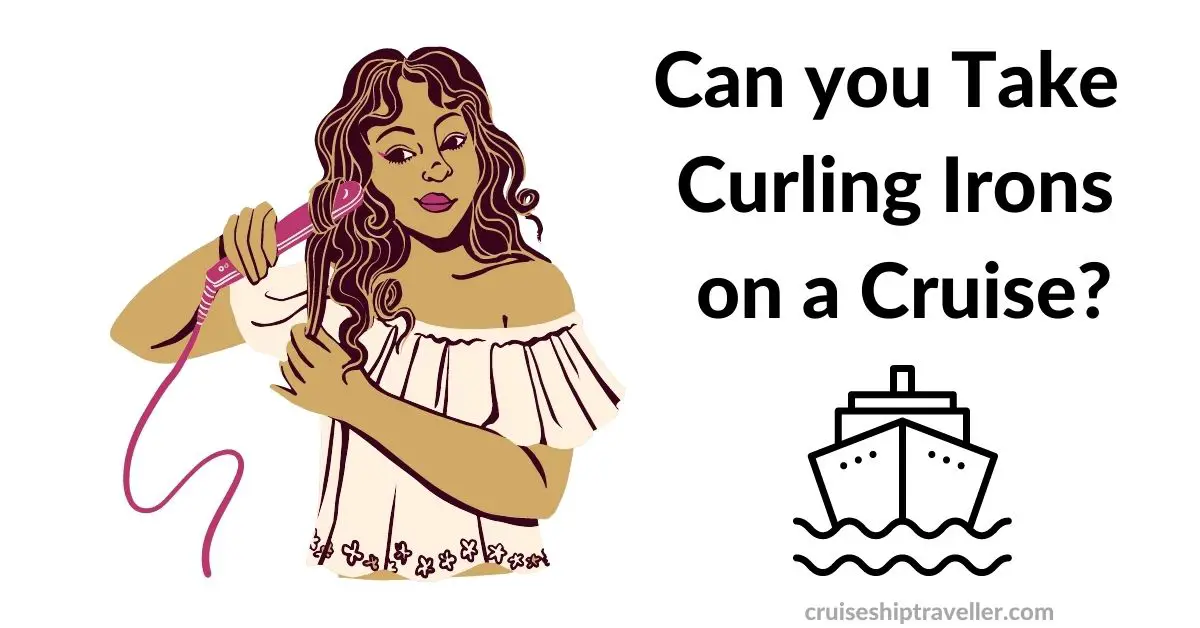 Curling irons are allowed on all main cruise lines and are often mentioned directly in the prohibited items lists as an exception.
This includes both electric and cordless butane curling irons.
I'm fairly sure if curling irons were banned, the cruise lines would lose some customers to land-based vacations. They are a cruise essential item for many passengers who like to look their curly best.
Can I Bring a Curling Iron in My Carry-on?
You can bring your curling iron in your carry-on bags.  This applies both to for embarking on your cruise and also on a plane if you have to take a flight to the port.
Can I Take Curling Irons On in Checked Luggage?
You can take curling irons onto a cruise via your checked luggage.
However, if you are flying into a port it's worth noting that you can't have curling irons on your checked luggage for flights.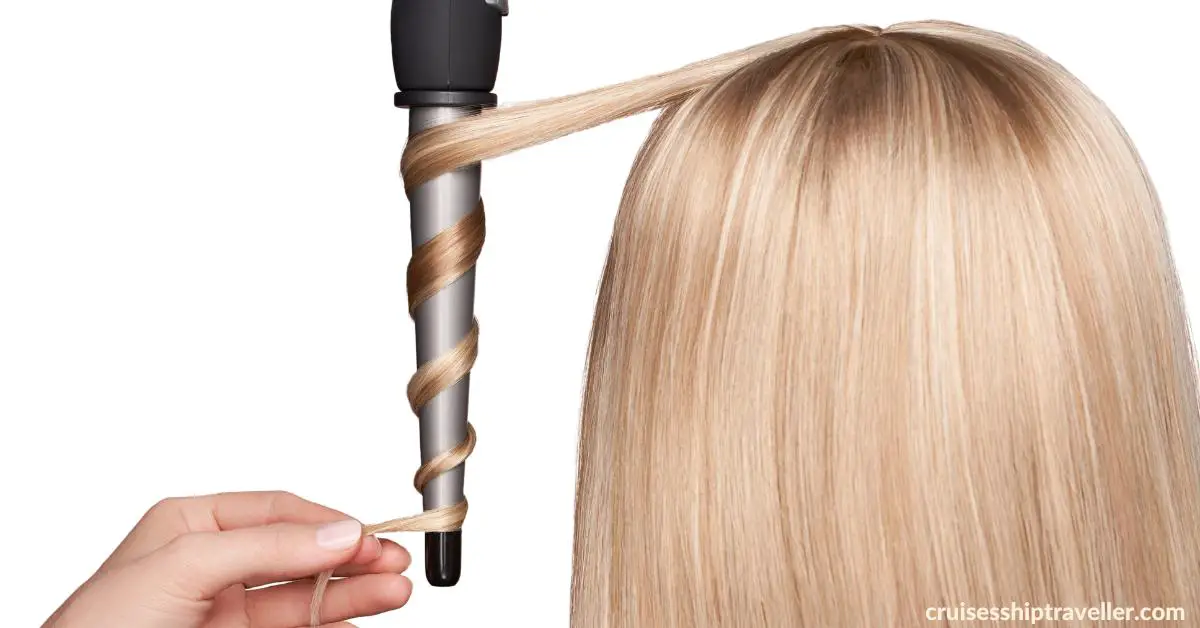 Which Cruise Lines Allow Curling Irons
All the main cruise lines allow you to take curling irons on board.
Carnival Cruise
Celebrity Cruises
Disney Cruises
Holland America
MSC Cruises
Norwegian Cruise Line
Princess Cruises
Royal Caribbean Cruises
Viking Cruises
Virgin Voyages
Can You Bring Curling Irons on Carnival Cruise?
Carnival cruise specifically states among other grooming devices, that they allow curling irons in their exceptions list when used with proper caution. 
They also warn that:
"if such devices are determined to pose a hazard, they will be removed and returned the last day of the cruise prior to debark"
For more info on stateroom and bathroom amenities, see here.
Can You Bring Curling Irons on Royal Caribbean Cruise?
Yes, you can take your curling irons onboard a Royal Caribbean cruise ship, and they expressly stated this in answer to that direct question here:
Can You Bring Curling Irons on Celebrity Cruise?
Celebrity Cruises specifically mention you can bring curling irons in their list of prohibited items.
They list several heating items that generate heat and can't be taken on board due to being deemed hazards but expressly state:
"The only exception to this policy are curling irons and hair straighteners."
"The only exception to this policy are curling irons and hair straighteners."

Celebrity Cruise
You can see the full list here under what items are prohibited.
Can You Bring Curling Irons on Disney Cruise?
When asked the question directly, "Are flat irons and curling irons permitted on Disney cruise ships" Disney confirms here that you can use curling irons on your stateroom along with a reminder to unplug them when you've finished using them.
Can You Bring Curling Irons on Norwegian Cruise?
Norwegian cruise says you can take curling irons on board, but you may need a converter in some instances.
"Curling irons and hair dryers are allowed and may require a converter."

Norwegian Cruise
See the full text at the top of the list of the Prohibited items here.
Are Curling Irons Allowed on Viking Cruise?
As an example of a cruise line that also offers a lot of river cruises, we looked up whether Viking cruises allow curling irons on board.
You'll be pleased to know they are listed as an allowable item at the very bottom of the list on this page.
Can I Take Curling Irons on Virgin Voyages?
Virgin voyages don't specifically mention curling irons, but in answer to the question "Can I bring electrical appliances with me i.e., hair dryer, flat iron, iron?" they state: "
"Clothing irons are a no go on board, but if you need to bring flat iron for your hair, that's ok."

Virgin Voyages
So we can only assume that includes curling irons.
The question was one of many answered on their help page.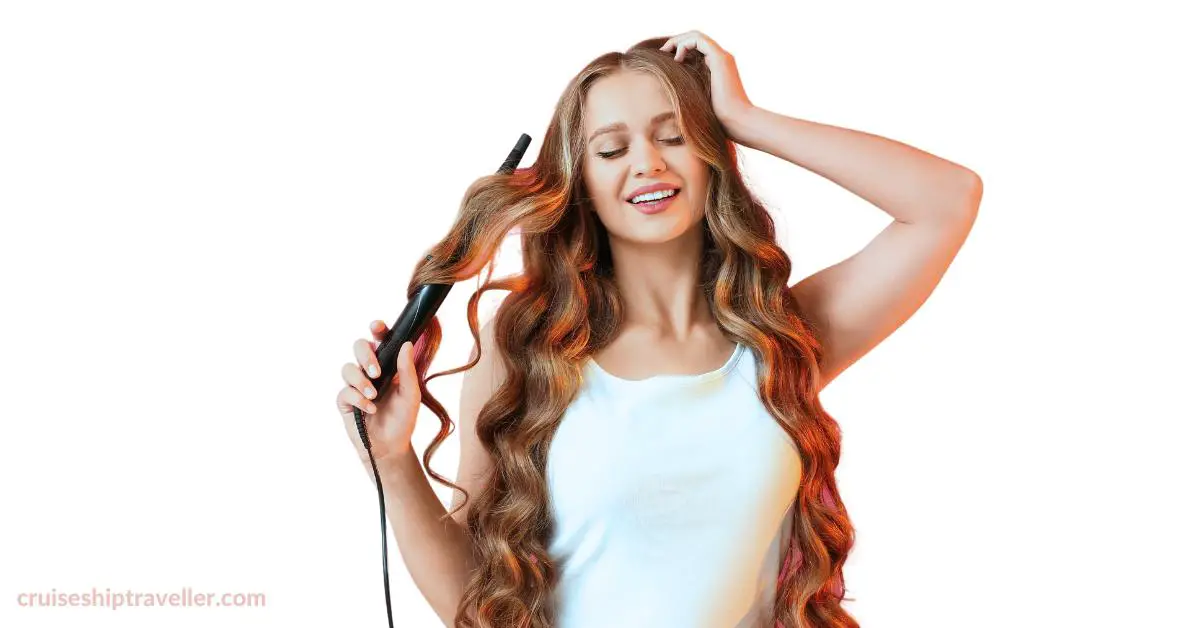 How to Pack Your Curling Irons for Your Cruise
Make sure you wait until your curling tongs are cool before packing them.
When you do pack them make sure there is no way for them to be accidentally activated.  Ideally, pack them in a designated curling iron case.
If you have Butane cordless irons, place a safety cover over the heating elements.
You should find a space in your main suitcase to pack your curling irons.  If you have a lot of hair products, you may
Can You Bring Curling Tongs on a Plane?
If you are flying into port to embark on your cruise, you may be wondering if you can bring your curling tongs in your carry-on luggage or if they will have to go into your checked bags.
Electric, battery, and gas-powered curling irons are allowed in carry-on bags if you take an aircraft for any part of your journey.
Butane curling irons are not allowed in checked luggage but can be packed in your carry-on bags (TSA). Although note you are only allowed one gas-powered item in your suitcase, so if you have any other gas-powered accessories, you will have to leave them at home or ask a traveling companion if they will take them for you.
You are not allowed to take spare gas cartridges onto the plane.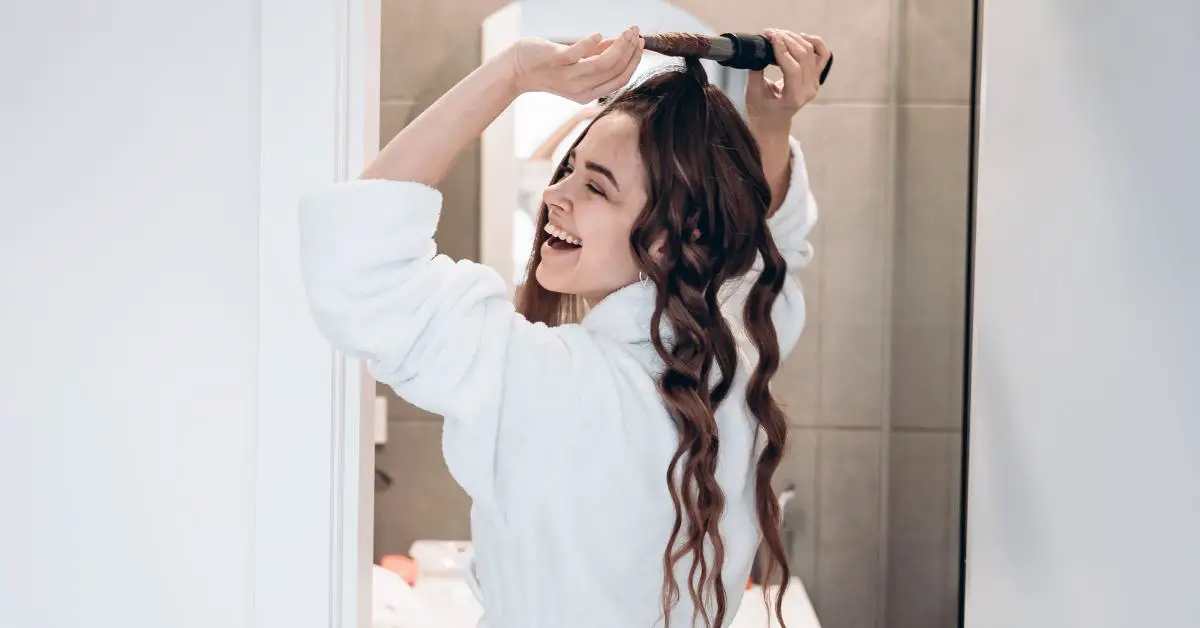 Will Your Curling Irons Work on a Cruise?
You may wonder if your curling irons will even work once you are on the cruise ship. The good news is that most cruise ships have 110-volt outlets in the staterooms, which are the same voltage as what is used in the United States.
This means you will be able to use your curling irons without needing a voltage converter.
However, some passengers have reported that at times their curling irons have not worked on some trips and then work fine when back home, although it's not clear why this is if most others have.  
It could be the outlet. Sometimes they are quite old and don't hold the plug tightly enough.  If possible, try to prop up the plug and see if that helps.
Sometimes the outlets on a cruise simply don't give enough power to heat the curling irons enough. Although this isn't a common experience, it does happen for some.
Best Curling Irons for a Cruise
The best curling irons for a cruise ship should have an auto shut-off feature that automatically switches them off after a set amount of time if ever left on.
Although not a common occurrence, some people do have issues with their curling irons not heating up as much, and this could be more likely with higher wattage curling irons. Some passengers take low-wattage ones and find they work better.
You may want to consider a travel curling iron that is smaller and more compact.  These can be good if you have limited space in your luggage.  There are also some combo curling and straighteners on the market if you'd normally take both.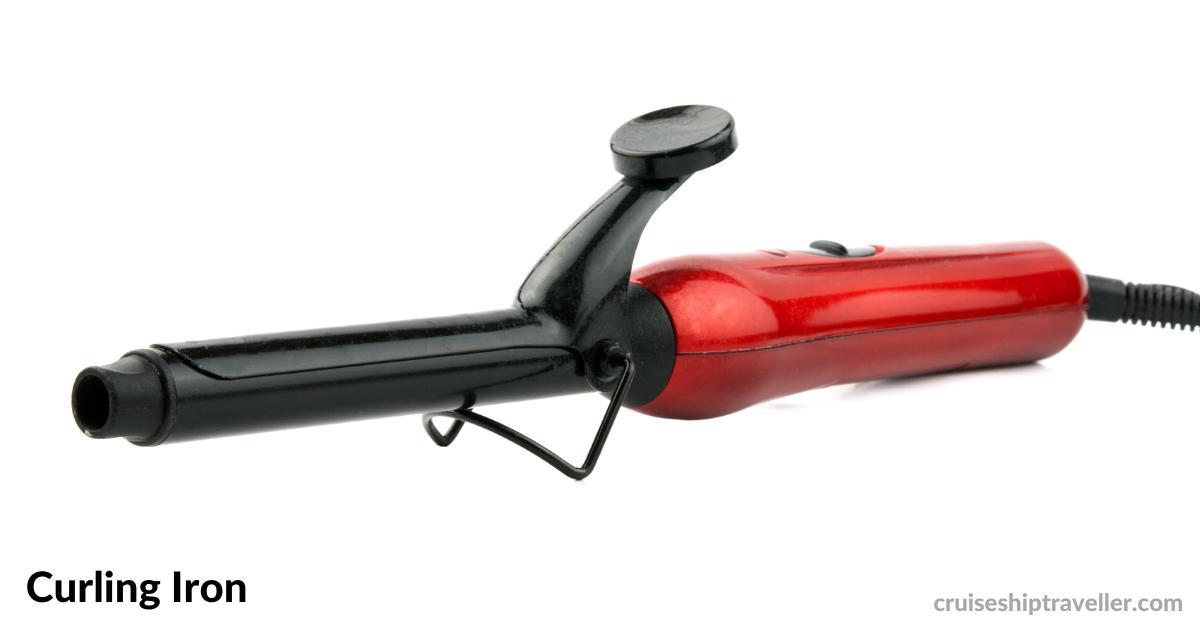 Will Your Curling Irons Get Confiscated?
Your curling irons will not be confiscated from your luggage as they are allowed on all the main cruise lines.
There have been reports of curling irons being confiscated if they have been left on in a room which is a fire hazard.
So, if you are using your curling irons in your room, turn them off before you leave the room, and don't leave them plugged in.
Do Cruise Lines Provide Curling Irons?
Cruise lines do not provide curling irons to passengers on any of the main cruise lines.
We checked with Royal Caribbean, Carnival, and Princess Cruises, and they do not provide them in any form.
What if you Forget Your Curling Irons?
If you forget your curling irons and want to curl your hair while on your cruise, a few alternative options are available.
You could try purchasing curling irons on board the ship's shops, although we've never seen them for sale as of yet. If you have, please let us know on which ship.
If the ship is docked in a port, you may be able to pop out and buy some. Depending on where you are traveling, make sure they will work with the stateroom outlets.  However, this isn't ideal as you will waste time on your trip.
Curling Hair Without Curlers?
If you forget your curling irons or they don't work for whatever reason, there are plenty of other ways you can curl your hair, so don't despair.
Firstly you could check Youtube for lots of variations on ways to curl hair, including if you have them using hair straighteners or flat irons. I was going to post one, but there were way too many to choose from.
Other methods include braiding, twisting, tying socks in hair to sleep in (daughters use this one), rollers, and many more.
As a last resort, you could make friends with curly-haired passengers and ask if you could borrow their curling tongs 🙂
Always Turn Your Curling Irons Off
In the interests of safety, always remember to turn your curling irons off.  If you leave them on, it would be a potential safety hazard for the entire ship and anyone in the room that might accidentally come into contact with in the stateroom, which is more likely given the typically smaller living quarters than when back home.  This is especially important if young children are around.
Tips for Using Your Curling Irons on a Cruise Ship
Extension Cord: Consider taking an powerstrip (extension cord) or multi-plug adapter (if allowed).   You won't know until you get to your stateroom how close they are to where you want to curl your hair.  You may also be limited to one outlet and have other guests in your room wanting to use it a the same time.
Travel Mirror: It can always be handy to have an extra travel mirror just in case of any issues in reaching the cabin mirror or competing for space with other guests in your room.
Hair Spray: Make sure you take your favorite hair spray with you as you might not be able to find the same brands on board, and some heat protectant sprays can be important for the health and look of your hair.
Curling Cream or Mousse: Depending on the style you want to achieve, you might want to take some curling cream or mousse with you, as these can help give your hair extra hold.
Hair Clips: These can be helpful to section off your hair while curling
Allow Extra Time: If you have long hair, it might take longer to curl on board than at home due to possible lower power, so be prepared and give yourself plenty of time.
Diffuser: If you have room in your packing and a hair dryer, consider taking a diffuser.  This will help to lessen the frizz and keep your curls intact.
Related Posts
Conclusion
You are allowed to bring curling irons on a cruise ship, one of the few exceptions to the rule about items that produce heat.
Just ensure to use them safely as they are a potential danger for everyone if left on.
If you have experience of taking curling irons on a cruise ship, please feel free to share in the comments.