While it depends on which cruise line you're traveling with, it's always good to know whether there are laundry facilities on board should you need to clean any of your or your family's clothes.
This is especially helpful if you have younger kids who can get through multiple outfits a day and occasionally mess your own up!  This is on top of changing your clothes multiple times a day, whether it be swimwear, sportswear, and dressing for dinner.
Knowing the onboard services before you set off can help you decide what to pack when you know whether you can wash it yourself using self-service laundry or the laundry facilities provided by the ship.  
It can also help in needing to pack fewer clothes and save on baggage costs, as well as making embarking and disembarking easier all around with less luggage.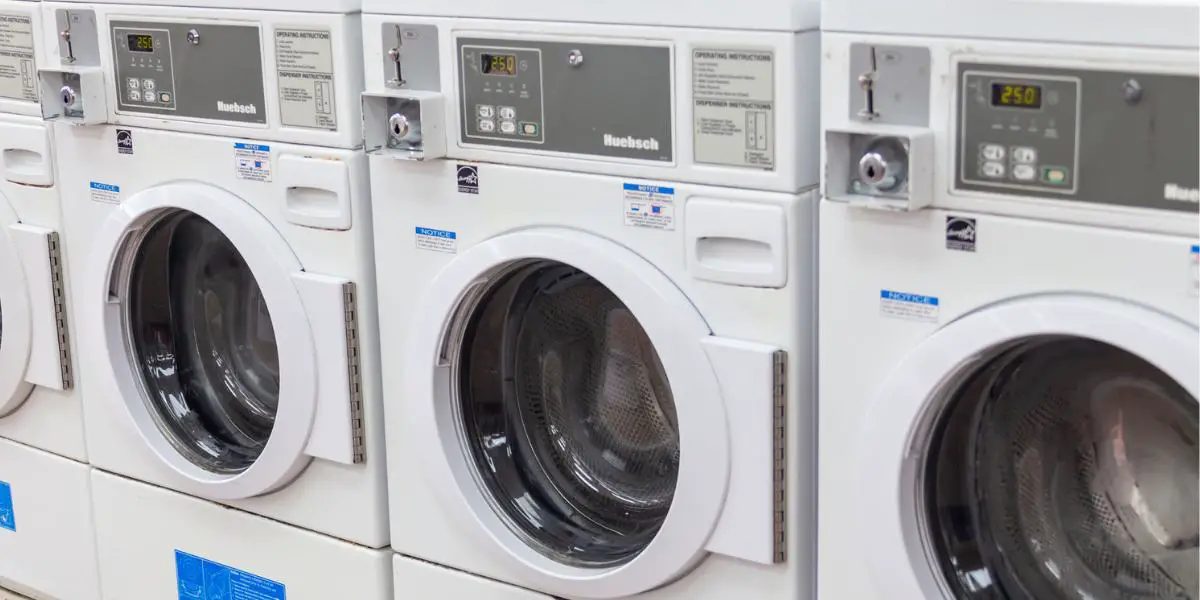 Below we have thoroughly researched which cruise lines offer self-service and what you can expect to pay for those that charge for laundry services.
Can You do Laundry on a Cruise?
Most cruise lines offer a laundry service for which you are usually expected to pay a fee.
Some cruise lines of the additional option of self-service laundry facilities, so you can opt to wash and dry your clothes yourself using the facilities provided.    Most of these also typically incur costs for usage.
You'll typically find a labeled laundry bag in your stateroom when using the cruise ship laundry service.  Simply fill it with the clothes you want to be washed and dried, and it will be collected by your cabin steward and returned once finished.
For an additional fee, you can also pay to have your items of clothes pressed, especially as most cruise lines do not allow guests to use or bring irons on a cruise ship or clothes steamers on cruises.
Do Cruise Ships have Laundry Rooms?
While most cruise lines offer laundry service, they don't all have laundry rooms available for public use.  If you intend to do your laundry while on the cruise, it's best to check in advance that laundry facilities are available.  
We cover what the leading cruise lines offer below.
Which Cruise Ships have Self-Service Laundry?
Many cruise lines do office self-service laundry facilities, including the main lines listed below:
Carnival Cruises
Crystal Cruises
Disney cruises
Holland America cruises
Oceania Cruises
P&O Cruises
Princess Cruises
Regent Seven Seas
Silversea
Viking Ocean Cruises
The cruise lines listed below do not offer self-service laundry facilities:
Celebrity Cruises
Costa Cruises
MSC Cruises
Norwegian cruises
Royal Caribbean Cruises
Windstar
It is also rare to find self-service laundry facilities on most river cruise lines.
How Much Does it Cost to Have Laundry Done on a Cruise Ship?
Laundry costs will vary between cruise lines and ships, and whether you choose to have your laundry done for you or do it yourself using the self-serve laundrettes.   Wash and press prices range from $1 for socks to $12  for a dress.  Some lines offer the option to pay by the laundry bag full at a cheaper rate, for example, $35.
Below we take a closer look at the prices for individual cruise line's laundry services.
Cost of Self-Service Laundry on a Cruise
The cheaper option is to use the self-service washing machines and dryers, you can expect to pay in the region of $3.50 per load, $7.00 in total if you use a washer and dryer for one load.
Most cruise line self-serve laundry rooms will have a detergent dispenser where you can buy your detergent.
Typically soap, bleach, and softeners will cost around $1.50 to $2.00 each.
Consider taking your detergents and fabric softeners onboard if you want a cheaper option. 
Carnival Cruise Laundry 
Carnival Cruise lines offer both self-service and valet laundry services.
Does Carnival Cruises Have Self-Serve Laundry Room?
Carnival Cruise ships have self-service laundry rooms, which can typically be found on decks that are predominantly staterooms.
The video below shows how quick and easy it is to get started using the self-service washing machines.
If you don't have any of your own, purchase some detergent and softener using your Sail and Sign card.
Select a machine or dryer for your washing.
Pay and start the wash or dryer quickly and easily via the Laundry Room Controller Machine using your Sail and Sign card.   
Exceptions: Carnival Celebration, Carnival Jubilee, and Mardi Gras do not have any washers or dryers.  They do have designated ironing rooms.
Carnival Luminosa also does not have any washers or dryers and also doesn't have any ironing rooms.
Do Carnival Cruise Ships have Laundry Facilities? 
Instead of doing your laundry yourself, you can use the onboard valet services.
On Carnival Cruises, you can use the carnival laundry bags you find in your cabin, which you can then have collected by your cabin steward for a fee.
The standard turnaround for Carnival laundry is 48 hours. Although there is an option to Express 1-day service, you'll have to pay 50% more.
You can pay for individual items opting for wash and fold, wash and press or, on select ships, wet-dry cleaning technology.
Members of the Carnival VIFP program may be entitled to Complimentary Wash & Fold laundry services,  which currently offers Platinum Members  "2 bags on 3 – 6 day cruises, 3 bags on 7-13 day cruises, 5 bags on a 14+ day cruises", as one of its many Platinum benefits, see the rest here.
Passengers staying in the Carnival Excel Suites are also entitled to a complimentary laundry service. 
You can find the current Carnival Cruise self-serve and Valet laundry price list here, but note prices may vary depending on which ship of the fleet you are traveling on.
If you have several items, it's worth checking out the laundry specials.
Royal Caribbean Laundry Services & Prices
Royal Caribbean does not offer any self-service laundry facilities.
You can pay to use the wash and press and dry cleaning services for which you can pay per item.  
For a 50% surcharge, you can opt for the Express Service.  Clothes need to be picked up before 11 am and will be returned by 5.30 pm.
You may be entitled to it two complementary pressing formal nights if you are a passenger in a Grand Suite. 
Guests staying in Star class suites may also be entitled to complimentary laundry and pressing facilities. 
You can find the Royal Caribbean laundry price list here.
What is the Royal Caribbean Laundry Bag Size?
Royal Caribbean offers a laundry bag offer for smaller items of clothing, currently priced at $34.99. 
The  Royal Caribbean laundry bag is 13.5 inches wide by 23 inches in length.   It's a good size, and you can fit quite a large amount of clothes in it.  This is handy to know if you are paying by bag.
Norwegian Cruise Laundry Services
Norwegian Cruise lines do not provide any self-service laundrettes.  Passengers can use the onboard wash and press and dry cleaning services.
How Much is Laundry Service on Norwegian Cruises
Fees are charged per item type, and there's also the option to opt for a laundry bag full for approximately $35.
Some passengers may also benefit from Norwegian's Latitudes Rewards Program and receive discounts or a complimentary bag of laundry per set number of reward points.
Disney Cruise Laundry
Disney cruise ships offer self-service laundry facilities and onboard laundry and dry cleaning services.
Disney Self-Service Laundrette Facilities 
Self-service washers and dryers cost $3 each a cycle,  and detergents and softeners cost $1. 
After loading the self-service washing machine and dryers, you can use the Disney App to let you know when your laundry cycle has been completed.
Depending on your Disney ship, you can expect between 3 to 7 self-service launderettes, each on different decks.
Disney Paid Laundry Pick-Up Service
Using the onboard laundry services, you can arrange a pick up from your cabin in the laundry bag provided if you let your host or guest Services know by 9. am.  Your laundry will be returned the following day.
You can expect to pay between $3 to $5.00 per item of clothing.  Smaller garments, such as socks, underwear, and handkerchiefs, from $1.20  to $2.10.   Simply fill out the laundry sheet and place your items in the laundry bag.
Disney cruises do not offer any discounts for bulk loads of laundry, they operate on a simple price-per-item basis.
You can expect to have your laundry back by 5:30 the following day.  If you need your clothing sooner, Disney offers two further options.
A same-day 5.30 pm return for items collected by 9 am for a 50% extra charge on listed prices.
An express service where you can have items returned within 3 hours.  This will cost an extra 100%.
Princess Cruises Laundry Rooms
Princess Cruises offer both self-service laundry rooms and wash and press paid services.
The self-service laundry is $3 for a washer and a dryer.   You can pay with your Ocean Medallion.   There's also the option can buy detergents and fabric sheets for $1.25 and washing powder and dryer sheets for $1.50.
Alternatively, you can pay per item to have your clothes washed and pressed.  Each item is priced individually.   You must pay 50% extra if you want a same-day turnaround.
There's also the option of paying for a laundry bag for around $25.
Captain's Circle Elite members are offered complimentary laundry services as part of the membership.
Celebrity Cruises Laundry Services
Celebrity Cruises do not offer any self-service laundry facilities.  They offer a laundry service based on a per-item fee which varies depending on whether you want to wash and press only all the garment dry cleaned.
Simply place your clothes in the Celebrity laundry bag and fill in the form to confirm your clothing items.
Passengers staging in Royal Suite staterooms or other staterooms above this level qualify for the complimentary laundry service. 
An additional option of same-day return service is available for a 50% extra fee. 
Celebrity Cruise Captains Club  Loyalty Program members may be entitled to order 2 complimentary bags of laundry cruises based on their tier level and the number of points they have earned.
Celebrity Cruise Laundry Price List 2023
| Item | Price |
| --- | --- |
| Suit | $17.50 |
| Jacket | $8.00 |
| Pants | $7.00 |
| Long Sleeved Shirt | $7.00 |
| Short Sleeved Shirt | $6.00 |
| Sweater | $8.00 |
| Shorts | $5.50 |
| Dress | $11.00 |
| Skirt | $6.50 |
| Pajamas | $5.50 |
| Hankerchief | $3.00 |
| T-shirt | $3.75 |
| Undergarments | $3.00 |
| Swimsuit | $4.00 |
| Socks, pair | $3.00 |
You can double check current price on the Celebrity Cruise web site here, as well as see full list of Dry CLeaning and Pressing Only prices.
Holland America Laundry Services
Self-service laundrettes are only available on a select few Holland America cruise ships, namely:
Amsterdam
Maasdam
Prinsendam 
Veendam
Paid laundry services are available on Holland America cruise ships.  The up-to-date price list can usually be found in the stateroom closet.
There are several packages offers that might be worth considering taking advantage of depending on how long you are cruising for:
Laundry Bag $30
Unlimited Laundry on a 7-day cruise $63
Unlimited Laundry on a 14-day cruise $126
Unlimited Pressing on a 7-day cruise $35
Unlimited Pressing on a 7-day cruise $70
Typically laundry takes 48 hours to process.
The Holland America Mariners Society Loyalty Program participants may qualify for complimentary laundry and pressing if they meet the 4 and 5-star cruise day credits.
 Also, passengers in category PS-SB may qualify for Complimentary laundry pressing and dry cleaning.
P&O Self-Service Laundrettes
P&O self-service laundrettes washers and dryers are free to use for all passengers, although you will have to buy your detergent.
Alternatively, you can opt To pay for the on-board laundry service fee charged at a fee per item.  This also applies to dry cleaning.
Tips for Doing Your Laundry on Cruise Ship
Take Laundry Bag: If you intend to do your laundry using the self-service facilities, it can be handy to pack your own laundry bag, which also helps you to take your clothes to the laundry room as you simply pick and take it. For it's our list of top cruise essentials. 
Wrap in A towel: If you forget to take a laundry bag of your own and don't just want to walk down to the laundry facilities with a bundle of clothes in your arms,  you could wrap them in a large beach towel.  Simply lay a towel flat on a bed and dump your clothes in the middle of the towel and then pull the four corners together to make a bundle you can carry over your shoulder.  
Alternatively, you could use one of your luggage bags to transport your laundry to the laundry room.
Take Your Own Detergent and Softeners: It is much cheaper to take your own detergent and softeners.  As well as saving money, if you prefer particular brands or scents, you can stick with what you are used to and prefer.  Plus, avoid any that may trigger an allergic reaction if that is a possible issue.
Quarters/Change: You might need loose change to operate some washing machines in the laundry rooms, so it may help to save up a few coins in advance.   Or you collect some change at guest services.  
Although more and more cruise lines are moving to cashless, for example, on Carnival, you could use your "Sign and Sail" card.
Frequently Asked Questions
Are There Washing Machines on Cruise Ships?
If there are self-service laundry rooms on your cruise ship, you can expect to find washing machines and dryers in this location. Usually, you'll have to pay to use them by using change for some form of payment card.
How long Does It Take For Laundry To be Done on a Cruise?
Laundry is typically collected and returned within 48 hours, usually returned the next day.  Most cruise lines also offer a same-day Express laundry service for a higher fee.
What If Your Clothing Is Damaged?
If any of your clothing is returned damaged or discolored, inform your cabin steward of your complaint.  
Typically your clothes are treated with great care, and complaints about the laundry services of any cruise line are extremely rare.   We have never had any issues ourselves.
Some cruise lines will pay up to x10 the cost of the wash and or press fee. Others will have terms that limit refunds to a much lower level.   Royal Caribbean, for example, offers seven times the charged amount.
Cruise lines generally have terms stating they will not be responsible for any shrinkage, broken zippers, color changes, and any items left in or on the clothing.