If you are thinking of going on a cruise, one of your safety concerns might be what happens in the event of an emergency and whether there are enough lifeboats for all passengers to disembark safely.
You might even have seen the Titanic when many people died because there weren't enough lifeboats and wondered if things have changed for the much bigger cruise ships of today.
Cruise ships have enough lifeboat capacity for 75% of the maximum capacity of people on board, crew, and passengers.   Liferafts are provided for the remaining 25%, although often not required as a cruise ship is never even near it's maximum capacity.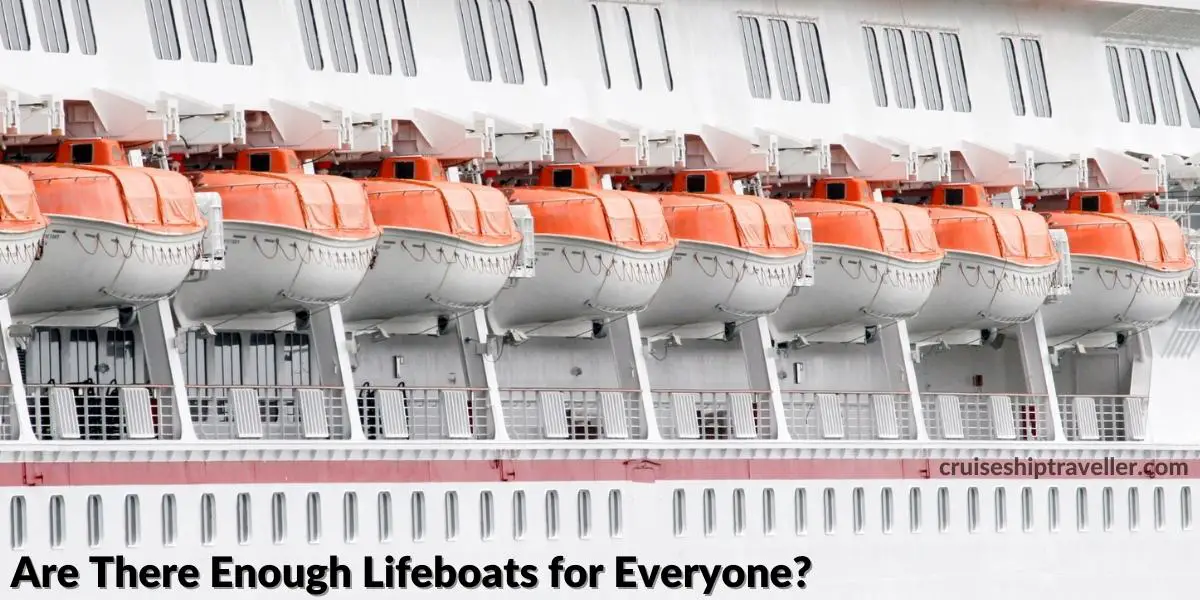 Modern cruise ships are bigger than ever, especially mega cruise ships such as Wonder of the Seas or Symphony of the Seas, as examples of some of the largest.
Nowadays, many cruise ships can carry 5000 to 6000 passengers on board and an additional 1000 or more crew members.
It's not surprising you may wonder if there are enough lifeboats on board to save everyone.
Although it's unlikely a cruise ship sinking or even capsizing, there are rare occasions when lifeboats may be needed.
At the very least, in times of rough seas and large waves pounding the ship, it can be comforting to know there's enough lifeboat capacity for everyone.
What is The Requirement for Lifeboats on a Cruise Ship?
The  International Convention for the Safety of Life at Sea (SOLAS) stipulates that a ship must have enough lifeboats to accommodate 75% of the people on board.   
SOLAS was started after the events of the sinking of the Titanic when there weren't enough lifeboats for everyone.
Regulations require each side of cruise ships have enough lifeboats to accommodate 37.5% of the total number of persons on board (passengers and crew), 75% in total. Inflatable or rigid liferafts must accommodate the remaining 25% of passengers and crew. (SOLAS, Section II, Regulation 21, 1.1)

Travellersunited.org (Source )
This means that for a ship with 3000 passengers and crew, at least 2250 must be able to fit in the available lifeboats. For a cruise ship carrying 6000 passengers and crew, at least 4500 must be able to fit into the available lifeboats.
In practice, most cruise ships have more than the minimum number of lifeboats required. For example, Royal Caribbean's Wonder has passenger and crew capacities of 6,988 passengers and 2,300 crew for a total of 9288.
This is slightly more than the 75% requirement set by the IMO, and that's assuming absolute maximum passenger numbers. 
Often the ship will have far fewer passengers than the absolute maximum, but it still leaves a few hundred people potentially without space on the lifeboats.
This is where liferafts come into play to make up over and above the 25% extra required.
Although it's worth highlighting that a cruise ship is rarely anywhere near absolute capacity, many staterooms can sleep up to 4 people if you include the extra bed space but often only hold 2 people.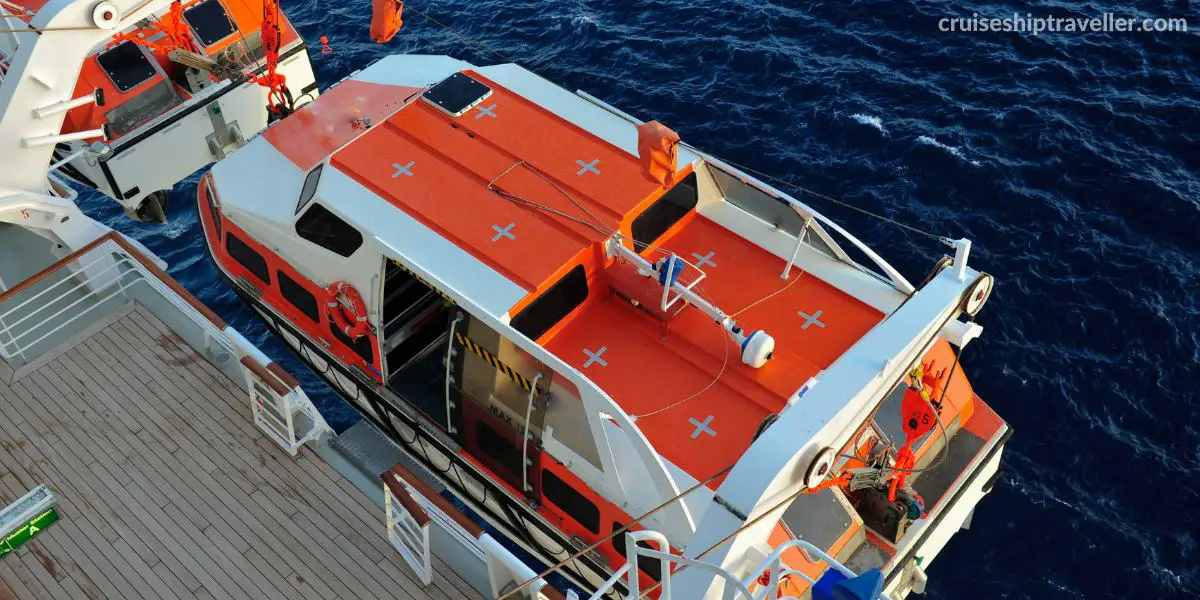 How Many Lifeboats Are Needed on a Cruise Ship?
Ideally, a cruise ship needs a higher lifeboat capacity than the total number of passengers and crew on the ship.
However, as we have seen, the IMO only requires a cruise ship to have enough lifeboats to accommodate 75% of its total capacity.
For every 1000 people on the ship, a cruise ship would need 75%  of that number in lifeboat capacity, or 750 people.  
If the lifeboats hold a maximum of 150 passengers, then the following number of lifeboats would be required:
1000 ship capacity = 750 lifeboat capacity = 5 lifeboats
2000 ship capacity  = 1500 lifeboat capacity = 10 lifeboats
3000 ship capacity 2250 = lifeboat capacity = 15 lifeboats
4000 ship capacity 3000 = lifeboat capacity = 20 lifeboats
For larger ships such as some of the Royal Caribbean fleet who have the larger 370 capacity lifeboats you would need the following:
6000 ship capacity = 4500 lifeboat capacity = 12 lifeboats
7000 ship capacity = 5250 lifeboat capacity = 14 lifeboats
The largest lifeboats, like those which were unfortunately destroyed on Costa Smeralda when it collided with a crane, can hold up to 440 passengers.
Some passengers may need assistance getting into the lifeboats, and crew members will need to stay behind to help with the evacuation process, including the cruise ship captain, who should be the last person to leave the ship and one of the reasons for the high cruise ship captains annual salary.
Additionally, some lifeboats may be damaged or lost during an incident at sea so it's always important to have more safety boat capacity than required.
Liferafts
If there are not enough lifeboats for everyone on board, then inflatable or rigid liferafts must accommodate the remaining 25% of passengers and crew.
Liferafts must be located on the ship's exterior, easily accessible, and clearly marked.
They must also be capable of being launched quickly and easily, even in bad weather conditions.
When needed, the liferafts are released from their compartments and connected to shutes are lowered into the sea where they are released and begin inflating.  
Passengers and crew members then have to defend down via the shutes and make their way to a seating position on the liferaft.
Liferafts come in different sizes holding from 25 to 200 people.  The larger ones hold as many as a standard-size lifeboat.
One of the largest is Viking Life Saving Equipment which holds up to 200. 
The 3D video below demonstrates how they would be used in an emergency.
Are There Enough Lifeboats for Everyone in the Event of an Emergency
It's all well and good having enough lifeboats when setting sail on your cruise vacation, but what about in the event of an emergency?
For example, if the ship is is on fire or is it listing to one side so much, the lifeboats can't be launched.
There is a SOLAS requirement that lifeboats must be able to be launched if listed as much as 20º.   It would be rare for a ship to list more than that, but it has been known in the case of Costa Concordia.
How Many Lifeboats On Carnival Cruise Ships?
All lifeboats can be seen on each side of the Carnival ships. 
Depending on which ship you are cruising on, you could simply look for a photo and count them. 
Although you can rest assured:
We also ensure that the number of lifejackets, lifeboats, and life rafts on each Carnival ship exceeds the number required, based on the ship's maximum capacity for passengers and crew.

Carnival Safety and Security (source)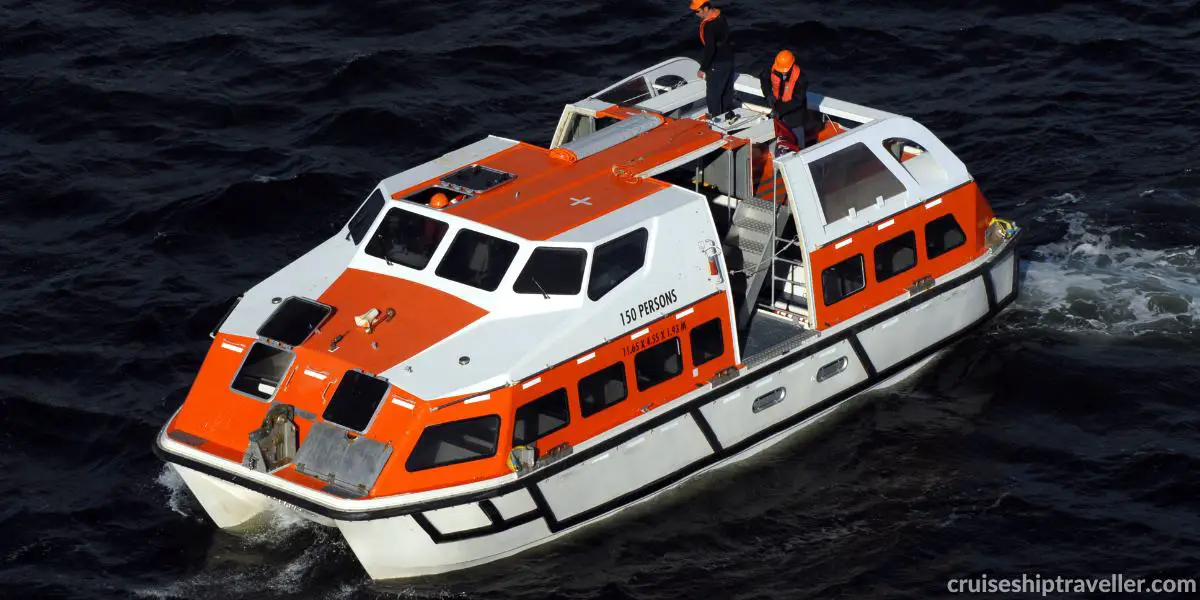 How Many People Can Fit In a Cruise Ship Lifeboat?
For many years, the maximum capacity of a cruise ship lifeboat was typically 150 people.  This will be the case for many cruise ship lifeboats today. However, many of the worlds largest cruise ships now hold lifeboats with a capacity of 370 to 440 people.
1.1.2.1 No lifeboat shall be approved to accommodate more than 150 persons. (LSA 4.4.2.1)

rules.dvv.com Source
However, more recently, with ever-increasing cruise ship sizes and required lifeboat capacity, cruise lines such as Royal Caribbeans obtained a waiver to have larger lifeboats like those of Wonder of the Seas, which has 18 lifeboats 9 on each side.
This might not seem like enough for a cruise ship that can hold over 6000 passengers and crew.
However, each lifeboat has a capacity of not 150 but 370 people for a total of 6660.  These mega-lifeboats, as they are known, are found on many of the Royal Caribbean largest cruise ships, including the first to have them, Oasis of the Seas.
These significantly larger lifeboats not only carry more people but also take up significantly less length when all together on the ship's side and keep them on one deck.
Although it's still below the passenger (6988) and crew (2300)  maximum capacity of 9288.  Hence why, rafts are needed.
Here's an interesting time-lapse video of a 150-capacity lifeboat being loaded and released with 150 people (crew members) as part of a periodic capacity test.
Where Are The Lifeboats On a Cruise Ship?
The lifeboats on a cruise ship are typically located on the outside decks, often on both sides of the ship.
They are easy to spot and are usually brightly colored orange and yellow.
The lifeboats might be partially or completely hidden behind panels or glass on some ships.
How Big Are the  Lifeboats On Cruise Ships?
The largest lifeboat, the Palfinger  MPC 49 is 15.25m by 5.5m  and holds 440 persons.
The Royal Caribbean CRW55 mega lifeboats are  16.7m by 5.6m and hold 370 persons.
The more common 150-capacity lifeboats are usually 8.1m to 9.6m in length.
Different types of Lifeboats on a Cruise Ship? 
There are 3 types of lifeboats to be found on cruise ships.
Open lifeboats
Closed lifeboats
Freefall lifeboats
However, the most common type of lifeboat you'll find on a large ocean cruise ship is the closed lifeboat.
These are designed to protect passengers from the rough seas and weather.
How Are Lifeboats Launched from a Cruise Ship
This passenger was lucky enough to get a great view of a lifeboat being launched into the sea from the Viking Ocean cruise ship.
The lifeboat is extended outwards from the ship and lowered down.
In this instance, the lifeboat was being used as a tender boat.
Tender Boats
Lifeboats aren't just used in emergencies, they sometimes double up as tender boats to take passengers to shore from the cruise ship when in port.
What's On a Lifeboat?
Lifeboats carry the essentials, including:
Water and food rations for each person to last a week
First Aid Kits
Seasickness Pills
Searchlights
Signaling Devices
Do Cruise Ships Have LifeBoat Drills?
All cruise ship passengers must participate in a lifeboat drill before the cruise sets sail.
During this mandatory safety drill, you will be shown to your assigned lifeboat station, often called a muster station.
You won't necessarily get into the lifeboat,  but you will learn how to put on a lifejacket and be familiarized with the drill.
Frequently Asked Questions
Do all Cruise Ships Have Lifeboats?
Yes.  All cruise ships have lifeboats.  They are required by law to have enough lifeboats for at least 75% of all passengers and crew on board. Liferafts are provided to make up for the rest.
Why do Ships Not have Enough Lifeboats?
Lifeboats take up space and add weight to cruise ships. 
Inflatable liferafts make up the difference needed to get all passengers and crew off the ship in an emergency.   These are much lighter and take up a lot less space.
The more space a cruise ship can free up the more money it can make by providing more cabins, entertainment or other sources of extra revenue on the ship.
Are there Toilets on Lifeboats?
Generally, lifeboats do not have toilets.  They are designed to be as efficient as possible when it comes to saving lives, and the toilet space could take up the space for 1 or more passengers.
Saying that the larger Royal Caribbean 370 capacity lifeboats do have a water closet.
What Kind of Lifeboats do Cruise Ships Have?
Modern-day cruise ships often have fully enclosed lifeboats made from fiberglass that protect against the elements.
Some lifeboats are even equipped with air conditioning and heat to keep passengers comfortable during their time on board.
How Many Lifeboats on Mega Cruise Ships?
There will be enough lifeboats for 75% of the mega cruise ships' maximum capacity for crew and passengers.  For mega-cruise ships like Royal Caribbeans Wonder of Seas and Symphony of the Seas, the lifeboats are more than twice the size of the standard cruise ship lifeboats, with a capacity of 370 compared to 150, so not as many are needed. 
Conclusion
All cruise ships must have enough lifeboat capacity for at least 75% of the maximum capacity for total people on board, including crew and passengers.
Often cruises ships are nowhere near full capacity even if every cabin is booked.
Liferafts cover the remaining 25% of maximum capacity.
If you are anywhere concerned, you can take comfort from the fact that of the hundred cruise ships sailing oceans and rivers every day, lifeboats are very rarely required.