There is no doubting cruise ships accumulate a lot of waste, but what happens to it? 
Do they bring it all back to shore, or is some or all of the garbage dumped in the sea?
We know more than our oceans are precious, and with more and more cruise ships on our seas and seemingly getting ever larger, it's well worth taking a look to find out the real answer.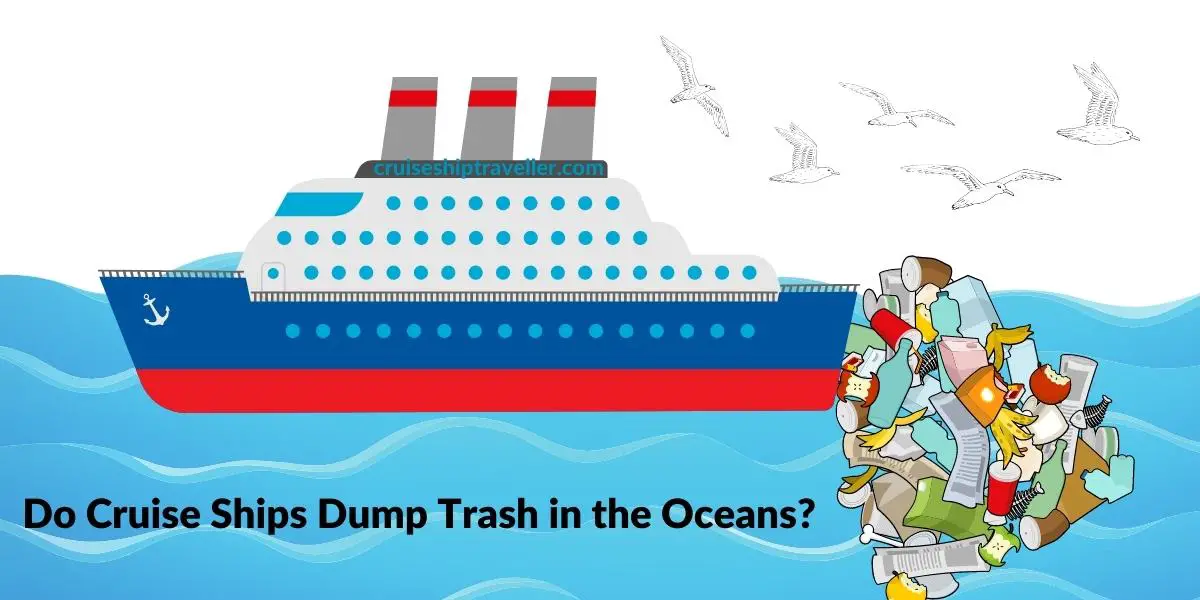 Firstly, let's look at what cruise ships should be doing with their trash.
Can Cruise Ships Dump Trash in the Ocean
It's clear from Marpol guidelines that cruise lines cannot dump their trash into the oceans.  This includes all types of plastics, metal, glass, crockery, rags, paper, packaging materials, and incinerator ashes.
The regulations are governed by Marpol, and in the case of trash-related waste from cruise ships, they have to adhere specifically to Annex V (source pdf)
In this section, we focus on nonfood trash.
"Annex V Prevention of Pollution by Garbage from Ships" states that cruise ships need to follow the following guidelines which clearly state the following garbage should not be dumped into the sea in any water, special, arctic, or otherwise.
Prohibited Garbage Items for all waters:
Bottles
Clinkers
Cooking oil,
Crockery
Floating dunnage
Glass
Incinerator ashes
Lining and packing materials
Metal
Paper
Plastics
Plastic garbage bags
Rags
Synthetic ropes
and similar refuse.
Dumping any of these types of garbage items in the seas would be illegal.
Note we have covered separately how cruise ships dispose of human waste and what cruise ships do with food waste, both also cover the processes involved.
Do Cruise Ships Dump Trash In the Ocean
We have established that it's illegal for cruise ships to dump their trash into the ocean.  
However, do they dump it anyway?  
Most cruise ships do not dump their trash in the oceans.  Stringent records of various waste types are kept, including what is removed from the ships, and its weight is monitored to spot any discrepancies.
If ships were dumping waste at sea, it would be noticed when the weight of particular waste types they removed would be a lot less than expected.
While some cruise ships have been caught dumping garbage, they were punished with heavy fines, which hopefully act as a  significant deterrent against future dumping.
In 2019 Carnival Corporations Princess Cruise lines were fined $20 million in part for dumping plastics into the waters of the Bahamas.  
They were already on probation from 2016 when they were fined for Princess Cruises dumping oil waste on an ongoing basis for several years. Source: NYT 
What do Cruise Ships do with all their Garbage?
Where Do Cruise Ships Empty Their Waste?
Cruise ships are only legally allowed to dump food and human waste into the sea after it has been processed to certified safe levels.
All other waste is separated into waste-type categories, compacted, and stored until it can be removed from the ship when it returns to port and, as much as possible, taken to be recycled or, in some cases, sent to a landfill.
How Cruise Ships Are Reducing Their Waste
Cruise ships have banned single-use plastics, such as straws, which is why taking your own reusable straw is one of our cruise essentials for some people.
Passengers are encouraged to put trash in the correct recyclable trash can.  Even the crew are encouraged to make sure their waste is recycled, and as an added incentive Royal Caribbean out any rebates earned from recycled waste into their retirement program.
Royal Caribbean – Zero Landfill Ship
One of the Royal Caribbean's largest ships the Symphony of the Seas is claimed to be a zero landfill ship.
On deck 2, the cruise ship has a dedicated waste and recycling center.
Trash cans are checked for recyclables which split into 4 main categories:
Cardboard and paper – compacted into bundles
Glass – sorted into colors and crushed
Metal – sorted into types and compacted in a bailer
Plastic – compacted
The compacted bundles are stored by waste type until they can be emptied when the cruise dock is in its home port.
All the recyclable materials are removed and transported to local recycling partner sites.
Cruise Line Environmental Credentials
There is no doubt that cruise ships have an impact on the environment, and cruise lines should consider taking all actions necessary to preserve the environments in which they sail.
The bare basics should be factors they can control, like responsible onboard waste management.
To work out which cruise lines and individual cruise ships are the most environmentally friendly, Friends of the Earth have compiled a "Cruise Ship Report Card" to give an indication of which ones are the best for the planet.
Each cruise line and ship is rated A-F, or ungraded for the following:
Sewage Treatment
Air Pollution Reduction
Water Quality Compliance
In 2022 the top 3 cruise lines by final grade were:
Regent Seven Seas Cruises
Disney Cruise Line 
Oceania Cruise Line
The top cruise ship was Disney Wonder with an A-
All 4 Disney cruise ships at the time (there are now 5 ships in the fleet) were in the top 6.
Frequently Asked Questions
Do Cruise Ships Dump Plastic Into The Ocean?
It is illegal for cruise ships to dump any kind of plastic into the sea.   Plastic can take hundreds of years to degrade and, in the meantime, pollute our oceans by killing turtles who mistake plastic garbage bags,  as a food source filling whale's stomachs so much they can't eat enough real digestible food down to microplastics infiltrating all manor or marine life no matter how small.
Unfortunately, some cruise ships have been caught dumping plastic waste.
Does Carnival Dump Trash In The Ocean?
Carnival cruise has been found guilty of dumping plastic in the oceans and was fined $20 million in 2019.
By law, they should not be dumping trash into the ocean.