Are you interested in a Royal Caribbean cruise but would prefer to travel or being in the company of adults only?
While Royal Caribbean is primarily a family-orientated cruise line, it holds strong appeal across its fleet of ships for adults of all ages, and some of those prefer adult-only surroundings and company.
Here we take a look at the options available for adults-only Royal Caribbean cruise ships as well as adults-only areas on ships that are for all ages.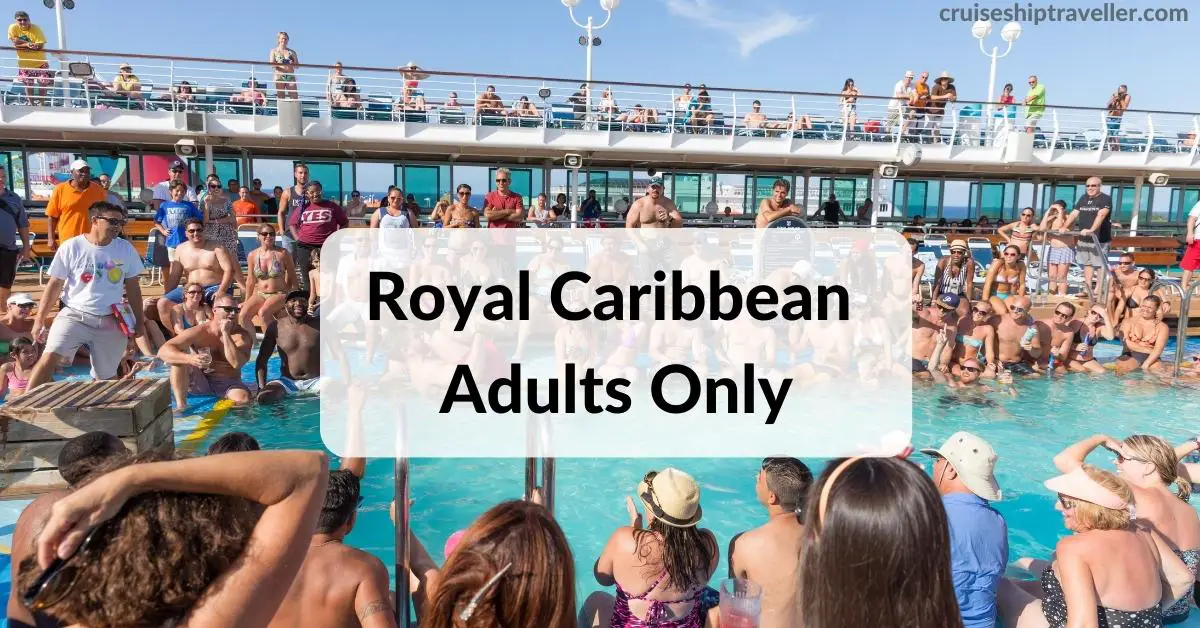 Although Royal Caribbean is primarily known as a family-oriented cruise line, it also holds a strong appeal for adults of all ages, including those who prefer adult-only environments.
Does Royal Caribbean Have Adult Only Ships?
Currently, there are no purely adults-only ships in the Royal Caribbean fleet.   All ships welcome guests to bring children from 6 to 12 months up, depending on the selected cruise.
However, on each ship there are a number of adult-only areas, and with many of the ships being huge, these areas are extremely large and spacious, as we highlight below.
6 Adult-Only Areas on Royal Caribbean ships
Although there are no complete adults-only Royal Caribbean ships, on every ship in the fleet, here are a number of adult-only areas to which you can escape to if this is your preference.
Royal Caribbean offers several adult-only areas on their ships. These areas are designed to provide a quieter, more relaxing experience for guests looking to enjoy peace and quiet. 
With some of the largest cruise ships in the world, some of these areas are quite large, and if your cabin is located near some of these key locations, you'll have plenty of adult-only time onboard with barely the need to cross paths with younger guests.
Solarium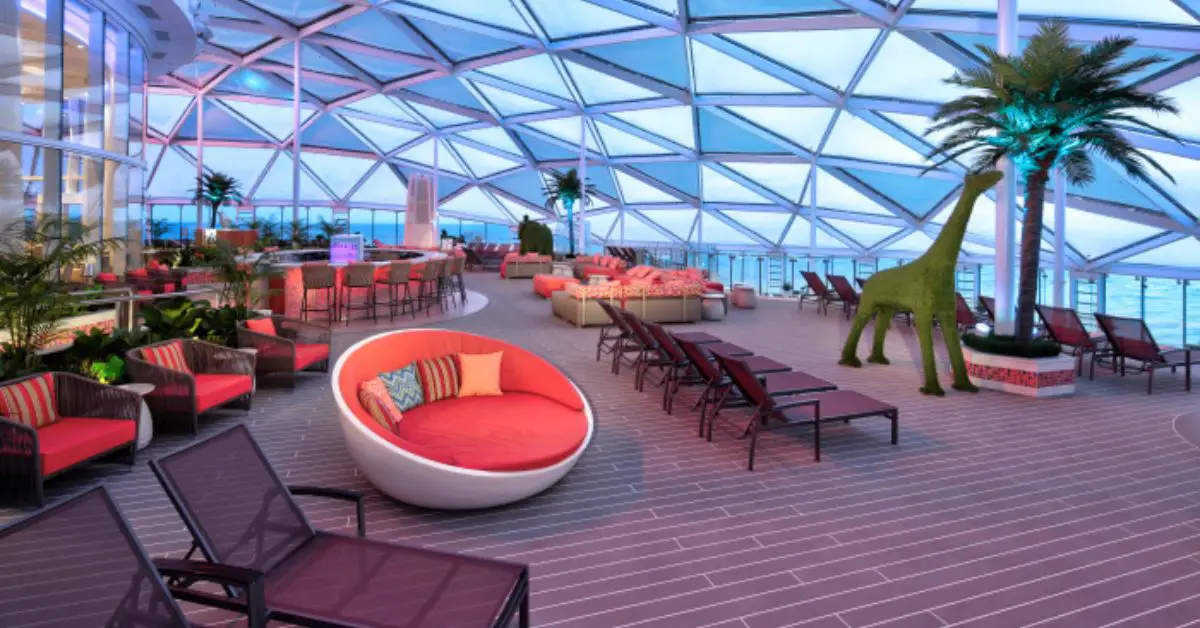 The Solarium on Royal Caribbean cruise ships is reserved for guests 16 years and older. It is an indoor and outdoor pool area that features a retractable roof, comfortable loungers, and whirlpools.
The Solarium is a popular spot for adults looking to relax and unwind in a quieter atmosphere, away from the hustle and bustle of the main pool areas. The pool and whirlpools are ideal for taking a refreshing dip or soaking up some sun, while the comfortable loungers provide a perfect spot to read a book or take a nap.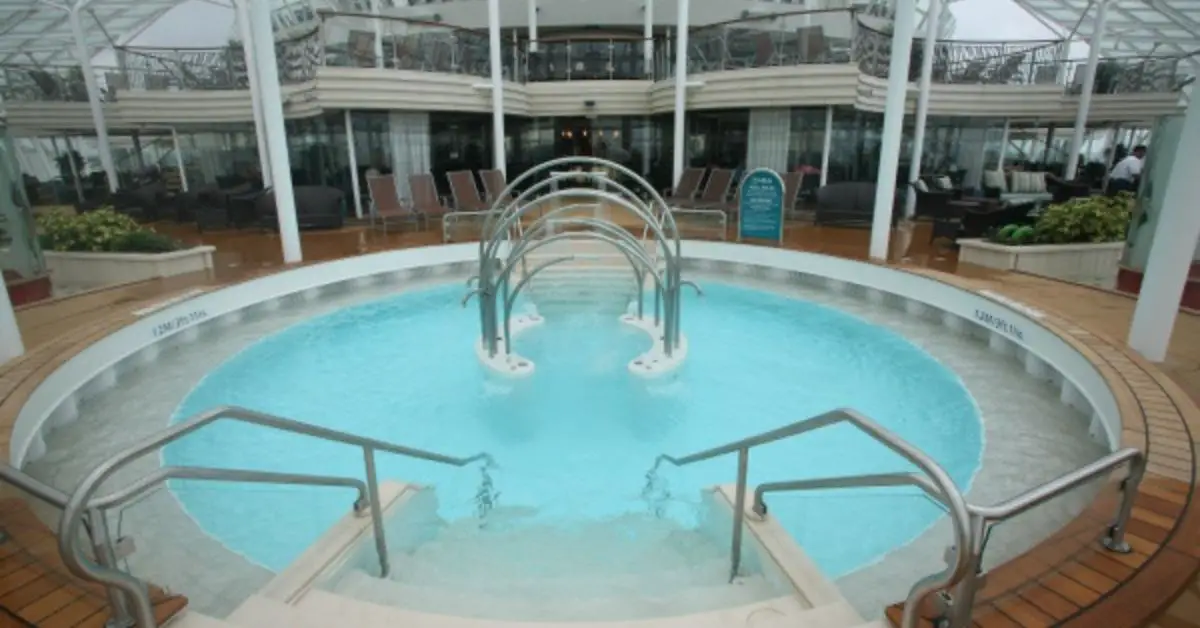 In addition to the pool and lounging areas, the Solarium also features a bar where guests can enjoy specialty cocktails, wine, and beer. Some ships also have a cafe where guests can grab a light bite to eat.
The video below shows a guest tour of the Solarium on Odyssey of the Seas.
Spa
The spa on Royal Caribbean cruise ships is not exclusively for adults, but there are some restrictions in place. 
Guests under 16 years of age must be accompanied by a parent or guardian to use the spa facilities, and they are only allowed to receive treatments in private treatment rooms.
While there is a special YSPA menu for guests aged 13-17, they are not permitted to use the sauna or steam rooms until they reach 18 years of age. 
This is to ensure that the spa facilities remain a serene and relaxing environment for all guests to enjoy.
Many of the spa services and facilities are designed with adults in mind. Various treatments are available that cater to different needs and preferences, such as massages, facials, and body wraps. 
The spa facilities often include features like heated loungers, saunas, and steam rooms, which are popular among adults looking to unwind and de-stress during their cruise.
While the spa is not exclusively for adults, it is a great place for adults to relax and pamper themselves during their cruise.
Adult-only dining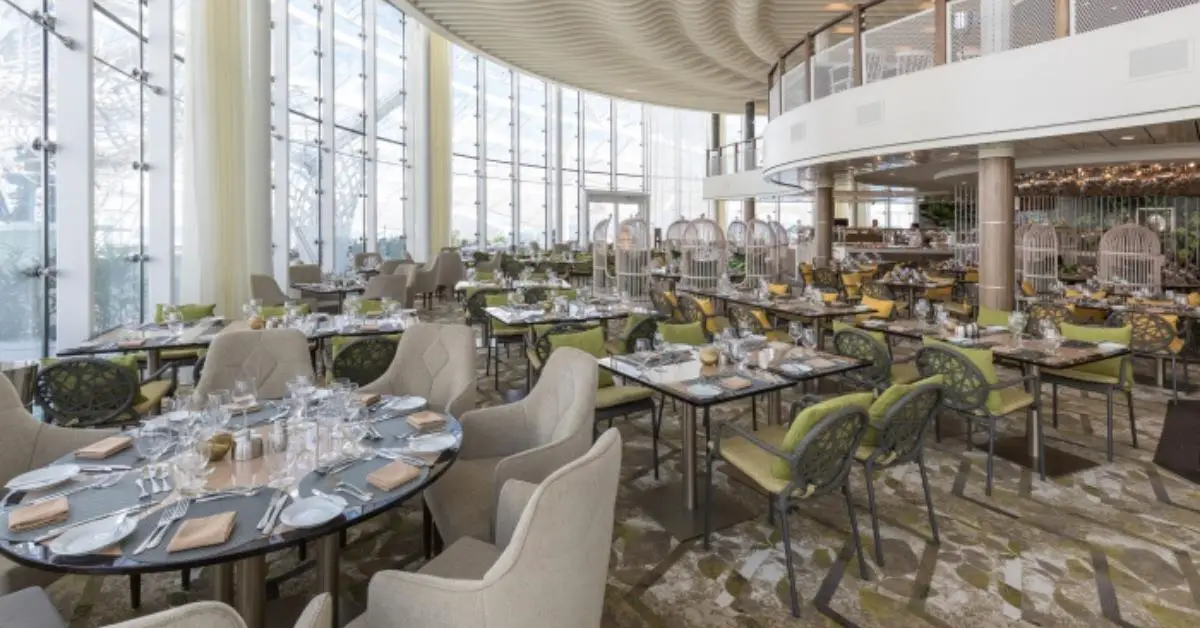 Royal Caribbean does offer adult-only dining options on select ships. One such option is the Solarium Bistro, which is a buffet-style restaurant that is exclusively for adults. 
The Solarium Bistro is located within the Solarium, an indoor and outdoor pool area reserved for guests aged 16 years and older.
The Solarium Bistro offers a range of healthy and delicious options, including salads, grilled meats, and seafood dishes. 
The atmosphere is relaxed and serene, making it a perfect spot for adults to enjoy a peaceful meal away from the bustle of the main dining areas.
Bars and lounges
Royal Caribbean does have adult-only bars and lounges on their ships. Many bars and lounges on Royal Caribbean ships have designated adult-only times, usually after a certain time of day.
One such bar is the Viking Crown Lounge, which is a signature feature on many Royal Caribbean ships. This lounge is located at the top of the ship and offers stunning panoramic views. In the evenings, the Viking Crown Lounge often has a designated time for adults-only, creating a relaxing and peaceful atmosphere.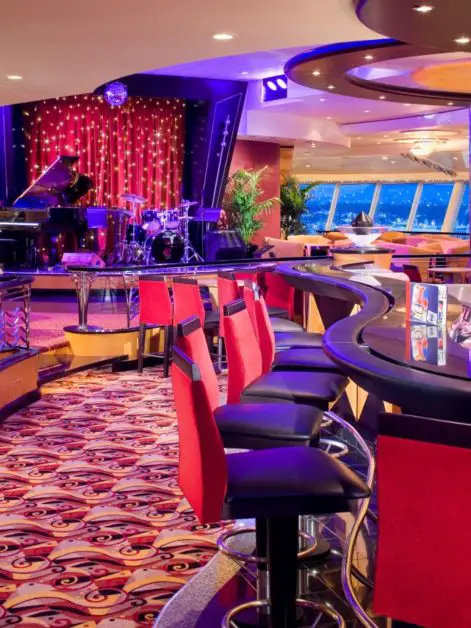 Another popular adult-only venue is the Schooner Bar, which is a nautical-themed bar that often features live music and entertainment. The Schooner Bar is a great place for adults to enjoy a cocktail and unwind after a busy day of exploring the ship and ports of call.
In addition to these venues, many of Royal Caribbean's ships also have specialty bars and lounges that are exclusively for adults. 
These may include the: 
Champagne Bar
Diamond Club
R Bar
Casino
For those looking for a little excitement, Royal Caribbean has a casino on all ships. Guests must be 18 years or older to enter, but even if you're not a gambler, most casinos have a bar and seating area for you to socialize and enjoy the adult only surroundings.
Nightclubs
Royal Caribbean's nightclubs on all ships are exclusively for guests 18 years and older. Dance the night away to the latest hits and enjoy a fun-filled evening with friends or loved ones
Icon of the Seas – Adults Only
Royal Caribbean's newest cruise ship, Icon of the Seas, is set to offer extra adult-only areas, providing guests with the perfect opportunity to relax and unwind in a tranquil environment. 
Two of the standout features of Icon of the Seas' adult-only offerings include Cloud 17 and the Cove Pool.
Cloud 17
Located on the uppermost deck, Cloud 17 is an adults-only poolside oasis that offers guests a serene and peaceful pool area.
The cantilevered whirlpool overlooking the ocean is the perfect spot to relax and soak up some sunshine while enjoying the beauty of the natural surroundings. 
Guests can also enjoy private access to the Lime and Coconut, a tropical-inspired bar offering a variety of snacks and drinks.
Cove Pool
For a more intimate adult-only pool experience, the Cove Pool is an ideal option. Located on Deck 15 and directly facing the ocean, this pool offers stunning views and a peaceful atmosphere. It's the perfect spot for those seeking a little "me" time away from the kids on their cruise getaway.
These two features are in addition to the other adults only areas available on most other ships in the Royal Caribbean fleet.
Adults Only Beach for Perfect Day at CocoCay 
Private Island, Royal Caribbean have announced a new adults only beach, called Hideaway Beach to be made available in the coming month sometime is mid to late 2023
While few details have been released we can expect it will offer a serene and peaceful environment where adults can enjoy premium amenities such as private cabanas, comfortable loungers, and high-quality food and beverage away from the family and fun entertainment around the rest of the island.
Tips for Cruising with More Adults (and Fewer Kids)
If you're looking to cruise with fewer families and kids onboard, there are a couple of tips to keep in mind.
Cruise Off-Peak
First and foremost, consider booking your trip during off-peak times when kids are in school and there are no holidays or special events. 
This is typically when you'll find the least number of families and children on board. Rock Caribbean ships tend to be particularly busy with families, so you may want to avoid these ships altogether.
Longer Itinerary
Another factor to consider is the length of the cruise. Longer itineraries, such as seven nights or more, tend to attract fewer families and more adults. 
This is because families with young children may not be able to take the time off from school and work to go on longer trips. So if you're looking for a more adult-oriented atmosphere, a longer cruise may be worth considering.
Frequently Asked Questions
Is Allure of the Seas Adults Only?
Allure of the Seas, contrary to what I've seen stated elsewhere on the net, is not an adults-only cruise ship.  In the same respect as all other ships in the Royal Caribbean fleet, Allure of the Seas is for all ages.
As with other Royal Caribbean ships, there are numerous adult-only areas on Allure of the Seas.
Is The Solarium For Adults Only?
Yes, the Solariums on Royal Caribbean ships are restricted to over 16s only.