If you're looking for a good laugh, then look no further than these funny cruise ship memes. From the silly to the downright absurd, these memes will have you chuckling in no time.
We've scoured the internet for some of the funniest cruise memes out there, and we're sure you'll get a good laugh out of them or at least raise a smile.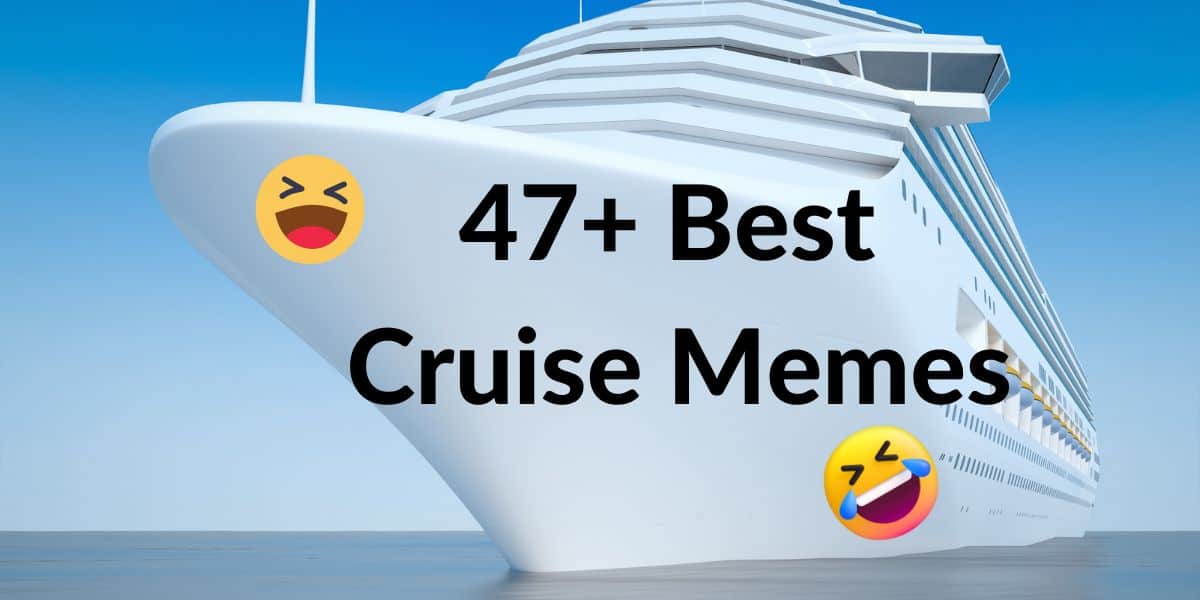 I've tried to capture every funny side of cruising, including memes about needing a cruise through to cruise day, the onboard buffet food, and many more.
But first in case you didn't already know.
So what's a cruise ship meme?
A cruise ship meme is any funny or relatable image or video that's been shared online, typically with a caption added. And when it comes to cruise ship memes, there's no shortage of funny cruise ship pics.
Whether you're a seasoned cruiser or someone who's thinking about taking their first cruise, these memes will definitely resonate.
So sit back, relax, and enjoy some of the funniest cruise ship memes out there.
Funny Cruise Memes
In case you are looking for a specific type of cruise meme relating to a specific cruise line or situation such as being a cruise addict or overindulging in the buffet we have split the memes into humor categories below.
Near the end, we group a random selection of the best and funniest cruise memes for you to enjoy before ending with memes that represent the feelings of disembarkation day.
Carnival Cruise Memes
Carnival Cruises are the best and some passengers are very loyal.
Disney Cruise Memes
Disney-inspired cruise memes are always popular.
Booze Cruise Memes
For some cruisers, it's all about the boozing and the drinks package, cocktails, and having a very merry time on vacation.
I like this feeling:
Cruise Food and Buffet Memes
We all know how good and how much food is on offer onboard the cruise ship.
No matter what your intentions are before embarking, it usually doesn't last long.
Its actually quite surprising how much weight can be put on in 7 days!
Know this feeling, especially on the first visit to the buffet. The joy and excitement is real.
Let's get fat together.
Withdrawal symptoms from the buffet start to set in.
So true:
Haha, when you get home.
It was only 7 days, made the most of it though.
I Need a Cruise Memes
We spend a lot of time waiting for the next cruise.
Do you get this excited when booking a cruise is mentioned?
My kind of house in between cruises (I wish).
This is a great idea for the yard.
Funny and cute!
What kind of friend are they anyway if they go without you?
The days are long while waiting.
When the wait is too long and you've reached breaking point!
It's all about prioritizing for the cruise budget.
Packing Cruise Memes
It's all about the packing
How do you distinguish your luggage?
Anyone else do this? (I do!)
It's Cruise Day Memes
You know that crazy happy feeling!
Love this one, watch the kid's food fly! (Poor kid but at least smiling)
Going on a Cruise Memes
When the cruise is booked nothing can stop the smile when that happy feeling has set in.
The cruise is booked, all is good.
Every time, never gets old.
Screw everything and everyone.
Oh yes!
So exciting.
Size 7 day Cruise Memes
When it comes to happy birthdays, Christmas, Mother's and Father's day, some people only want to wear a size 7 day cruise!
What do you want to wear for Christmas?
Another one but this time for Disney:
Cruise Addict Memes
Are you a cruise addict?
This is the dream:
Best Random Funny Cruise Memes
Can you see it? 🙂
Is this you? Where am I exactly?
Cruise towels.
Yes, it's a cruise cabin!
Is this you whenever you hear the word cruise.
Love cruising meme.
Disembarkation Day Cruise Memes
All good things must come to end (until the next cruise).
No rush to leave the ship, or even the cabin.
Do you think we'd ever get away with it? Hide.
Know this feeling. Hard times.
Back home to chores.
More Funny Memes
If you are still looking for more funny cruising memes or image you might find some at these sources which our updated regularly:
Cruise Memes Facebook Groups – a great source and no wonder it has over 75,000 followers. They also post many of their memes on their Instagram page.
I hope these cruise memes made you laugh or gave you a few reasons to smile.
Which one was your favorite? Feel free to let me know.