Cruise lines a lot of their make money from the alcoholic drinks they sell onboard.  
The relatively high prices can soon add up for some, whether you are drinking at the bars or with your meals.  
Drink packages are available, but for some, the value is borderline depending on how much each guest drinks.
Therefore many passengers want to know how much alcohol they can bring on board each cruise line to maximize any ways of reducing costs.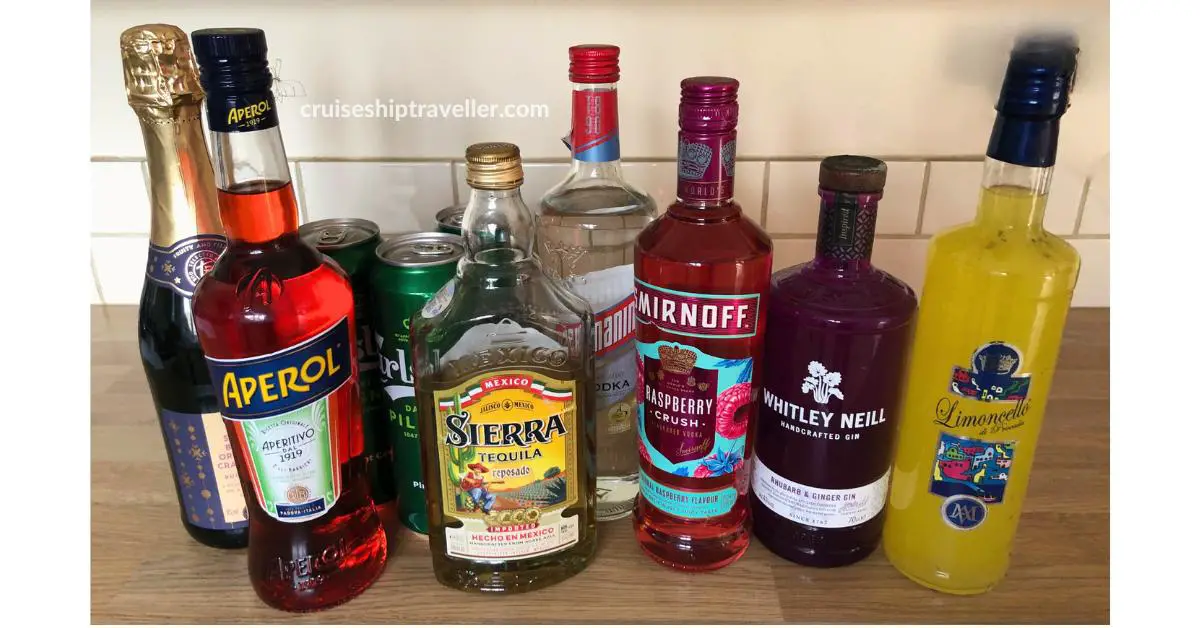 Some even go further by attempting to sneak alcohol onto the cruise ship.  Although it's well worth giving due consideration to the risks and consequences of what can happen if you're caught sneaking alcohol on the cruise ship.
We have gone through all the leading cruise line's alcohol policies and covered the main points for each so you know exactly what you can and can't take onboard.  In some instances, we contacted them directly to get clarification on finer points.
If you are solely interested in the wine allowances, check out our more in-depth "Can You Bring Wine on Cruise" page with info for each cruise line, including corkage fees.
Can You Bring Liquor on a Cruise?
As a general rule, no forms of liquor are allowed to be brought on board any cruise ship by guests.  This includes all kinds of spirits and hard liquors.
This is one of the reasons some guests try to sneak their own alcohol onboard using rum runners and liquor bags.  Some even try putting liquor in wine bottles and replacing the cap.
Which Cruise Lines Allow You To Bring Alcohol Onboard?
Most main cruise lines allow guests to bring a small amount of alcohol onboard. 
The exceptions are Costa and MSC cruises which prohibit all alcohol from being taken onboard.
We have summarized the main points of each cruise line's alcohol policies and provided links to more information if you wish to double-check any finer points or see the latest policies.
| Cruise Line | Alcohol Limit per Passenger |
| --- | --- |
| Azamara | Wine, beer and liquors. No limits. |
| Carnival | 1x 750 ml bottle of wine each |
| Celebrity | 1x 750 ml bottle of wine each |
| Costa | None |
| Cunard | 1x 750ml bottle of wine each |
| Disney | 2 x 750 ml bottles of wine OR 6 beers |
| Holland America | Wine and Champagne – unlimited (within reason) ( |
| MSC Cruises | No Alcohol |
| NCL | Unlimited wine ($15 fee per bottle) |
| P&O Cruises | 1x 1 liter of wine or Champagne, beer, spirits or liquor |
| Princess Cruises | 1x 750ml bottle of wine each for free. ($15 per additional bottle) |
| Royal Caribbean | 1x 750ml bottle of wine each (or two bottles per stateroom max) |
| Viking Cruises | Wine, beer, spirits, liquors – all unlimited |
| Virgin Voyages | 2 x 750 Bottles of wine per person |
Alcohol allowances by Cruise Line
Cruise Line Boarding Alcohol Policies
In no particular order, we take a look at the most popular cruise line's alcohol policies, including when you can bring extra alcohol onboard.
Royal Caribbean Alcohol Policy
Royal Caribbean does not allow guests to bring beer, spirits, or hard liquors onboard.  
Guests are permitted one bottle of wine up to 2 bottles per stateroom.
A royal Caribbean drinks package is available, which may help some guests reduce the costs depending on how much they drink.
Guests often try to work out how to cheat the Royal Caribbean drinks package.   While we don't encourage cheating, there are certainly ways you can maximize the value. 
Royal Caribbean Alcohol Policy here.
Carnival Cruise Alcohol Policy
Carnival Cruise allows guests to bring on one bottle of 750ml wine or champagne.
They do not allow guests to bring spirits, hard liquors, or beers onboard.
Carnival Alcohol Policy here.
Princess Cruises Alcohol Policy
Princess Cruises allow guests to bring one bottle of wine on board for free but will charge you a fee (currently $15) for every other bottle over this.   You will still get charged if you don't open or intend to open the bottle.
Princess cruises do not allow any other types of alcohol onboard.  That means no beer, spirits, or liquors.
Princess Cruises Alcohol Policy here.
Disney Cruises Alcohol Policy
Disney cruises are one of the few cruise lines that allow guests to bring beer onboard.  You have a choice of whether to bring 2 bottles of wine or 6 beers 12 ounces or under.
Not only can you bring this alcohol allowance on boarding day, you can also take advantage of it at every port of call.
Wine and champagne can be consumed in public areas for a $26 corkage fee.
Beers must be consumed within your stateroom.
You can also buy more alcohol of all kinds and have them put in storage until the last day of your cruise when you must go and collect them yourself.
Liquors or spirits or excess wine and beer purchased in ports of call will be stored until the end of the cruise.

Disney Cruise
Disney Alcohol Policy here.
Celebrity Cruises Alcohol Policy
Celebrity Cruises do not allow guests to bring any beer, spirits or hard liquor onboard their cruise ships.
Guests can bring 1 bottle of wine each, up to 2 bottles per cabin.  There is no fee for drinking in your cabin, but there is a corkage fee if you consume in a restaurant or bar.
You can purchase alcoholic beverages in ports of call or in onboard shops and have them stored until the last day of sailing, when they will be delivered to your cabin.
Celebrity Cruise Alcohol Policy here.
MSC Cruises Alcohol Policy 
MSC Cruises have a strict no-alcohol policy for any guests boarding the cruise from embarkation day and any ports of call.   This includes wine, beers, and liquors of all types.  
It doesn't matter if the alcohol is for dining area use or the privacy of your stateroom. There is simply none allowed.
Alcoholic drinks, including wines, spirits, beer or other liqueurs are available for purchase onboard the Vessel at fixed prices. Passengers are not permitted to bring onboard any such drinks for use during the voyage, whether for consumption in their own cabins or otherwise.

MSC Cruise Alcohol Polcicy here under "Alcohol 13.1."
Viking Cruises Alcohol Policy
Viking Cruises allow guests to bring on as much alcohol as they like onboard.  This includes boarding days and from when you visit any ports of call.
Beers, wines, spirits, and liquors are allowed on board.
Not only can you take alcohol on board, you can also consume it in both your stateroom and in public areas of the ship, including dining areas, without incurring a corkage fee.
In their FAQ's it states:
Guests may bring alcohol and beverages with them or purchase alcohol ashore at destinations that sell alcohol. Alcohol can be consumed in the guest's stateroom or in public spaces, including dining venues. There is no corkage fee.

Viking Cruises
Holland America Alcohol Policy 
Holland America only allows guests to bring 750 ml of Wine and Champagne onboard. No maximum amount is stated, but they say amounts deemed excessive will be refused.
No beers, spirits, or liquors are allowed to be taken onboard.
Each bottle you bring will be subject to a $20 corking fee.  You can bring one bottle onboard fee free if its purchased from a company-sponsored shore excursion.
Holland America Alcoholic Policy here.
Norwegian Cruise Line Alcohol Policy
Norwegian Cruise does not allow any beers or liquors to be brought onboard.
They do, however, allow an unlimited number of wine and champagne bottles.  Although you will have to pay a corkage fee of $15 for every bottle whether you intend to consume it or not.
Virgin Voyages
Virgin Voyages allow guest to bring two 750ml bottles of wine per cabin.   They do not allow any beer or liquor onboard.
They specifically state you can purchase specialty liquors in ports of call and bring them onboard if you let security know so they can put them in storage for you until the last night of your cruise.
Full info here under "Can I bring alcohol onboard".
Azamara Cruises Alcohol Policy
Azamara is a Luxury cruise line that lets guest to bring all types of alcohol on board, including wine, beer, and liquors.   No limits are stated, so we can only assume it is within reason.
You may bring your own favourite liquor, beer or wine for private consumption in your suite or stateroom.

Azamara Cruises
Azamara Alcohol Policy here under "Corkage Policy"
You can drink your own alcohol in your stateroom, but if you wish to drink in public areas of the ship, such as the dining rooms or bars, you will have to pay a $10 corkage fee.
Other River and Luxury Cruises
Many rivers and luxury cruise line companies do allow guests to bring alcohol onboard.  Often this is because many of them include alcohol in the fare price.  Therefore they don't lose out by taking your own. If anything, they benefit.
How to Bring Alcohol on a Cruise?
You should typically bring your alcohol on a cruise in your carry-on luggage.   If you have taken a flight and packed your alcohol in your checked luggage at any point in your journey, you will need to take it out and transfer it to your carry-on.
Some cruise lines will confiscate and dispose of any alcohol found in your checked luggage.
Whatever part of your journey you are on, make sure you pack your alcohol safely, so it does not get broken in transit.  Wrapping in a towel and keeping compact in the center of your bags should suffice.  
Related Posts
Frequently Asked Questions
Is Alcohol on Cruise Ships Watered Down?
Alcohol on cruise ships is not considered to be watered down.  Cruise lines make a good portion of their revenue from alcoholic drinks, sold individually and via drink packages.  If a cruise line were proven to be watering down drinks, it would risk its reputation.
Remember, if you are ordering a drink, state your preferred brand name. Otherwise, you may be given the cheapest options if you order a generic rum or brandy.  
This also applies to cocktails. Let the bartender know you want them to use the premium brand of your choice.
Another relevant tip is to request the bar-tender go easy on the ice.
Can You Bring Beer on a Cruise?
Of the leading cruise lines, only Disney Cruise allows bottles of beer to be taken onboard.  The limit is 6 bottles per person over the age of 21.
If the passenger takes beer, they can not take any additional wine.  It's one or the other.
Can You Bring 12 Pack of Beer on a Carnival Cruise?
Carnival cruise does not allow guests to bring any beer onboard the ship.   Beer can be purchased onboard at bars, nightclubs, and restaurants. 
Can I Buy Alcohol in the Ports?
You can often buy alcoholic drinks cheaply in ports in duty-free stores.  However, you generally won't be able to take these back to your stateroom.  Instead, you will have to let cruise staff know, and they will store them until your leaving day.