Royal Caribbean drink packages are considered quite expensive compared to similar cruise lines.
So it's not surprising some guests discuss ways of getting more value for their money by sharing ways they cheat the Royal Caribbeans drinks package.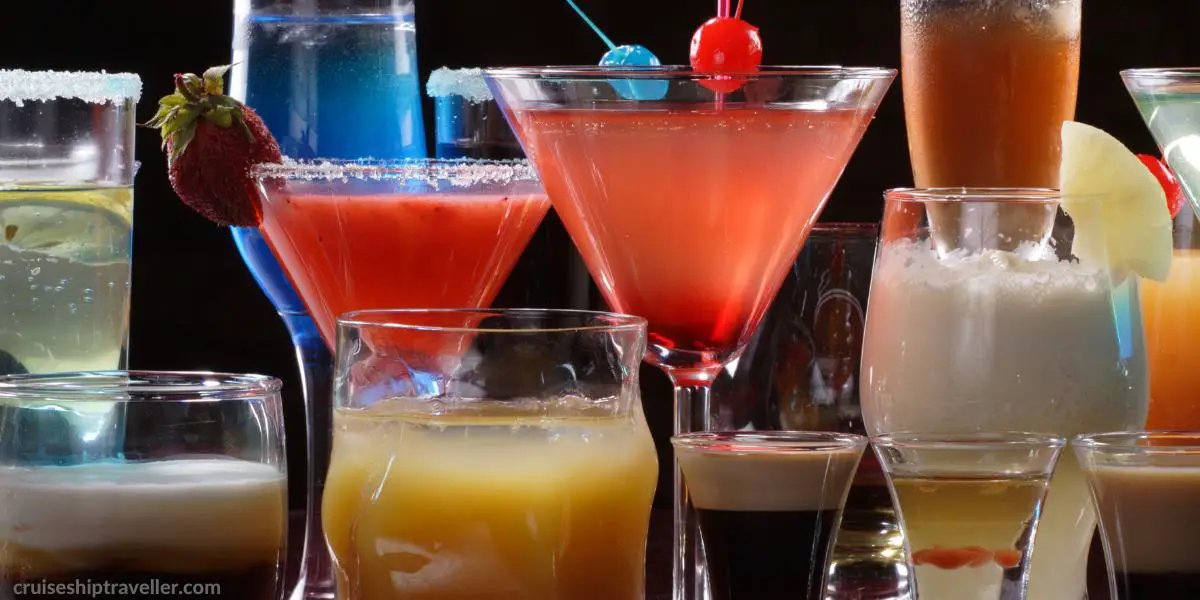 Reasons for wanting to cheat include:
Everyday – some people want to cheat the package because they believe it is unfair because it forces you to buy it for every day of the cruise.
Whole Cabin – everyone in the cabin has to buy it.  What about couples where one person drinks and the other person doesn't?
Overdrinking – The system encourages overdrinking because some people want to ensure they get their money's worth daily.  It encourages overconsumption.
Expensive – Cruises are expensive enough. Some people feel aggrieved at having to pay for more than they need.
The Royal Caribbean drinks packages are structured to make a profit.  
You cant pick and choose what days to have the package, you have to have it every day. 
Therefore they know it's less likely you will be able to consume the maximum amount, therefore more profitable, whether it's a sea day or port day, you have to have drinks package all days or none.
Hence, everybody in a cruise cabin of drinking age must purchase a drinks package. 
It's hardly surprising people think about ways they can cheat the system in other ways,
However, quick word of warning before we continue: if you get caught cheating, although you won't be sent to the cruise jail, you will risk losing your drinks package without a refund, so continue at your own risk.
Ways to Cheat the Royal Caribbean Drinks Package
It's not always about getting more drinks than you are entitled to. For many, its also about getting around some of the drink package instructions, which limit to buying a certain amount of drinks.
Sharing Royal Caribbean Drinks Package
Buy Early & Cancel if Discount Price Later Available
Make Friends with the Bar-tender / Waiters
Drink Your Wine
Sneak Drinks on Board
Specify Brand of Liquors
Don't Overlook the Non-Alcoholic Drinks
Sharing Royal Caribbean Drinks Package
Royal Caribbean know that guests will want to share their drinks package.   To get around this, they have introduced, like most cruise lines nowadays, a rule whereby if anyone wants to purchase a drinks package in a cabin, everyone staying in the cabin of drinking age has to purchase a drinks package too!
This means if you are a couple and only one of you wants to buy the drinks package, it simply won't won't you complete the purchase.   Only when both guests choose the drinks package will it allow you to pay.
This is the same, no matter how many guests of drinking age stay in a cabin.  It's all or none.
This is where the cheat comes in.
Contact Royal Caribbean in advance and explain that only one person wants the Deluxe Beverage package, but the other person does not drink or has a medical condition and can't drink. Royal Caribbean will make an exception, even though not an official policy.    
Instead, the other person will have to purchase the Royal Refreshment package for non-alcoholic drinks.
You will have to contact Royal Caribbean directly, as you cannot do this online.
Although they still have to buy a package, it's generally half the price.  Drinks-wise you are both covered, and although less alcohol between you, you have the opportunity to share some.
Here we have covered sharing the Royal Caribbean drinks packages in more depth.
Buy Early and Cancel if a Discount Price is Available Later
One way to cheat the Royal Caribbean drink package is to get it for the cheapest possible price in the first place.
The best time to buy a Royal Caribbean drinks package is before your cruise even starts.  This may seem counterintuitive to waiting to spot a better deal.  However, you will often get the best prices on the pre-cruise package.
If you spot any further discounted offers, you can simply cancel your initial order penalty free and replace it by ordering the new cheaper offer price.
If you wait to purchase the drinks package until on the ship, you will generally have to pay a higher price and wait in a long queue for pleasure! 
Instead, while others are queuing, you can be ordering your first drink!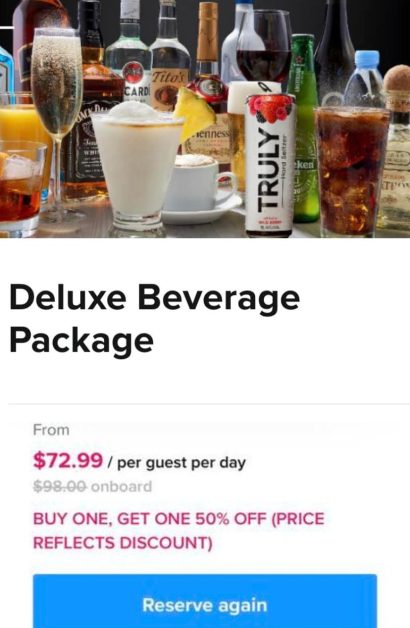 Make Friends with the Bar-tender / Waiters
 Tip them a bit extra from the start of the cruise in the hope they will let some restrictions, such as the refill time limit, go unnoticed.
Another advantage is that even when the bar is busier, you have a higher chance of getting served quicker.
Drink Your Own Wine
Royal Caribbean allows guests to bring wine onboard but charge a $15 corkage fee if you consume in public areas of the ship.
However, in your stateroom will be a corkscrew, so you could simply open the bottle in your room, take your wine bottle and glass of wine out, and drink elsewhere onboard.   
You can buy more wine at the ports of call to use this option multiple times to save a few dollars.
Sneak Drinks Onboard
Because of the high drinks prices and the limited amount of alcohol you can bring on the cruise, some people cheat on the drinks package by attempting to sneak alcohol on the cruise ship.
Taking on board their favorite typically strong liquor saves them even having to buy the drinks package in the first place.
Instead, they can order soft drinks and discreetly add their own alcohol directly to the drink.
However, discretion is the game's name, and worrying about being seen can make it more stressful than worthwhile.  
One way guests sneak liquor on a Royal Caribbean cruise is to take advantage of the two bottles of wine per cabin policy but replace the wine with hard liquor.
If you attempt to sneak alcohol onboard, ensure you understand how cruise ship scanners detect alcohol, so you know the pitfalls to avoid.
Also, bear in mind what happens if you are caught sneaking alcohol on a cruise. In the case of Royal Caribbean, their terms are quite harsh and threaten not to let you on the ship.  Although that is listed together with more serious infringements.  You would most likely just lose your alcohol.
Specify the Brand of Liquor
To get the most value out of your drinks package, always take the opportunity to specify the top-quality liquor brands in your drinks.
Otherwise, bar-tender will likely give you the cheaper or unknown house brands if you request generic drinks.  
You can even request the brands to be used in making your cocktails.
Don't Overlook the Non-Alcoholic Drinks
Most people get the drinks package for the alcohol. 
However, it is worth highlighting, especially for days when you feel like drinking a little less alcohol if you've been overdoing it, that there are many other quality non-alcoholic drinks you can get on the drinks package, including:
Premium coffees
Freshly squeezed fruit juices
Bottled waters (ideal for shore excursions)
Another tip is some non-alcoholic drinks, such as energy drinks, count towards your drinks package, so if you want to order a vodka and energy drink, ask for the energy drink on the side, so you get 2 drinks.
Free Drinks For Excursions
Did you know you can take your free water bottles off the ship on excursion days?   This saves you from having to buy bottled water when in ports.
There are also lots of other free dinks included on your Royal Caribbean cruise and in some instances even free alcohol.
Related Posts
Frequently Asked Questions
What Happens When You Get Caught Sharing Your Drink Package?
If you are caught sharing your Royal Caribbean Drinks package, it will be canceled, and you will not receive a refund.  You will then have to purchase drinks individually for the remainder of your days on the cruise.
Can You Get Away With Sharing Your Beverage Package On Royal Caribbean?
Royal Caribbean drinks packages are not officially allowed to be shared, but if you are discreet, you can get away with sharing some of your drinks package on a Royal Caribbean cruise.  
Just don't be ordering drinks and blatantly passing them to someone else in front of the bartender or waiter.  Even if they are easy-going and might turn a blind eye, if you are blatant, it can put them in an awkward position.