For travelers who want to enjoy unlimited non-alcoholic beverages on their Royal Caribbean cruise, the non-alcohol Refreshment Package is an attractive option. 
This package provides guests with a convenient way to stay hydrated and refreshed throughout their trip, without having to worry about the cost of individual drinks. 
Whether you're looking to enjoy a morning coffee, a refreshing soda, delious mocktail or a revitalizing smoothie, the Refreshment Package has you covered.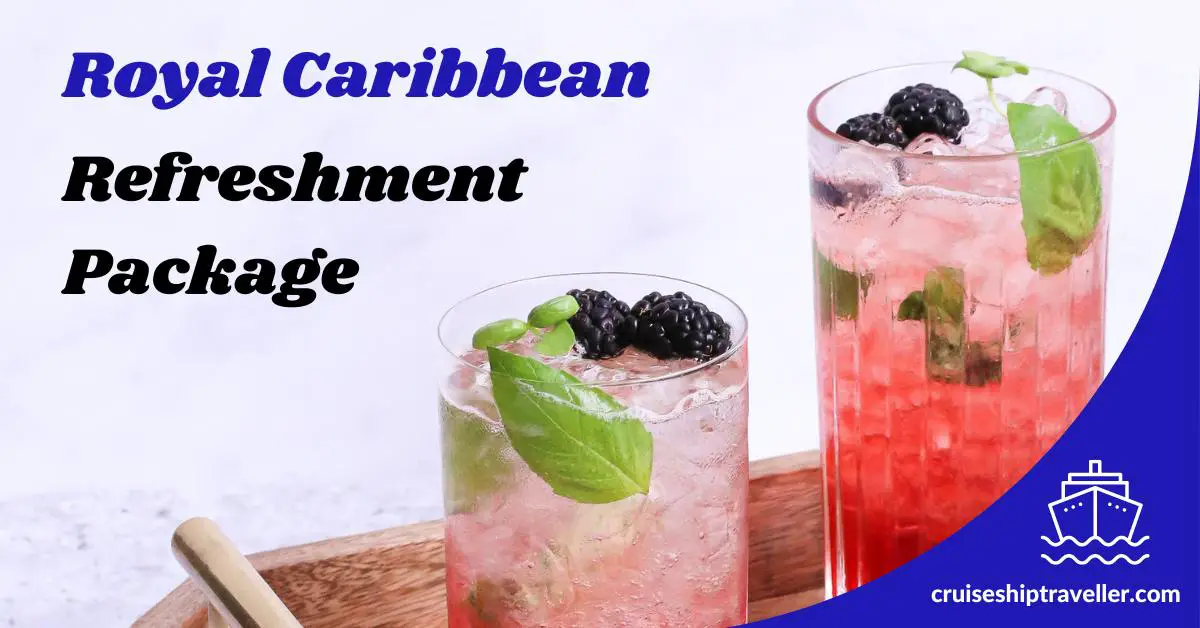 Here we take a closer look at what the Royal Caribbean Refreshment Package includes, how much it costs, and who it's best suited for. 
We'll also explore some tips for getting the most out of your Refreshment Package and answer some frequently asked questions. 
Before we look at pricing, lets just first clarify what you get with the Refreshment package.
What Is Included In The Royal Caribbean Refreshment Package?
The Refreshment package states it includes the following:
Fountain soft drinks and refills at any venue
Coca-Cola Freestyle drinks
Coca-Cola souvenir cup
Non-alcoholic cocktails (mocktails)
Still and sparkling water
Premium coffees and teas
Fresh-squeezed juices
Some of the more specific ones that Im often asked and Ive double-checked are covered below.             
Does Royal Caribbean Refreshment Package Include Smoothies?
Yes, smoothies for Vitality Cafe are included in the drinks package.
Does Royal Caribbean Refreshment Package Include Specialty Coffee?
The Refreshment package includes specialty coffee.  
The only coffee is does not include is any from onboard Starbucks stores.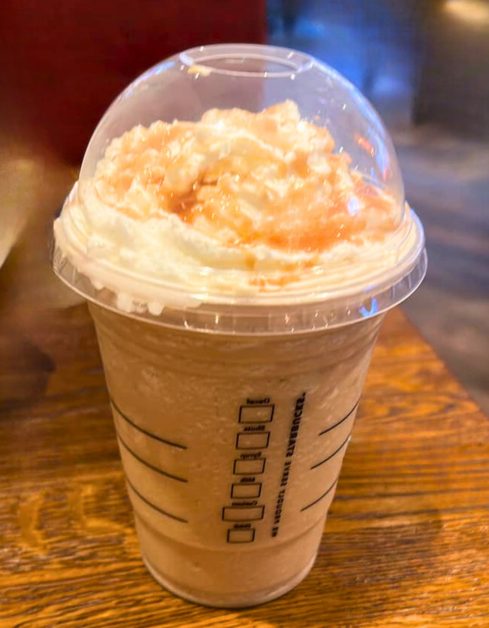 Does Royal Caribbean Refreshment Package Include Bottled Water?
The refreshment includes both bottles of still and sparkling Evian water.
Are Milkshakes Included in the Refreshment Package?
Milkshakes are not included in the Refreshment drinks package.
Although contrary to to this, a number of people do claim they are included at Johnny Rockets, but more people claimed they were not.  So it may well vary from ship to ship.    
We have found them to be available on Oasis of the Seas, so they may well be on all Oasis class ships.
They are not listed on the package as an option so considered them a bonus if they are.
Is Red Bull Included on Refreshment Drinks Package?
Yes, both regular and sugar free Red Bull can be ordered where available via your Refreshment package.
All flavors of Red Bull should be available.
Where Can You Use The Refreshment Package
You can use the Refreshment drinks package in the vast majority of bars and restaurants on the Royal Caribbean cruise ships.
You can also use the drinks package on Royal Caribbean's private island CocoCay.
The 3 exceptions are:
Starbucks stores
Room Service
Stateroom mini bars
What is the Royal Caribbean Refreshment Package Price?
The Royal Caribbean Refreshment package is a an unlimited non-acoholic refreshment drinks package.
It is lower priced than the all encompassing alcoholic and refreshment deluxe drinks package.
If you drink enough, its a potentially cheaper way to cover the cost of your drinks on your Royal Caribbean cruise vacation.
 A good discount would be 25% to 30% off so expect to pay between $29 to $38 per day
Example of standard discount: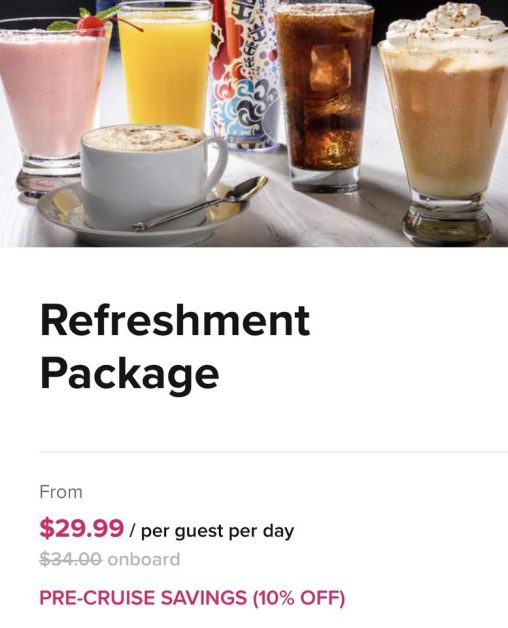 The best deals I tend to see are $19.99, but these are exceptional discounts.
Good times to check for the best discounts are:
Black Friday Week
Cyber Monday
Labor Day
July 4th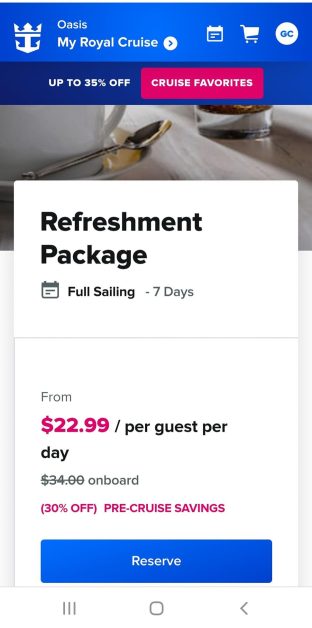 How Much Is Refreshment Package If You Buy Onboard The Ship? 
If you wait until you board you can expect to price the full price for the Refreshment Package of $38 a day.
If at all possible always try and buy any drinks package at least 48 hours before you sail as you will always save yourself for money.
What's Not Included in the Refreshment Package?
Alcoholic drinks (wine, beers and liquor) and any refreshment drinks over $13 are not included in the refreshment package.
Drinks from Starbucks stores are also exempt.
Non alcoholic beers are not included in the refreshment package.  Most non-acoholic beers contain alcohol, abeit in small amounts.  You would have to pay for your non alcoholic beers separately.
Where to Buy the Refreshment Package?
The best place to buy your refreshment package in online as least 2 days before you sail.  This will enable you to buy the package at a discount to the onboard price.
The sooner you buy the better for good deal. 
We have covered this more fully in the best time to buy Royal Caribbean drinks package, with tips to ensure you get the best discount price.
Is the Refreshment Package Worth It?
The Refreshment Package offers guests unlimited non-alcoholic beverages throughout their cruise, including premium coffee, tea, bottled water, juices, and fountain sodas.
 It is often less expensive than the alcohol package and can be a good option for those who do not drink alcohol or prefer non-alcoholic beverages.
The price of the refreshment package may initially seem like a lot, but if you enjoy multiple drinks throughout the day, the package can save you money in the long run.
When deciding if the Refreshment Package is worth it, consider your drinking habits and preferences.
Individual Refreshment Drinks Prices
To help workout how many drinks you'd need to consume here is a table of the typical prices for individual refreshment drinks:
| Item | Price |
| --- | --- |
| Bottle of water | $3.00 |
| Mocktails | $7.00 |
| Soft drinks | $3.00 |
| Specialty Teas & Coffees | $4.00 to $5.50 |
| Soda's | $3.50 |
Approximate prices for individual refreshment package drinks
How Many Drinks Can You Get At One Time?
You can only get one drink at a time and you can expect a 15-minute wait time between being able to buy another from the bar.  Although this can vary.
You can help yourself anytime from the Freestanding refills.  But you only get one souvenir cup so you'd have to finish your drink before getting another.
If you typically drink a lot of non-alcoholic beverages and would like the convenience of having them included in your cruise fare, then the package may be worth it.
 However, if you don't drink many beverages, or prefer to purchase them a la carte, the package may not be the best value for you.
Don''t forget there are a number of free drinks included on your Royal Cairbbean cruise.
But also remember your on vacation and t can get very thirsty lying in the sun by the pool all day!
Royal Caribbean Mocktails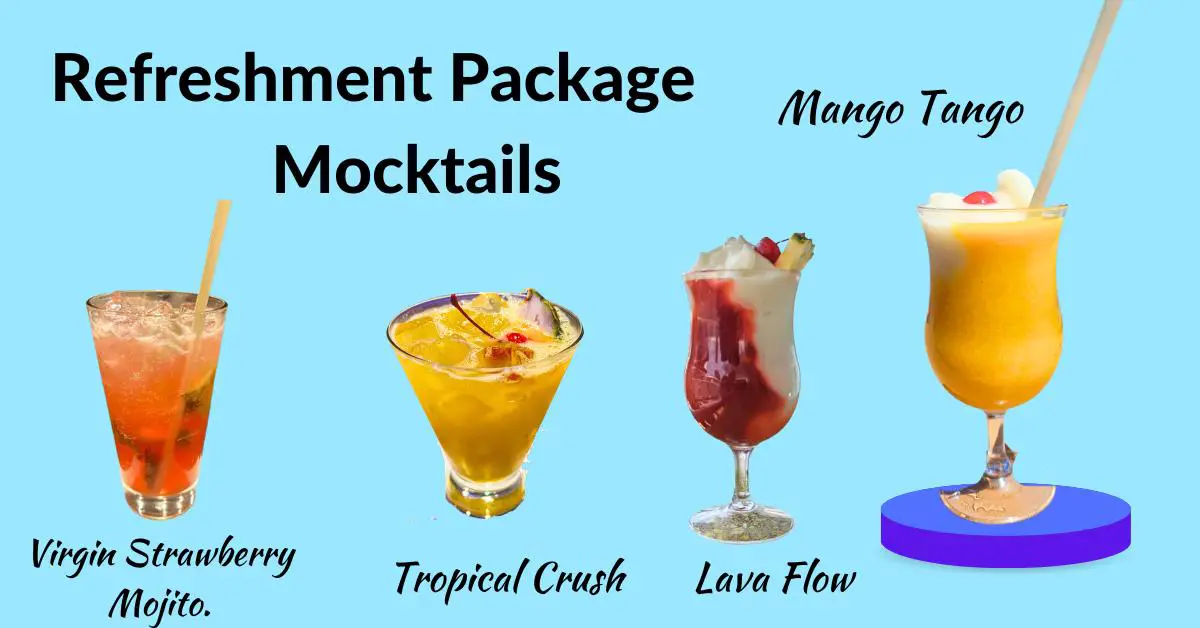 A poplar choice from the Royal Caribbean Refreshment package are the Mocktails.
Theres a wide range of mocktails to choose from such as Mango Tango and Tropical Crush.
How Much are Mocktails on Royal Caribbean?
Mocktails are $7 each if you choose to purchase them individually.
We find the advantage of the refreshment pack is that you can try Mocktails you would ordinarily be unsure about.
Can I Cancel Royal Caribbean Refreshment Package?
The refreshment package can be canceled up to 48 hours before embarkation day.   You will get 100% of your refund.
You can also cancel any time if you see a better promotion on the Refreshment package than the price you paid for it.
You can do this via your RCL Cruise Planner.
Does Royal Caribbean Refreshment Package Include Gratuity?
Gratuities are included in the Refreshment drinks package price.  
An 18% service charge is added to the drinks package at checkout, so, therefore, you don't need to tip extra.
However, if you wish to reward excellent service or just get on more friendly terms with the bar staff or extra tips are gratefully received.
If you don't purchase a package and instead purchase drinks individually, you will be charged 18% gratuity charge on top for each drink.
Is it Okay to Share the Refreshment Package?
It is strictly against the rules to share drinks from your Refreshment Package with any other guests.
Royal Caribbean staff do monitor this, and you risk losing your package if you get caught.
There are rules in place that make sharing Royal Caribbean drinks more difficult or less worthwhile, such as wait times between orders.
There are various other ways some guests try to cheat the Royal Caribbean drinks package.  Many are legit ways to get the most of the drink package.
Can I Use Refreshment Package On Royal Caribbean Private Island?
You can use your refreshment package on Royal Caribbean's private island CocoCay.
All drinks will be free on the island to those with any kind of drinks package.   
Do Royal Caribbean Refreshment Drinks Packages Go on Sale?
Refreshments packages are discounted online via your Cruise Planner.  You will nearly always get a better deal online than you will  onboard.  
Periodically the price is discounted further and you can take advantage by cancelling and reordering.
Black Friday sale week is known to be a particularly good time to get the best discounts.
Other times you might see discounts like Buy One Get 50% off the another.
Does Everyone Have To Buy The Refreshment Package On Royal Caribbean?
No, purchasing the Royal Caribbean Refreshment Package is optional and not mandatory for all guests. Each guest can decide whether they want to buy the Refreshment Package or not based on their preferences and drinking habits.
The only exception to the rule is if,  an adult guest in a stateroom purchases the alcoholic deluxe drinks package, all other adult quests must purchase a deluxe drinks package.   If however there are valid reasons for not purchasing the alcohol package, the guest must instead purchase the Refreshment package.
This is cut down on the likelihood of sharing.
Is There A Premium Refreshment Package?
There is on;ly one type of Refreshment package available on Royal Caribbean.  The next package up is the alcoholic Deluxe beverage package.
Coca Cola Souvenir Cup 2023
Everyone who purchases the Refreshment package gets their own Coca-Cola souvenir cup.  The designs change very so often and are collected by some guests.
If you lose your souvenir cup while on your cruise vacation you can buy a replacement for $9.95.