Going on a Royal Caribbean cruise is an amazing experience, but it can also be expensive. 
One of the ways to save money is by purchasing the drinks package at the right time.
When it comes to buying the Royal Caribbean drinks package, it's no surprise its quite common for people to be looking for a discount or to buy when in a sale, and doing so can save you quite a lot of money, especially as its a per guest per day expense!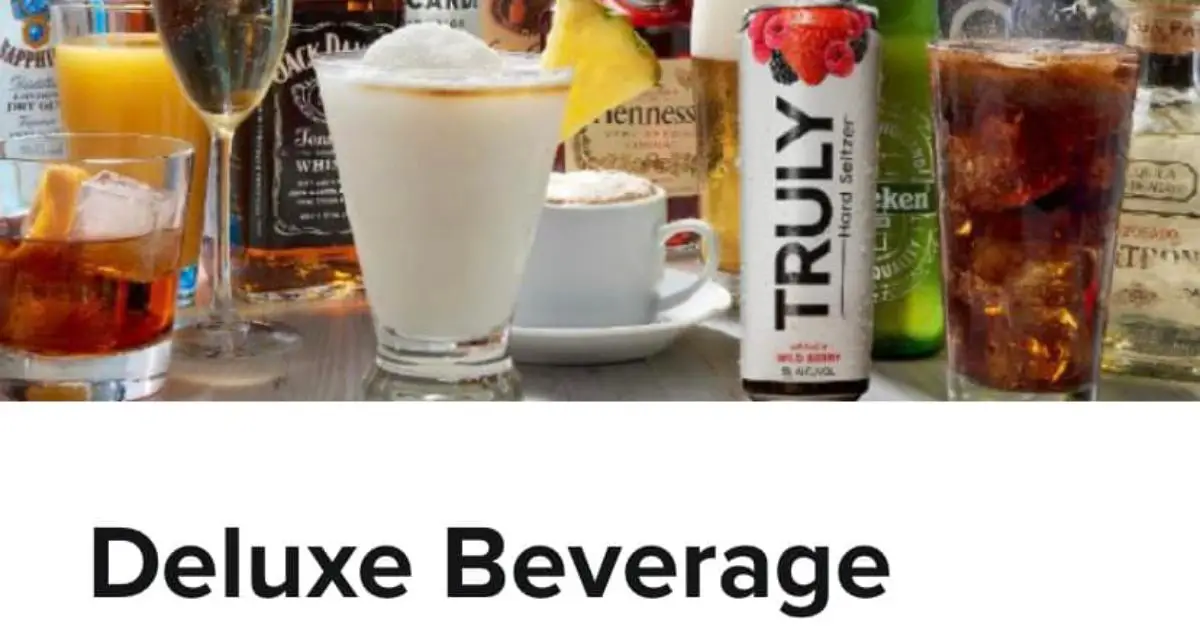 It's no wonder some people look for ways to cheat the Royal Caribbean drinks package to try and save on the expense.
We have also separately covered whether you can share the Royal Caribbean drinks package.
When is the Best Time to Buy the Royal Caribbean Drinks Package?
If you're planning to purchase a Royal Caribbean drinks package, the ideal time would be now, as the prices can increase unexpectedly and may not reduce later.   
Buying online pre-cruise will always be cheaper than buying once onboard your ship.
However, if you purchase the package and the price drops in a sale, you can easily cancel your order through the Cruise Planner and purchase it again at a lower rate.
You can do this again if you later see an even cheaper deal.
Personally, I'd recommend buying when you book your cruise and periodically checking for cheaper deals. At least this way, you don't risk forgetting about it until you board.
It's worth bearing in mind when deciding whether you need a drinks package or not that there are number of free drinks included in your Royal Caribbean cruise booking.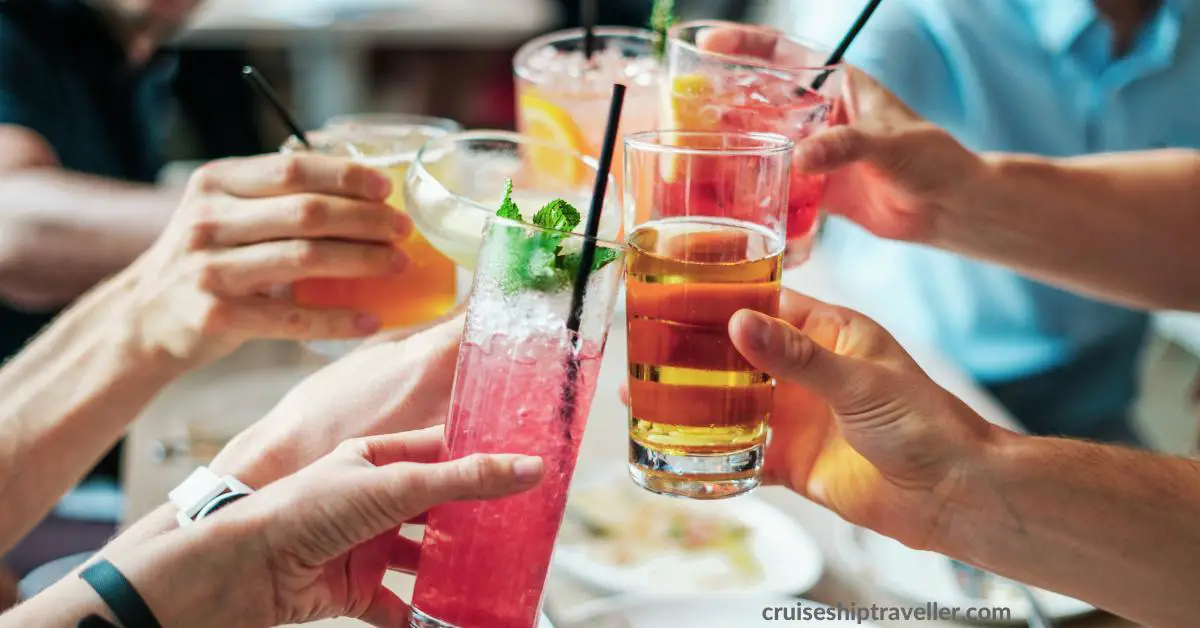 How Much is Royal Caribbean Drinks Package?
The price of the Royal Caribbean drinks package can vary based on the ship, itinerary, and the type of package you choose.
There is no set price for the drinks package. 
You can choose from a variety of packages such as the
Deluxe Beverage Package
Refreshment Package (Non-alcoholic only)
Soda Package
The Deluxe Beverage Package includes alcoholic and non-alcoholic beverages, while the Refreshment Package includes non-alcoholic beverages. 
The Soda Package includes only sodas.
The drinks package can range from $13 to $89 per day, depending on your chosen package. 
An example below shows the deluxe at $98 onboard price, or $72.99 promotional sale price.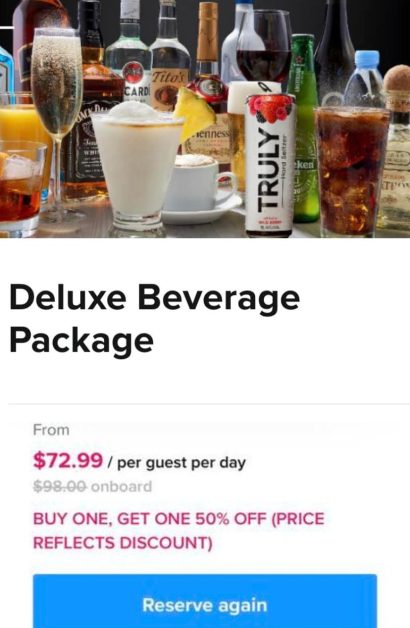 When Does Royal Caribbean Have Sales on Drink Packages?
Royal Caribbean has sales on drink packages throughout the year. The sales can be seasonal, such as during the summer or holidays, or at random. The best way to track the sales is to check in the cruise planner every few weeks.
The prices can change often so it is important to check the prices regularly if you want to increase your chances of getting the lowest price possible.
For a good deal expect to get 20-40% off, but anything you see thats cheaper than the current price you have paid, take it, and you can always cancel and rebuy at cheaper price when you see it.
Checking Royal Caribbean Drink Package Promotions
Not all discounts are as good as they initially seem.
Royal Caribbean runs various sales and promotions on drink packages, but it can be tricky to determine whether the discount being offered is actually a good deal. 
Keep track of the base price of the drink package you're interested in. Royal Caribbean discounts its drink packages based on an unknown onboard price, so it can be difficult to determine the actual value of the discount being offered. 
By keeping track of the base price, you can better evaluate whether a particular sale or promotion is saving you money and how much.
Focus on the total price of the drink package when added to your cart and not the % discounts which can be misleading if the base price has increase.
Some of the best times to check for better than average discounts include:
Good times to check discounts are 
Black Friday Week
Cyber Monday
Labor Day
July 4th
Does Royal Caribbean Have a Black Friday Drinks Package Sale?
Royal Caribbean has a Black Friday drinks package sale. The sale usually runs during the week of Black Friday, and it is a good time to check for discounts.
Prices can vary through the Black Friday sales week so might be worth checking more than once.
How to Get a Discount on Royal Caribbean Drink Package?
Royal Caribbean offers a variety of drink packages that guests can purchase for their cruise.
 By pre-purchasing these packages via the Cruise Planner site before the cruise begins, guests can take advantage of discounts on the regular prices.
Sale Discounts Available Before the Cruise
The exact discount for a drink package varies, but you should expect to get at least 20% discount off the daily rate. 
However, discounts can sometimes be even more lucrative. 
No matter what discount you see online, it will be cheaper if you buy it before your cruise compared to waiting to book it onboard. The daily price for a drink package can also vary from ship to ship and sailing to sailing.
Purchase Deadline
Guests can purchase a drink package up until 48 hours before their sailing. 
Don't wait to book your drink package in the hope of getting a lower price later. Waiting until closer to the sail date is a mistake because the price could go up, resulting in paying more than the original online listed price.
Best Discount on Royal Caribbean Drink Package
The deluxe beverage package typically costs between $65 – $90 per person, per day, with a per-day cost of below $65 being a great deal.
If you can get a lower price than $65 or the equivalent in your local currency, you can be sure you have a very good deal . It's rare for prices to go below this but they have been reported to be offered at $49.
The Royal Refreshment package will cost between $29 to $39 per person per day, however we have seen deals as low as $19.99 to $22.99 range.
while the soda package should range between $13 to $15 per person, per day. 
Guests should keep checking back for price drops.
Crown and Anchor Discounts Available Onboard
Buying a drink package onboard for a cheaper price is only an option if guests are higher up in Royal Caribbean's customer loyalty program. 
Royal Caribbean includes drink package discounts onboard the ship to its Crown and Anchor Society members.
Past discounts have been:
Diamond 20%
Diamond Plus 30%
Pinnacle level 40%
However, guests cannot combine their Crown and Anchor discount with the online price, and must choose between one or the other. 
If guests are not a Diamond or above member in Crown and Anchor Society, there are no discounts available for drink packages.
Is There a Miltary Discount on Drinks Package?
While Royal Caribbean does offer discounts to active serving personnel in the Active personnel c in the United States Army, Navy, Air Force, Marines, Coast Guard, National Guard, Reserves or Canadian National Defense, they do not offer a discount on the drinks package.
Although you could look it as the discount on the cruise could cover the drink package costs.
Canceling Royal Caribbean Drinks Package
One of the significant advantages of purchasing the Royal Caribbean drinks package in advance is that if there's a lower price available later, you can easily cancel and rebook it without any cancellation penalties. 
Cruise Planner purchases are fully refundable, which means you can book the drinks package now and secure the price, but if there's a lower price available later, you can cancel it and rebook online.
By canceling and rebooking the drinks package, you can take advantage of any price drops and save money on your overall vacation cost.
This feature also helps protect you if the price of the drinks package goes up after you have purchased it.
Are There Royal Caribbean Drinks Package Coupons?
Even though you may see such offered on sites for example, 25 to 40% off coupon codes or promo codes, when you click them you'll see "no coupon required" and they are just advertising the drinks package deal open to all RCL customers.
Just simply login to your Cruise Planner and check the discounts available to you yourself.

Worst Time to Buy Royal Caribbean Drinks Package
So you definitely make a saving on the onboard drinks package prices I just want to highlight 
the worst time to buy is when you have boarded the ship.
Purchasing onboard the ship will always result in a higher price, even if there are some great sounding BOGOF onboard, they will also be a higher total than you'd pay online in advance.
While you can buy your drinks package when you book your cruise, you can be sure there will be cheaper prices offered at later dates. 
Some people don't book straight away and instead wait a few days and start with a discount price, and then hope to get even cheaper when other sales discounts are offered.
Advantages of Buying Drinks Package Online Pre-Cruise
Pre-purchasing the Royal Caribbean drinks package online vai your Cruise Planner before your cruise offers a range of benefits that make it an attractive option for many travelers. By buying in advance, you'll be able to take advantage of the pre-cruise discount, which can alone result in significant cost savings.
Budget
One of the other most significant advantages of pre-purchasing your drinks package is the ability to manage your budget more effectively.
Instead of facing a large drinks bill at the end of your cruise, you can start paying off parts of your cruise bill months in advance.  
Without a large drinks bill at the end of your trip, it will make it easier to budget and plan for other vacation expenses.
No Waiting
Additionally, pre-purchasing drinks package also eliminates the need to wait in long lines to purchase items on the first day of your cruise. 
This means that you can spend more time enjoying your vacation and less time standing in lines.
Use Onboard Credit
Another advantage of pre-purchasing your drinks package is that it allows you to use any onboard credit towards these purchases. 
If you have received any onboard credit as part of your booking, you can apply this credit to your pre-cruise purchases, further reducing the cost of your drinks package.
Frequently Asked Questions
Can You Buy Drinks Package Onboard Royal Caribbean?
You can buy a Royal Caribbean drinks package onboard, however for the vast majorit of people it will be cheaper to buy online beforehand, even if you don't buy in a sale.
The exception is those on th ehigher levels of Crown and Anchor loyalty program.
Is It Cheaper To Buy A Drinks Package On Board Royal Caribbean?
Its cheaper to buy a Royal Caribbean drinks package online at any price than to buy onboard. Even after purchasing, if you later see a cheaper online deal you can cancel and rebuy at the cheaper rate.  
If you are a Diamond to Platnium level Crown and Anchor member you may be able to get cheaper onboard.
In short
The best time to buy the Royal Caribbean drinks package is before you embark and you can be sure of getting a lower price than if you were to buy onboard.
It's up to you how often you quickly want to check and take advantage of cheaper sale discounts when you see them in the Cruise Planner App.