When planning a Royal Caribbean cruise, it's important to consider what is included in the cost of your fare, especially when it comes to drinks, and whether it's worth buying a drinks package.
With a wide range of beverage options available on board, it can be challenging to know which drinks are included in the standard cruise fare and which require an additional cost.
Here we highlight all the free options from around the ship and some other insightful tips for how to get free drinks on Royal Caribbean, including alcohol.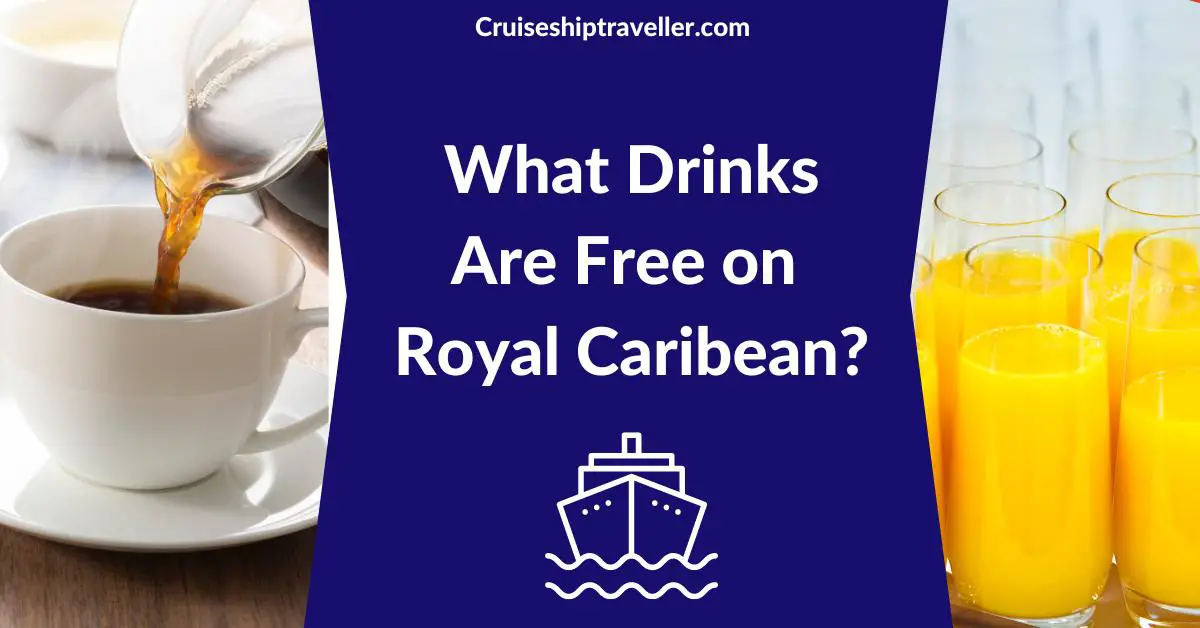 What Drinks Are Included on Royal Caribbean?
A wide range of hot and cold beverages are included in your Royal Caribbean cruise fare.
Free drinks include:
Filtered tap water
Flavored waters
Milk
Lemonade
Iced tea
Fruit juices 
Tea
Coffee 
Hot chocolate 
Alcoholic Beverages (Suites and Members only options)
Below we cover the free drinks available and where you can find them.
Plus a few extra option locations where you can get free drinks, and in some instances, free alcoholic drinks.
There's are so many options, that you won't even need to think about ways to cheat the Royal Caribbean drinks packages!
 Is Water Free On Royal Caribbean?
Royal Caribbean provides free drinking water to its guests on all of its ships.
You can access free drinking water via numerous water dispensers throughout the ship, including in the Windjammer Marketplace (the ship's main buffet), the pool deck, and other public areas. 
The water provided is typically chilled and filtered and potable. The water is served in glasses or plastic cups, not bottles.
You can also request free iced water from all the bars and restaurants onboard. 
Royal Caribbean does not offer free bottled water.  Guests have the option to purchase bottled natural spring water packages if they prefer. These packages typically come in packs of 12 or 24 and can be pre-purchased before your cruise or onboard the ship.
The filtered water is brought on board the ship and stored.  
You'll be pleased to know it's not from any cruise ship wastewater.
Flavored Water 
If you prefer water with some flavor, there's always a choice of at least a couple of fruity flavors in the Windjammer Buffet.  
Is Milk Free on Royal Caribbean?
You can find milk in the Windjammer buffet.   
There are the options for:
Regular milk 
Half and Half milk
Skimmed milk
Lactose-Free
Chocolate milk
If you prefer non-dairy options, they also have almond and soya milk available.
If you don't have any particular type available, you might have to ask.
There are also little milk jiggers for tea in your room if you have kettle.
Below are some examples of readily available drinks cartons in the Windjammer breakfast buffet.
Is Lemonade Free on Royal Caribbean?
You can get lemonade from the drinks dispensers in Windjammer.  
If you are from the UK, don't think of fizzy lemonade.  This is a more non-carbonated cloudy lemonade.
Is Iced Tea Free on Royal Caribbean?
You'll see Iced Tea readily available from the drink dispenser machines.
Is Juice Free on Royal Caribbean?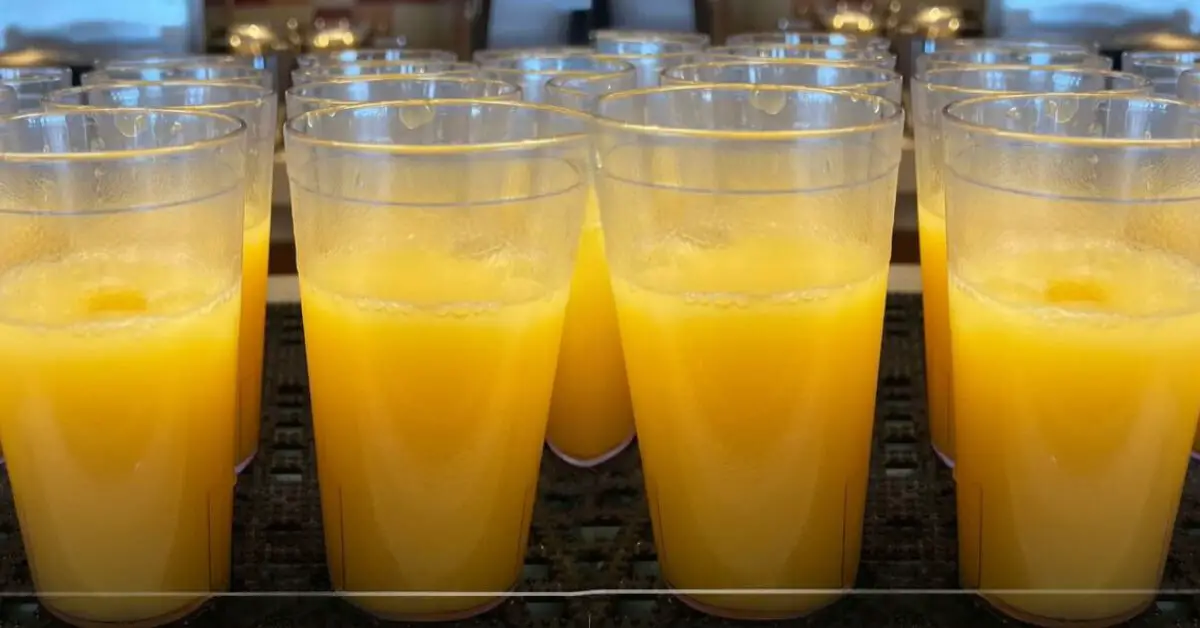 Fruit Juices are available throughout the day from Windjammer Buffer.   There are usually at least two flavors, but on some ships, there may be more:
Apple Juice
Orange Juice
Grapefruit Juice
Strawberry Kiwi
Tropical Breakfast Juice
The fruit juices are concentrated rather than pure squeezed fruit juice.    
Squeezed juice is available, but you'll have to pay extra.
The juices are available from juice dispensers like the below or better looking Nestle drinks machines.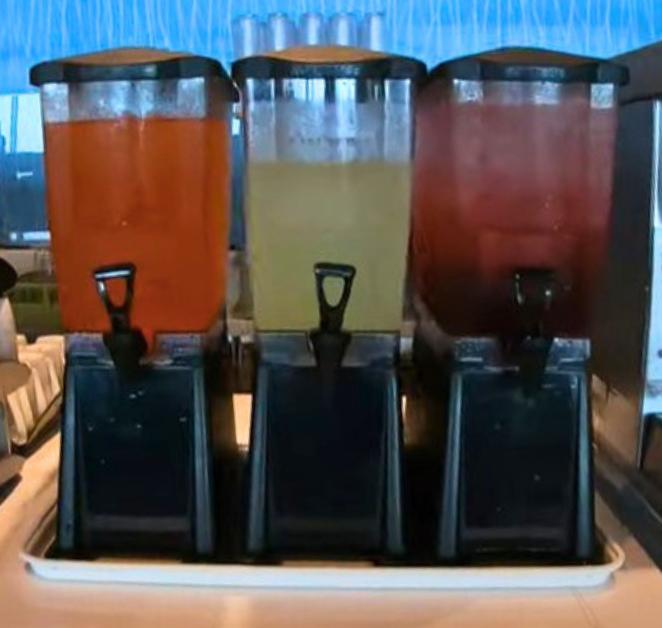 Is Tea Free on Royal Caribbean?
If you have a kettle in your room, there should also be some tea bags as milk jiggers to go with it.
There is also tea available in Windjammer Buffet and complimentary room service continental breakfast you get a choice of 
Black Tea
Green Tea 
Mint Tea
Rooibos
English Breakfast
Camomile
and other herbal varieties.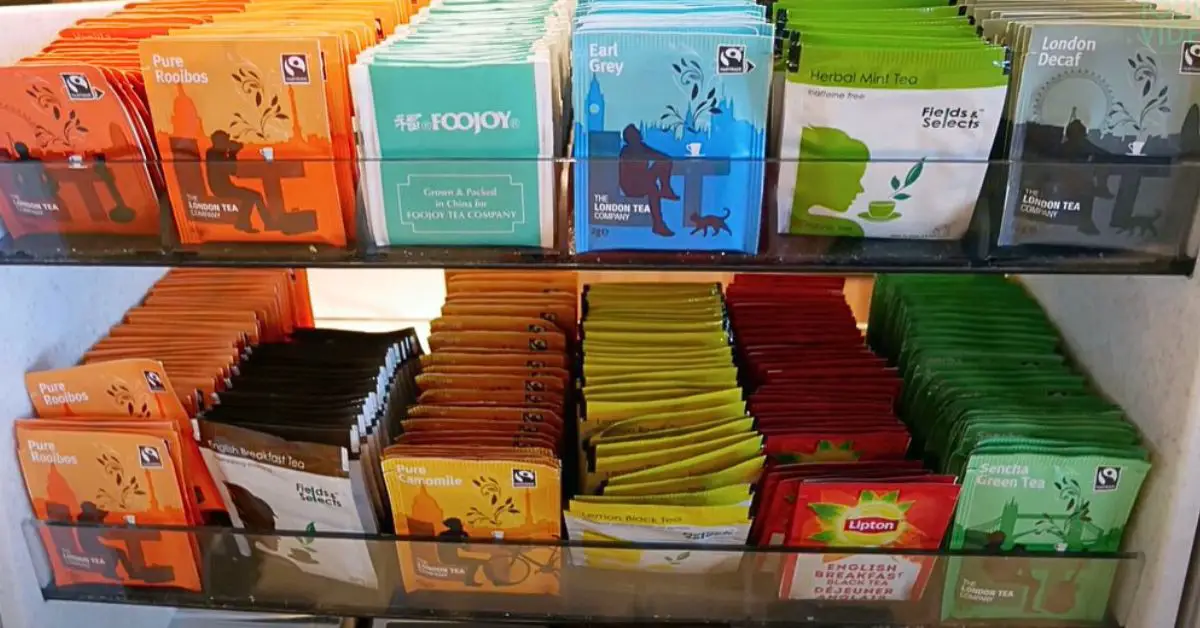 Is Coffee Free on Royal Caribbean?
You can get free brewed coffee from various locations on the ships, including:
Cafe Promenade
Cafe Latte-tudes
Park Cafe
Windjammer Buffet
Only your regular and decaf coffee are free.
Any other varieties like Lattes and Cappuccinos will cost you extra.
Below you can see the large Lavazza Coffee Machines offering both Regular and Decaf. We really like the coffee as we drink Lavazza at home anyway.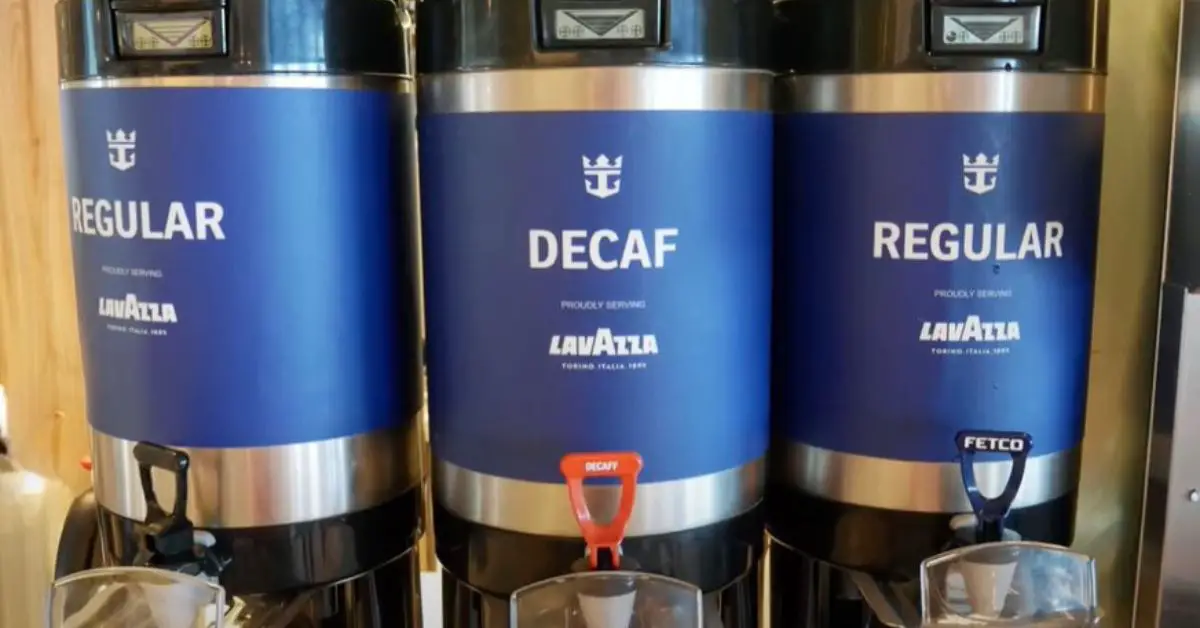 Hot Chocolate
You can request free hot chocolates in Cafe Promenade and other dining rooms.
You can also pick up some free hot chocolate sachets in the Windjammer Buffet.  If you have a kettle in your room, you make up a cup at the cabin.
Do Suite Guests Get Free Drinks On Royal Caribbean?
Guests staying in the Star Suite get one Deluxe Beverage package per person booked in. 
Guests under the age of drinking on a cruise get a complimentary Refreshment Package instead.  Thats guests under 21, or 18 years of age for those drinking alcohol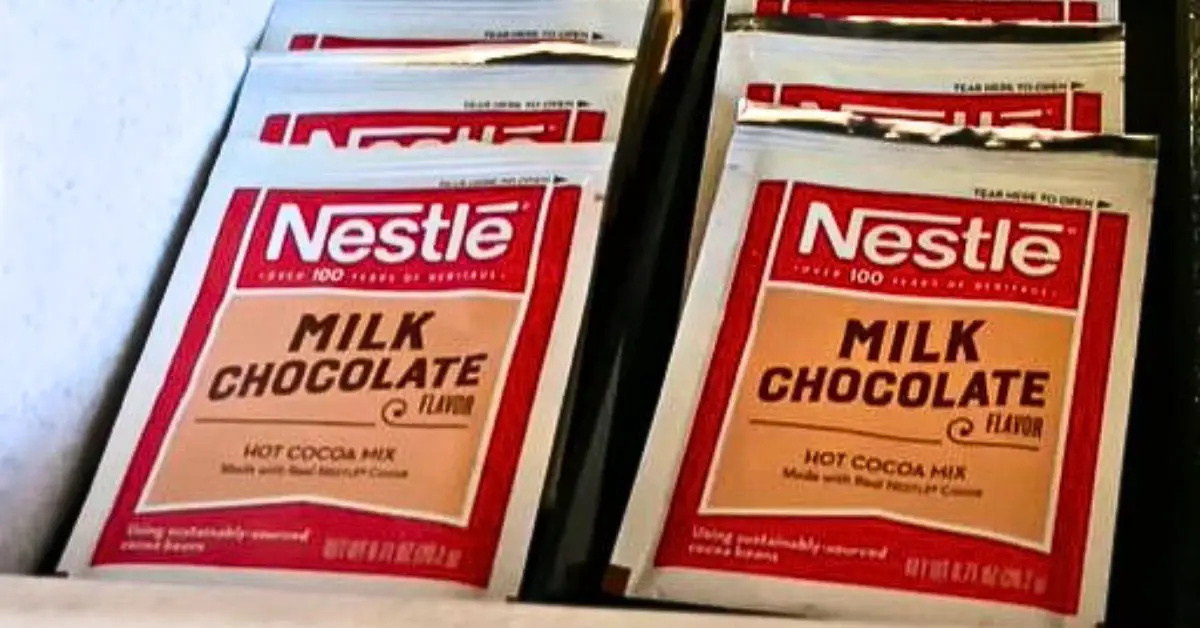 in international waters.
There are extra charges for premium drinks outside the scope of the Deluxe Package.
Do You Get Free Drinks In The Suite Lounge?
One of the Royal Caribbeab perks for guests staying in a Grand Suite level or above can enjoy complimentary evening drinks in the Suite Lounge using one of their vouchers.
Free Alcoholic Drinks include:
New Amsterdam Vodka
Bacardi
Captain Morgan 
Jose Cuervo Gold  Tequila
Beefeater Gin
Sweet Port Wine
 Sweet Vermouth
Dry Vermouth Campari
Irish Cream 
Hennessy Vs Cognac 
As well as selections of 
Scotch & Whiskey
Wines By The Glass 
Draft Beers Budweiser
Plus Non-Alcoholic Beverages of various sodas  and assorted Juices or 500 ml of Bottled Water.
You can see the full Suite Lounge menu on RCL here.
Do Diamond Members Get Free Drinks On Royal Caribbean?
Diamond members and higher of the RCL Crown and Anchor Society are entitled to daily complementary drinks.
How Many Free Drinks Do You Get As A Diamond Member On Royal Caribbean?
Each member band gets a set amount of daily drink vouchers:
Diamond x 4
Diamond Plus x 5
Pinnancle x 6
Each voucher entitles the guest to any alcoholic or non-alcoholic beverage up to a set price, usually around $13 to $14.
Vouchers are loaded every day to your SeaPass account and you just have to remember to use them when you place your orders.
The free drinks for Diamond members has been covered more in-depth by RCLblog here.
Crown and Anchor Society Free Drinks
The Crown and Anchor Society is free to join.  It enables you to earn points that you don't use up. Instead, you keep accumulating them until you move up the tiers.
To get to Diamond level you need 40 points, which means you'll have to have stayed 40 nights 
on a Royal Caribbean cruise stateroom (1 point per night), or 20 nights in a suite (2 points per night in a suite).
If you are on a Royal Caribbean solo cruise you get an extra point per night.
Once you get to Diamond level, you are entitled to free drinks, and the value of these can really add up, as highlighted in the video below.
Welcome Party Drinks
Previous guests on Royal Caribbean cruises that are members of the RCL Crown and Anchor Sociery reward programm will be invited to a "Welcome Back" party.
Although it can vary on the sailings, Platinum and Diamond members may be invited to a second party.
If you are fortunate enough to be invited, 
Both parties serve a selection of Champagne and Mimosas and similar.
Can You Bring Your Own Drinks on Royal Caribbean?
Another potential way to save money on drinks on Royal Caribbean is to take your own.
Royal Caribbean allows guests to bring on set quantities of drink per cabin rather than per guest.
You are allowed to bring on:
 2 x  750ml bottles of wine or Champagne. 
12 x  non-alcoholic beverages
Milk and Distilled Water  (medical circumstances)
Wine and Champagne
Your bottles of wine and champagne can only be consumed for free in your cabin.  If you want to consume elsewhere on the ship, you must pay a wine corkage fee. 
Some guests try their luck and sneak more alcohol onto the cruise ship.   However, if caught sneaking alcohol on Royal Caribbean, they will likely dispose of it unless it's from a port of call, where it can be placed in storage until disembarkation day.
Non-Alcoholic
Royal Caribbean allows guests to bring on up to 12 containers of non-alcoholic beverages in containers up to 17 oz.  These include bottles, cans, and cartons.
Milk
Milk and distilled water can be brought on board for medical and dietary purposes.
You can see the full details on RCL website here.
Related Reads
Frequently Asked Questions
Is Soda Free on Royal Caribbean?
Soda is not available for free anywhere on the Royal Caribbean ships.  If you want any soda drinks you will have to pay for them.
Depending on how much you drink you may want to consider purchasing the soda drinks package.
Are Drinks Free In The Casino on Royal Caribbean?
Members of Royal Caribbean casino rewards program Club Royal are entitled to free complimentary drinks once they have reached Prime, Signature or Master guest status.
Choice members, which is what the program starts out on will have to earn over 2500 credits to move up to the next Prime level to be entitled to the complimentary drinks.
Full details of Club Royal Rewards programme can be found here.