Whether you are new to cruising or just new to Royal Caribbean, you might be wondering if all the food is included in the price.
After all, food and drinks are potentially one of the biggest expenses on vacation and the amount spent can soon add up.
In the case of Royal Caribbean, mealtime food and snacks are available in a range of dining options, all included in the price.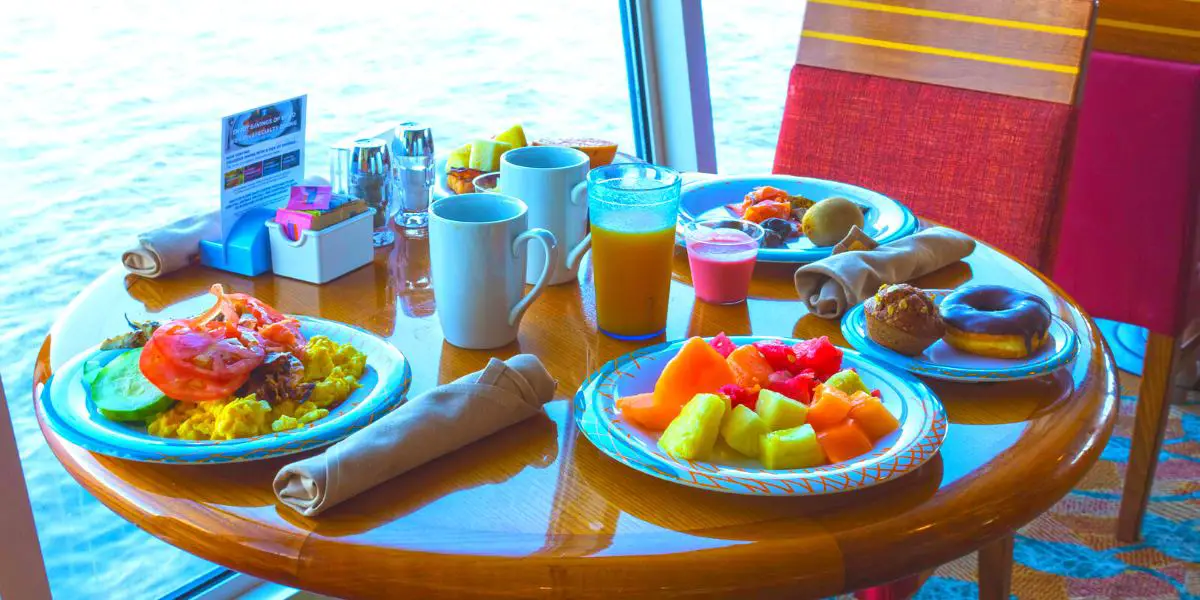 However, not every dining option is free.  
Some of the more specialty options you have to pay extra for.
Find out below which foods are free and where you can find them onboard.
Is Food Included in Royal Caribbean Cruises?
Food is included in the price of a Royal Caribbean cruise.
The main free Royal Caribbean restaurants on the majority of ships are:
Main Dining Room
Windjammer
Many of the other numerous options we cover below aren't all on every ship.
What Food is Included on a Royal Caribbean Cruise?
All your meals are covered on a Royal Caribbean cruise.
Examples for each mealtime include:
Breakfast: From room service continental breakfast to a wider choice from a range of cafes.
Lunch: Wide range of cafes, poolside snacks and fast food options.
Dinner: Main dining room and Windjammer
Free Royal Caribbean Caribbean Dining Options
Below is a table of all the places you can eat for the complimentary free on a Royal Caribbean cruise, although not every option is on every ship in the fleet.
Dining Option
Food Type
Included
Cafe @ Two70
Deli
Breakfast & Lunch
Cafe Promenade
Deli
Breakfast, Lunch & Dinner
Coastal Kitchen
A La Carte, Med-Fusion
Breakfast, Lunch & Dinner
(Suite & Pinnacle Club members only)
Dog House
Fast Food
Snacks, Lunch & Dinner
El Loco Fresh
Mexican Fast Food
Snacks & Bites, Lunch, Dinner
Main Dining Room
Global
Breakfast, Lunch, Dinner
Mini Bites
Fast Food
Snacks & Lunch
Noodle Bar
Chinese Fast Food
Breakfast, Lunch, Dinner
Park Cafe
Deli Fast Food
Breakfast & Lunch
Room Service
Continental breakfast
Breakfast
Splashaway Cafe
Fast Food
Breakfast & Lunch
Sorrento's
Pizza (Fast Food)
Lunch & Dinner
Vitality Cafe
Healthy Cafe*
Breakfast & Lunch
Windjammer
Global Food Options
Breakfast, Lunch, Dinner
Complimentary Food Options on Royal Caribbean
Mealtimes Complimentary Options
Breakfast
Royal Caribbean offers a free room service continental breakfast. 
You have the option of different choices, but you will face an extra charge for each one.
Lunch
Whether you want to sit down for lunch or just grab food on the go, there are plenty of options on a Royal Caribbean cruise.
You can choose to visit a range of cafe options. 
Snacks
There are a wide range of snack and fast food options to pick up around the ships.
Whether it's a slice of pizza at Sorrento's or tasty hot dogs from the Dog House.  
Perhaps if hanging by the pools, you may want to grab a quick snack from Mini Bites.
Cookies are another popular option you can pick up throughout the day at the likes of Cafe @ Two70 and into the evening at Cafe Promenade, which is open 24 hours a day.
Dinner
There are two main dining options on Royal Caribbean ships which we cover below.
However, there are a number of other options you can choose from as highlighted in the table.
Main Dining Room 
The main dining room is found on all royal Caribbean ships and is open daily for breakfast and dinner and lunch on sea days.
Offering a global cuisine there is something for everyone.   
There are two dining options to choose from:
Traditional Dinner
My Time Dining
If you opt for Traditional Dinner, you'll dining time be the same, early or late, and you'll sit with the same people along with the same waiters.  
My Time Dining is the flexible dining time option.   You can book a table in advance and wait to be seated.   With this option you'll also sit with different people each meal time, and also have different servers.
Extra Charges: Premium options are available on the menu for extra charges, typically lobster and steak.
You can order as many courses of the complimentary food as you like, but it's worth bearing in mind what happens to cruise ship food waste if you consistently take more than you can eat. The same goes for Windjammer.
Windjammer
The Windjammer is Royal Caribbean's main global buffet offering for breakfast, lunch, and usually dinner, but it may be dependent on the sailing.  You simply help yourself to do whatever you want.
All food in Windjammer is complimentary.  Soft drinks and alcohol are extra unless you have a Royal Caribbean drinks package.
Free Food on Royal Caribbean Video
This video covers most of the free dining options giving a quick visual insight on each.
Relevant time stamps:
Main dining Room 0.44 secs
Windjammer 1.30
Park Cafe 2.26
Sorrentos 2.57
Dog House 3.14
Splashaway Cafe 4.12
El Loco Fresh 5.08
Vitality Cafe 5.31
Cafe @ Two70 5.52
Mini Bites 6.09
Cafe Promenade 6.31
Coastal Kitchen 6.58 (Suites and Pinnacle members only)
Food on CocoCay
Food is complimentary on the Royal Caribbean private island CocoCay.    As usual, you will have to pay for soft and alcoholic drinks.  Although if you have a Royal Caribbean drinks package, you can use it on the island.
Chill Grill: Largest restaurant on CocoCay.  Serves classic beachside burgers and sandwiches.
Skipper's Grill: Offers burgers, salads, and tropical fruits.  Also cookies and cakes.
Snack Shack: 3 on the island, known for the Shack Burger and fries.  It also offers cookies and cakes.
Food on Labadee
Labadee is a Royal Caribbeans private island in Haiti.
There are three cafes on the island:
Cafe Labadee
Columbus Cove Cafe
Dragon's Cafe
All three serve up a complimentary lunch buffet.
Additional Specialty Option for Extra Charge
In addition to this wide range of all included free food options, there are several specialty dining options. Although what's available will vary depending on the ship you sail with.
Where Extra Fees Apply
It's worth highlighting that for a couple of the free dining options, there are some items on the menu you may have to pay an extra fee.
Room Service: Cover charge for anything else other than continental breakfast
Vitality Cafe: Extra fees apply for smoothies and juices
Drinks
As well as food, you can get a wide range of free drinks on Royal Caribbean cruises.   
Included in the free beverages are water, teas, and coffee.
Related Posts
For a first-hand recent review of what some of the above dining areas are like, have a look at Emma cruises Royal Caribbean food review.