As you may already know, many cruise lines stipulate that you must be 21 years or older to travel alone on a cruise ship.
Therefore, 18-20-year-olds can only go on a cruise with another adult aged over 21. Most often, this will be a parent or guardian.
However, this can be a tricky age because those over 17 are deemed too old for organized onboard teen activities, and those under 21 are too young to drink and enjoy the bars and nightclubs to the max.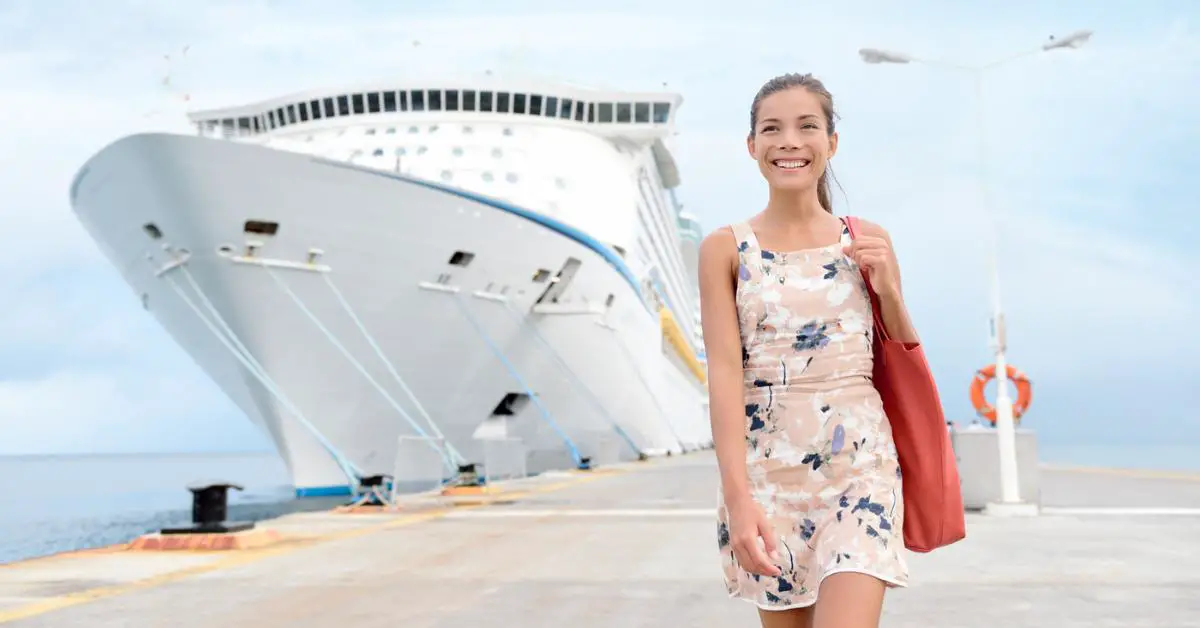 It's well worth looking into which cruise lines provide the best all-round activities and facilities to keep yourself or your 18-20 years sons and daughters entertained, even if they do have to go with parents.
We have also researched all the cruise lines on which you can travel solo at 18 years or with friends under 21.
Rest assured there are plenty of great options for the 18 to 20 age range.
Best Cruise for 18-Year-Olds
As a parent of an 18-year-old myself, it's been worthwhile having a fresh look at the best options to keep all family members happy and entertained.
The best cruise lines for 18 to 20 years olds have a wide range of activities and lots of them.  
So no matter their interests, there will be something for them to do.  Even if it's something new they have never tried before.
Many 18 to 20 years olds will enjoy the typical onboard activities, including:
Deck parties
Dance ClassesLounging in and around the pools
Enjoying the water parks
Entertainment shows (including all the adults-only shows)
Playin ball games like basketball, tennis, golf
Fitness Centers
Spa treatments
Hopefully, the roundups below for the best cruise lines for 18-year-olds will help narrow your search.
You just then need to focus on the ideal ship with the activities you know most appeal to the 18-20 age groups.
Royal Caribbean for 18 to 20-year-olds
Royal Caribbean ships are some of the largest in the world, but even the smaller (but still large) ones are full of activities ideal for 18 to 20-year-olds.
Example activities on RCL include :
Bumper Cars
Ice Skating
Indoor Sky diving
Laser tag
Mini Golf
Rock climbing Walls
Surf simulators
Ziplines
Note: Not every activity listed above is on every ship in the fleet.
Water Features
Royal Caribbean ships have great water features on their cruises, but one that stands out, in particular, is the Perfect Storm, a megaplex of slides like no other, which is on about five of their ships.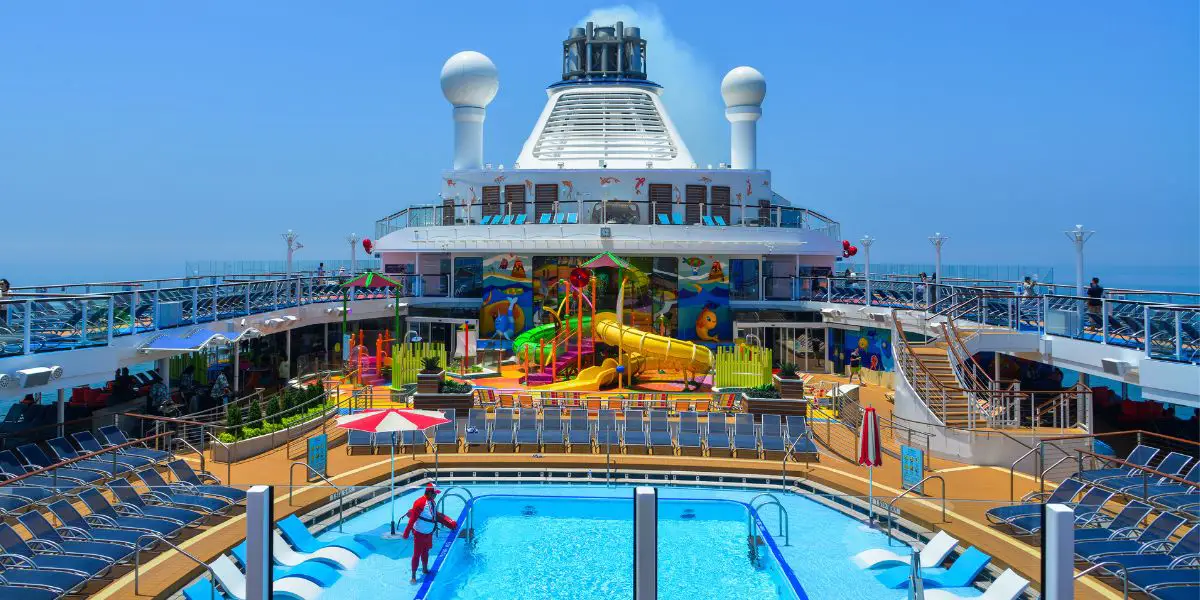 Private Island
A stop-off at Royal Caribbean's private island CocoCay will be a day to remember for any age, especially 18 to 20 years old. 
CocoCay offers another range of activities and pools, or you just relax on the beach.
Norwegian Cruise Line for 18 to 20 years olds
Norwegian Cruises have a range of sports activities onboard that are very popular with 18 to 20 years olds.
Example activities on NCL include:
Basketball
Climbing Wall
Go Karting track
Mini golf
Racing Simulators
Rope courses 
Virtual Reality
Note: Not every activity listed above is on every ship in the fleet.
Dressing up for a theme can be lots of fun, especially when combined with great music.
Themed party nights popular with young adults on NCL include:
80's Night
White Hot Party (Glow Party on some ships)
Water Features
Some NCL ships have awesome Aqua Parks with multiple pools, hot tubs, and some multi-level water slides, including one called Free Fall, which is claimed to be one of the fastest water slides on the seas.
Carnival Cruise Activities For 18-Year-Olds
Carnival Cruise brands itself as the "fun ship," and that includes fun for 18 to 20-year-olds.
Carnival cruises are full of activities, examples including:
Fitness Machines
Mini Bowling
Rope Courses
SkyRide 
Video Games
Carnival cruises tend to have great water play features, including at least one water slide.
If you're single, Carnival is one of our top picks for 18 to 20-something singles cruises.
Disney Cruise Line for 18 to 20-year-olds
Everyone loves Disney or something Disney-related, right?  
Whether it's still princesses or Marvel and Star Wars, there's so much to entertain the 18 to 20 age range, even if its primarily targeted at children and families as a whole.
Bearing that in mind, if you're thinking of taking an 18, 19 or 20 year old, probably best to check with them first.  It's an age where they feel they might have outgrown Disney for now.
Disney Cruise line has a special meet-up for 18 to 20 years olds, called the "1820 Society".  This is to get as many in this age range together, break the ice and get them socializing and having fun as soon as possible.
The first meet-up is in the Cove Cafe, an adults-only coffee shop.
If you are or have a child in this age range, it's worth making an extra effort to get them to go to the first meet-up, even if a little apprehensive, as the Disney crew will soon make them feel at ease.
If the club is successful, which is generally is, you might hardly see your 18-year-old for the rest of the vacation. They'll be off having fun.
All 1820 Society arranged activities are free.
You can find more information about the Disney 1820 Society by DCLfan here.
What to Look For – For Good 18 to 20 year olds Cruise
Bars and Nightclubs
While they may not be able to drink alcohol until they are 21 (unless in international waters), most cruise lines let 18-20 years into the nightclubs and surrounding bars.
If they are new to bars and nightclubs, they offer an enjoyable enough experience without alcohol.   
So whether it's the disco or the Karaoke bar, there should be options for them to hang up and have fun.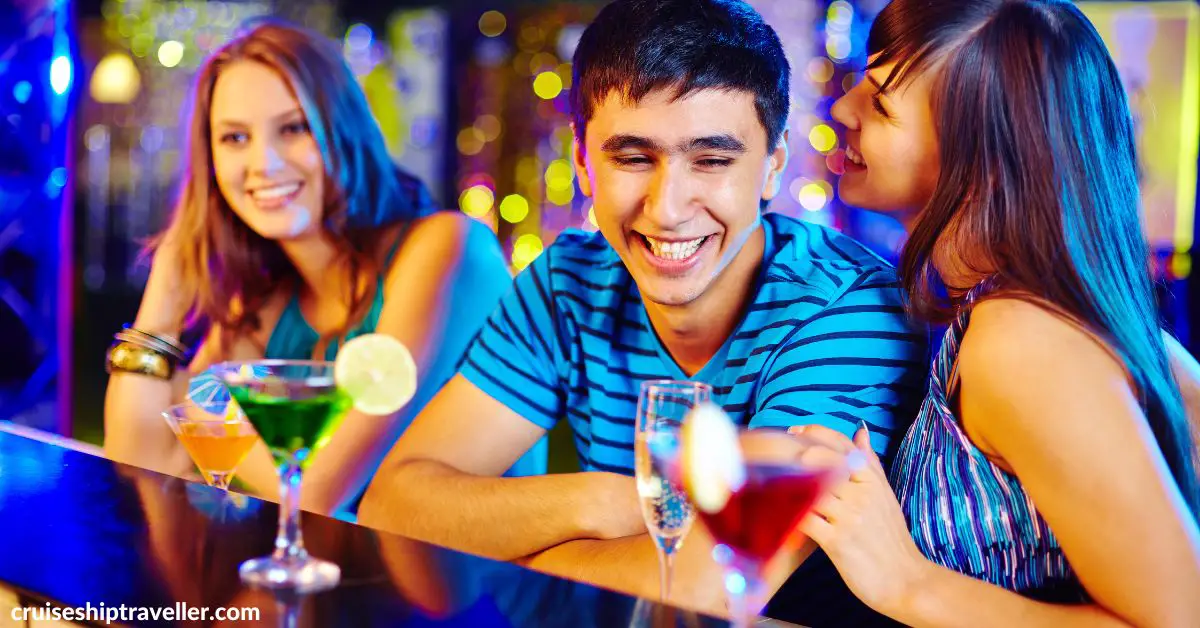 Sports
An ideal cruise ship for some 18 to 20 years old is one with many different sports activities.
The more choice, the better, so they can participate in their favorite sports, whether it's time on the basketball court or finding something new to try, like golf or rock climbing.
Some cruise ships will also run tournaments and competitions.  Ideal for those with a competitive streak.
Adult Only Time
Like some older adults, even younger adults 18 to 20 want the option to get away from younger kids running around screaming (in fun).
The above-listed cruise lines, Carnival, Royal Caribbean, NCL, and  Disney, have spaces and decks restricted to 18s and over.
This also includes going to adults-only live shows, a comedy which is top-quality entertainment they can enjoy.
Casino
Depending on your views on gambling, 18-year-olds can test out the casinos and poker rooms onboard the ships. (Alaska sailings a minimum of 21 years of age).
Playing the casino responsibly or getting involved at the poker tables can be great fun.
(Assuming always you're encouraging responsible gambling).
Bring a Friend
If your 18 to 20-year-old is an only child or there's a big age difference between siblings, consider letting them bring a friend to hang out with. 
True, you might see less of them as a family overall, but that will only be because they are off enjoying themselves.
Choose Larger Ships
When it comes to choosing a specific ship from a cruise line with 18 to 20-year-olds in mind, the large the ship, the more activities you can expect to have onboard.  
Also, the newer or recently refurbed ships in the fleet of the cruise lines I've highlighted tend to be more suited to younger adults.
Mixer Events Specifically for 18-20 years olds
Whatever cruise ship you go on, see if the cruise line has any ice-breaker events specifically for 18-20 years olds.  
Ice-breakers are a great way to get them mixing and socializing as soon as possible, and they can discover the ship's activities together and no doubt end up enjoying it all more together.
Disney Cruise Line: Offers the 1820 Society, as we covered above.
Other 18 to 20-Year-old Cruise Lines Activities
Some of the other cruise lines, which may not be as all-around fun and ideal as are best picks, also cater directly to the 18-20-year-old range in some ways.
Celebrity Cruises – Offers a  "Gen NXT" Meeting Hotspot for ages 18 – 21 to get to know each other a bit better from the first night.
Cruises For 18-Year-Olds Without Parents
The vast majority of cruise lines require 18 years olds to be traveling with an adult over the age of 21.
However, if traveling at 18 and as well as 19 and 20 is your goal, whether traveling solo or with friends, we have found the best options for you.
What Cruise Can You go on Alone at 18
We have found five cruise lines that allow 18-year-olds to travel alone or with friends under 21.
Although there are some conditions that may rule some options out for some people.
Five cruise lines you can go on alone at 18:
Cunard
Marella 
MSC (excl. US ports)
P&O Cruises
Royal Caribbean (excl. US ports)
As you can see, if you are sailing from the US, your options are severely limited.
All the above cruise lines allow passengers of 18 to drink on a cruise if they depart from international waters (outside the US).
P&O for 18-year-olds
If you are in the UK, P&O cruises are a particularly good option for 18- to 20-year-olds.
They have a wide range of sports options, including
Basketball
Cricket
Football
With some great entertainment on top. 
Also good for booking 3 to 5-night Sea Breaks getaways in and around Australia.
MSC Cruises for 18-year Olds
MSC cruises are an Italian cruise line that offers good value with lots of amenities and features.
There are bars, live music, and theater shows.
Enough to keep 18 years olds entertained for a great price which they might appreciate.
Related Posts:
Frequently Asked Questions
Can You Go On A Cruise At 18?
You can go on a cruise at 18, but for the majority of cruise lines, particularly in the U.S, you will have to book a cabin with at least one adult over the age of 21.
How Old Do You Have to be to Go on a Cruise By Yourself?
For the majority of cruise lines from U.S ports, you will have to be 21 years of age to go on the cruise alone. If you are under 21 you will often have to travel with a parent of guardian over 21 on the day of embarkation.
If you are sailing outside of US ports you can go on Royal Caribbean.
Other options include British and European cruises lines outside of US ports:
Cunard
Marella Cruises
MSC
P&O Cruises
Depending on which cruise line you want to book, there may be higher age limits, for example some cruise lines have a minimum age of 50.