Whether you're looking to travel as a single over 40 looking to hopefully meet other singles, or you're just a solo traveler who prefers to mix with a higher ratio of people of a similar age and interests and perhaps avoid being amongst too many families and young couples.
While there are many factors to consider when choosing a solo cruise, such as budget, itinerary, activities, and amenities, we have endeavored to put together the most suitable cruise lines for singles over 40, covering a range of options.
These are cruise lines with a generally more mature and relaxed atmosphere geared toward an older crowd than perhaps the higher energy ships more suitable to younger passengers.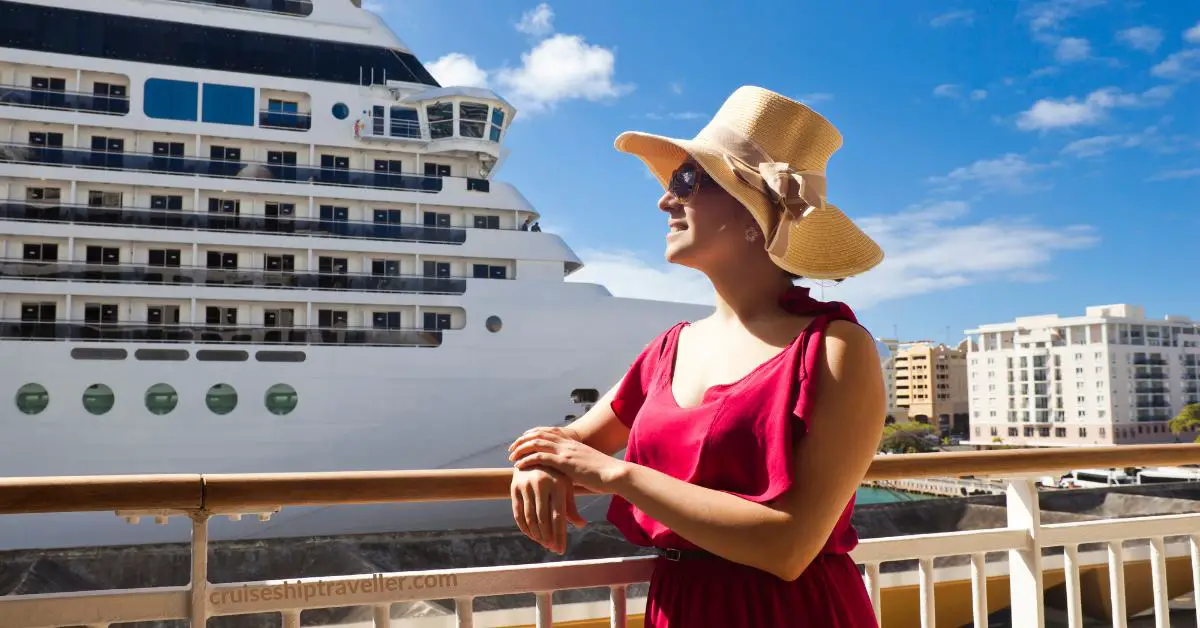 Below we have highlighted the best cruises for singles over 40, including several options to cover the various type of cruises you might be looking for, for example, ocean or river cruise, traditional or modern, activity driven or relaxing, as well as other factors that you also may want to consider.
Holland America Line 
Holland America Line is known for its elegant and refined atmosphere that appeals to adults. The ships are designed with a more sophisticated aesthetic appeal and offer a quieter and more relaxing onboard experience.  
There is a specific focus on providing live music of many types, including:
Holland America Line offers a wide variety of onboard activities that cater to singles over 40. The ships have a full-service spa, fitness center, and a variety of enrichment programs, such as cooking classes, dance lessons, and lectures. 
There are also plenty of opportunities to socialize and meet other singles over 40 at the bars, lounges, and nightclubs onboard.
When it comes to food, all ships have a main dining room.   There are a limited number of other dining options for which you can opt to pay extra should you wish to.
With a large fleet of ships, they offer a diverse range of itineraries all over the world.
Expect every sailing to host a Gala Night where guests dress formally.
When it comes to booking a cabin, only three cruise ships in the Holland American Line fleet offer solo cabins:
Koningsdam
Nieuw Statendam
Rotterdam
All three ships only have 12 solo cabins each, so if you want one, you must book as far in advance as possible.  Also, be aware of the prices as there may be cheaper double occupancy cabins available.
However, Holland America does offer a same-sex Single Partners Program as well as various other events and activities for solo travelers.
In short: Holland America is a traditional cruise with great live music options.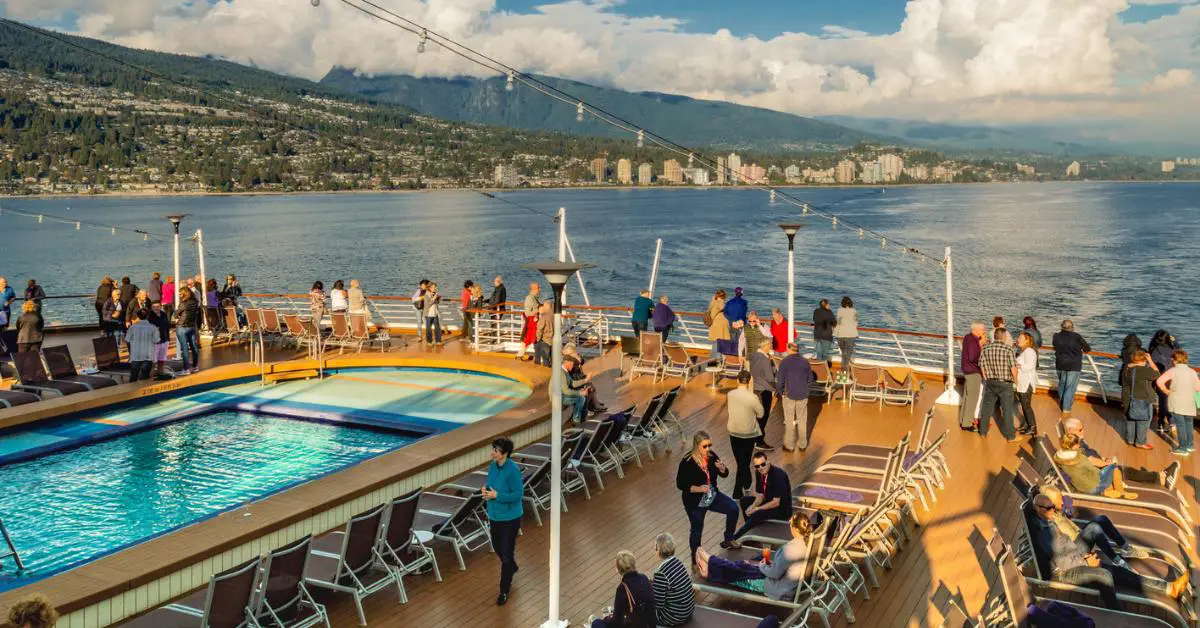 Norwegian Cruise Line
Norwegian Cruise Line (NCL) is an ideal choice for an over 40s singles cruise and those who want to embark on a memorable and exciting adventure.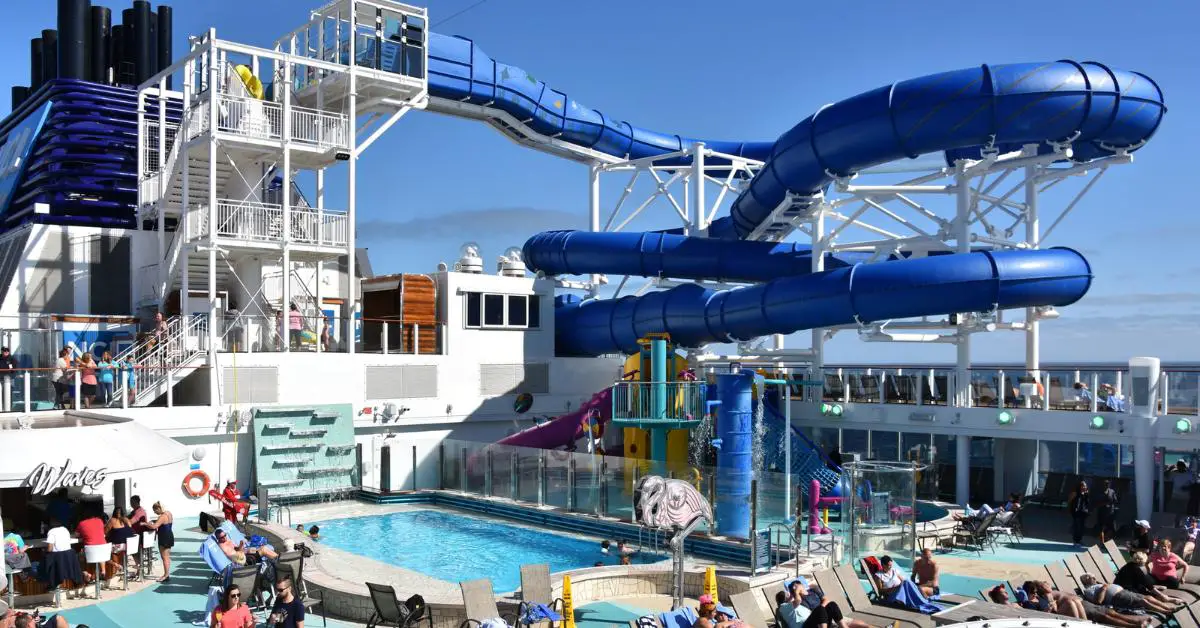 The cruise line offers an impressive range of destinations, from the Caribbean to Europe and Asia, with various itineraries available.
 Solo travelers can choose from various options that fit their budgets and travel preferences. 
Whether you're looking for a relaxing cruise or an adventure-packed one, there is something for everyone.
Some Norwegian cruise ships offer the option to take advantage of solo cabins, known as Studios, which provide an affordable and comfortable option. 
These cabins are specifically designed for solo travelers and come equipped with all necessary amenities for a comfortable stay.
Although smaller in size than traditional cabins, Studios offer a private space for solo travelers, without the need to pay a single supplement fee. Although its worth knowing they are still not the cheapest.
In addition to the Studios, solo travelers can enjoy exclusive access to a shared Studio Lounge. 
This area is is dedicated solely for those guests staying in the singles cabins and offer excellent opportunity for socializing and meeting other solo travelers, creating a relaxed and friendly atmosphere. 
The Studio lounge offers a variety of features, including free food offerings which are changed throughout the day. There's also a bar for enjoying a drink (within limited timeframes) and even a message board where guests can leave notes for each other, or upcoming group activities are highlighted.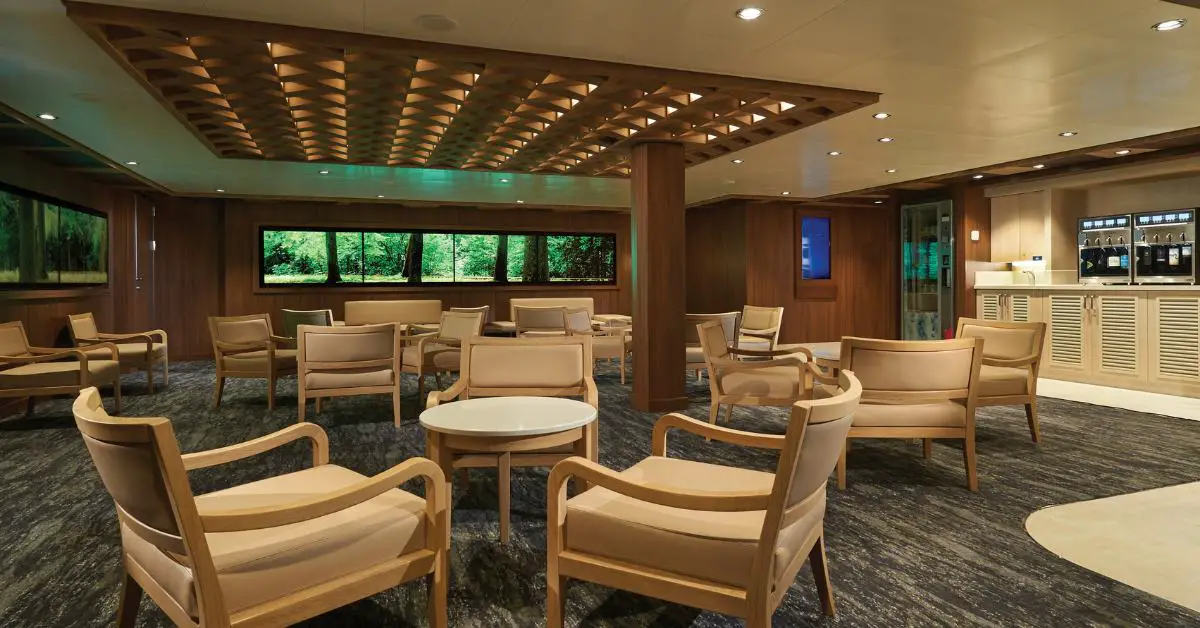 One of the standout features of NCL for solo travelers is the Freestyle Dining concept. This approach allows guests to eat whenever and wherever they want, rather than being tied to a set dining time or table.  This gives you the flexibility to create your own daily itinerary without having to be somewhere for a set mealtime.
When it comes to entertainment, NCL does not disappoint. The cruise line offers a range of options, including live music, Broadway-style shows, and, comedy acts.
 Solo travelers can enjoy a variety of entertainment options, adding to the lively and fun atmosphere on board.
For solo travelers over 40 who specifically want to mix with a group of single individuals, hosted singles cruises are also available. 
These cruises are designed for groups ranging from approximately 40 to 100 people or more who book on a cruise and stick to their single group itinerary of events and activities.
We more in-depth information on Norwegian singles cruises that is well worth checking out.
Cunard
Cunard is a long establish 180+-year-old British cruise line that incorporates its long maritime history into its current prestigious sailings.
There are 3 ships in the Cunard fleet, but the standout option for single travelers looking for an experience of-a-lifetime adventure has to be a transatlantic crossing on the world's last ocean liner, Queen Mary 2.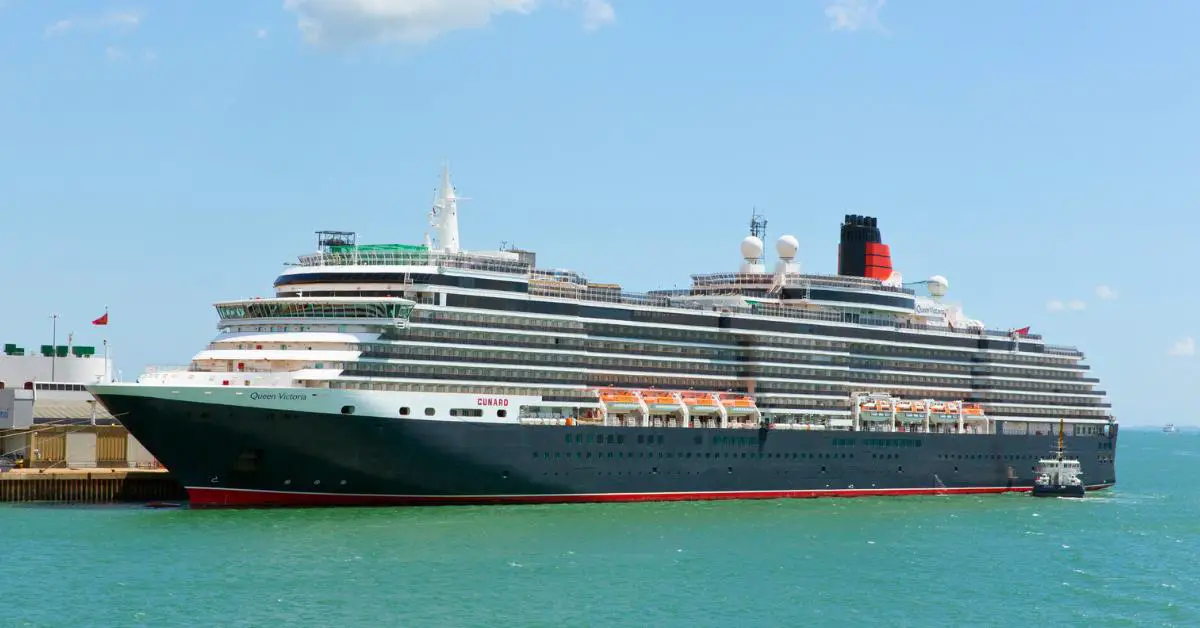 To sail across the Atlantic in a ship built for purpose and in such elegant surroundings.
Solo Cabins
All 3 ships in the Cunard fleet offer solo cabins, although relatively few, which means if this were your preference you would have to book as early as possible.
Take Dog or Cat on Cruise
If you are pet owning solo traveler, it might be worth knowing Cunard is the only cruise line that allows dogs and cats onboard its Queen Mary 2 transatlantic crossings.
Cunard has 4 accommodation grades each linked to a restaurant type:
Britannia
Britannia Club
Princess Grill
Queens Grill
Each restaurant has its own dining rules.  For example some are fixed dining while others are open dining.
Strict Dress Code
Cunard has a strict dress code.    Formal nights are tuxedo or dark suits for the gentlemen, and even on informal evenings, they are required to wear a jacket, although ties are optional.
For the ladies, its offers an opportunity to dress up glamorously.   Cunard also has themed nights which guests can choose to follow either partially or go al lout.  These include:
Black & White
Roaring Twenties
Red & Gold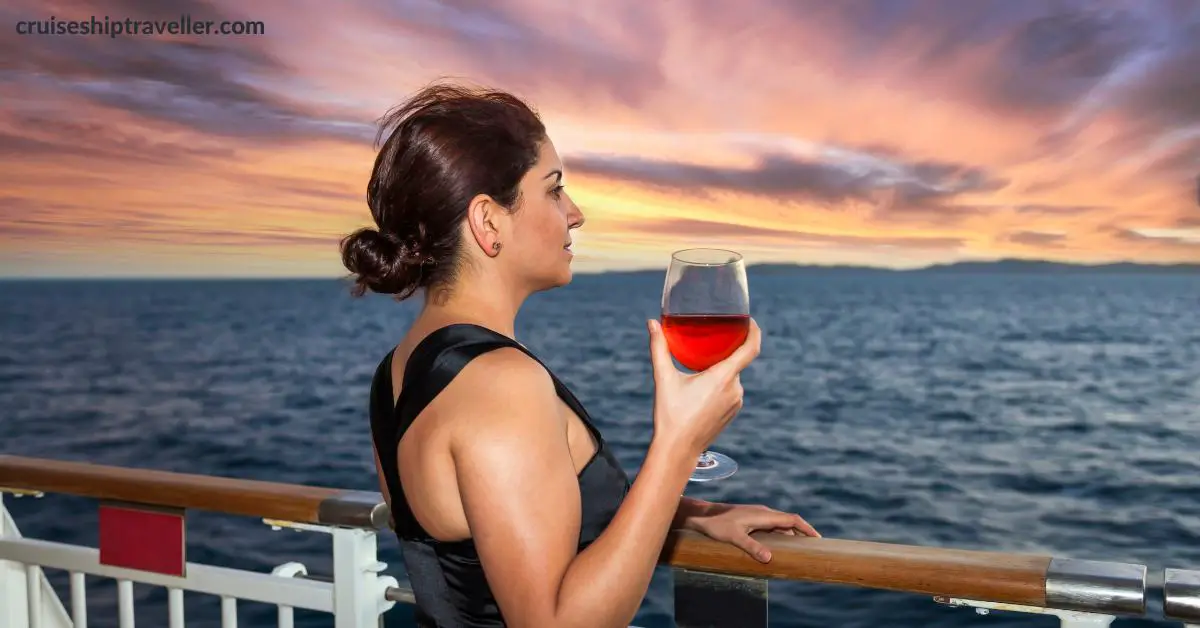 Best All-Inclusive Cruise for Over 40s
The best all-inclusive cruise for singles over 40 would have to be the luxury cruise line Regent Seven Seas Cruises.
A Regent Seven Seas Cruise all-inclusive  includes:
Beverages
Gratuities
Shore excursions
Specialist Dining
Suite mini bar
Valet Laundry Service
Free Wi-Fi
*Your mini suite bar is replenished daily with soft drinks, beer, and bottled water.
For the full list, including t&c's see here.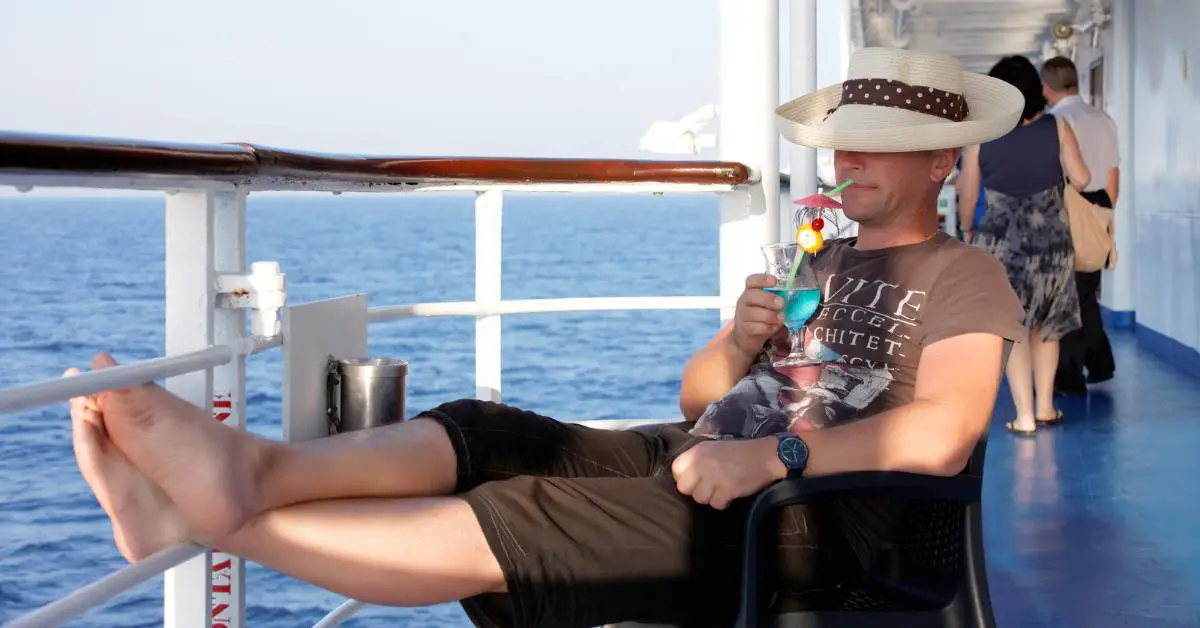 Best Luxury Cruises for Singles Over 40s
There are two ideal contenders for the luxury cruises for singles over 40:
Regent Seven Seas
Silversea Cruises
Although both cruise lines attract older cruises as well, if you take 3 to 7-night cruises, there will more likely be over 40s but under 50 onboard.
Regent Seven Seas
 Regent Seven Seas is known for its all-inclusive approach, meaning that almost everything is included in the fare, including shore excursions, specialty dining, and beverages.
Silversea Cruises 
Silversea Cruises also offers an all-inclusive experience, but it may not include some of the extras that Regent Seven Seas offers.
Neither cruise line offers single cabins, although both are known to have good offers of 25-75% depending on the particular voyage.
Best River Cruise for Singles Over 40s
If you are looking for a river cruise as a solo traveler over 40 then AmaWaterways is a worthy option to consider and consider solo friendly.
AmaWaterways offers several river cruises that cater to solo travelers over 40, with a variety of itineraries and destinations to choose from. 
In Europe their cruise ships sail the following rivers
Danube
Douro
Garonne
Main
Moselle
Rhine
Rhône
Seine
AmaWaterways' ships are smaller in size with less than 200 passenger capacities on every ship, which creates a more intimate and personalized experience for solo travelers. 
Single-occupancy cabins are available on just four ships in the fleet: 
AmaLyra
AmaDolce
AmaDante
AmaCello.
For double occupancy cabins offers reduced or waived single supplement fees on select sailings, which means that solo travelers can book a stateroom without having to pay extra for the unused space.
Best Cruises for Singles Over 40 from the UK??
An additional option if you are a solo traveler over from sailing from the UK, you might want to consider the British cruise line P&O Cruises.
P&O Cruises
While they have 7 ships in the fleet, two of particular interest to solo travelers over 40 might be the adult-only cruise ships:
If you prefer to book a solo cabin, you might prefer to try Britannia, which has the highest number of solo cabins, 27 in total, 15 of which have a balcony.
Al the solo cabins are located on the Lido deck, which is high up and towards the front of the cruises ship, which is something to be aware of if you are prone to seasickness.
While they are some of the oldest ships in the fleet, both Arcadia and Aurora are scheduled for major refits in 2024 and 2025, respectively.
Choosing the Ideal Cruise Ship for Singles Over 40
Once you have decided on the most suitable cruise lines, you then need to decide on which cruise you want to book.  
Below we highlight the main factors to consider.
Budget: Cruises can vary greatly in price, so it's important to choose a cruise that fits within your budget
Dining options: Many people enjoy the dining experience on cruises, so look for a cruise that offers a variety of dining options that suit your taste and dietary requirements.
Dress Code: Some cruise lines have more relaxed dress codes than others.  Do you like to dress up for formal nights?  Do you prefer other guests to be well-dressed for dining?
Itinerary: Look for a cruise that has an itinerary that interests you. Some people prefer cruises that visit multiple ports, while others prefer longer stays in fewer ports. Make sure to research the ports of call and find out what activities and attractions are available.
Onboard activities: Look for a cruise that offers a variety of onboard activities that interest you. Some cruises may have a focus on wellness and fitness, while others may offer more cultural and educational activities.
Opportunities to meet other singles: Some cruise lines offer special events and activities for singles to meet and mingle with other single travelers. Look for cruises that offer single events or consider booking through a travel agency that specializes in single cruises.
Size of the ship: The size of the ship can have a big impact on your cruise experience. Some people prefer smaller, more intimate ships, while others enjoy the amenities and activities offered on larger ships. Consider what is important to you and choose a ship size that best suits your needs.
Solo cabins: Many cruise lines now offer solo cabins, which are smaller staterooms designed for single travelers. These cabins are often priced lower than traditional cabins for two and offer more privacy than sharing with a stranger.
In our list of best cruise lines for singles over 40  have endeavored to only choose cruise companies with good reputations.  While there are other options, be sure to check their reputations first.