A common question smokers ask is whether they can smoke on their balconies. For smokers, the option seems ideal, a relaxing cigarette at any time outside their cabin.
Can You Smoke on Cruise Ship Balcony?
Most cruise lines have banned smoking from cruise balconies over the years.
The biggest reason is the risk of fire, a cruise line's biggest fear and something no cruise captain ever wants to deal with. This could be from someone dropping a still partially lit cigarette directly on the balcony or flicking one over the side on a deck below.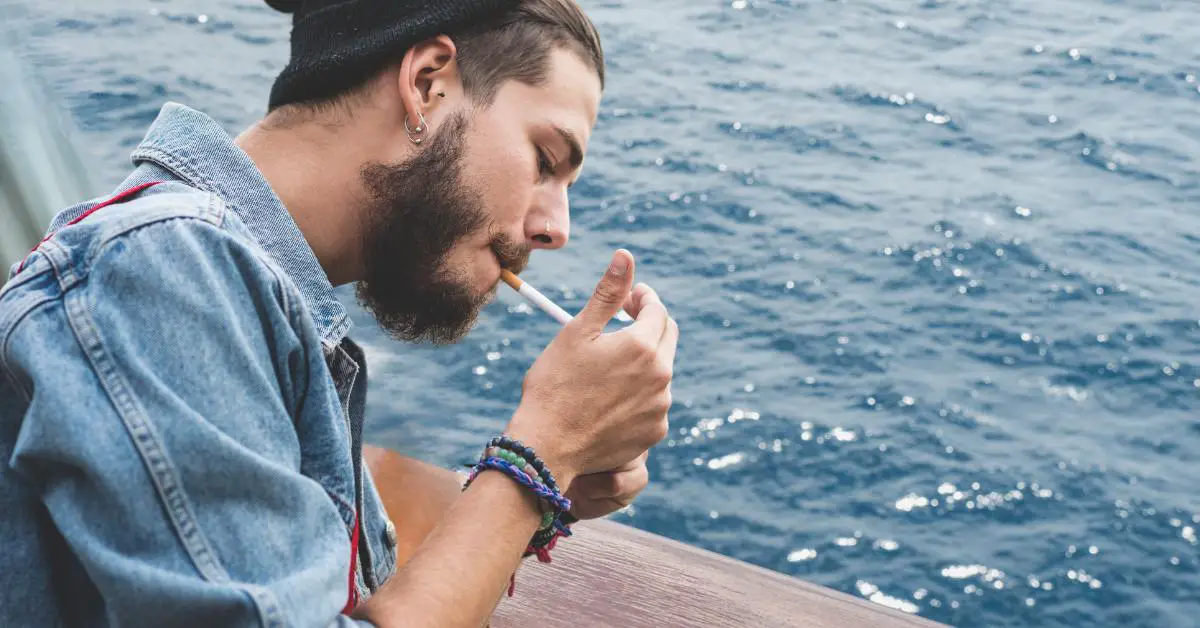 In addition, the other main reason for banning balcony smoking is feedback from other guests. Not only do they not want smoke from another balcony passing over to theirs, but they also don't want the safety fear of a potential fire hazard so close by.
However, there are still a handful of cruise lines that do allow smoking on balconies.
Which Cruise Lines Allow Smoking On Balconies 2023
There are just four smoker-friendly cruise lines that allow guests to smoke from their balconies.  One of the most well-known cruise lines, NCL, allows specific premium suites to indulge in some balcony smoking for its guests.
AIDA Cruises
Costa Cruises
Fred Olsen
TUI Cruises 
Here we take a more in-depth look at each of them.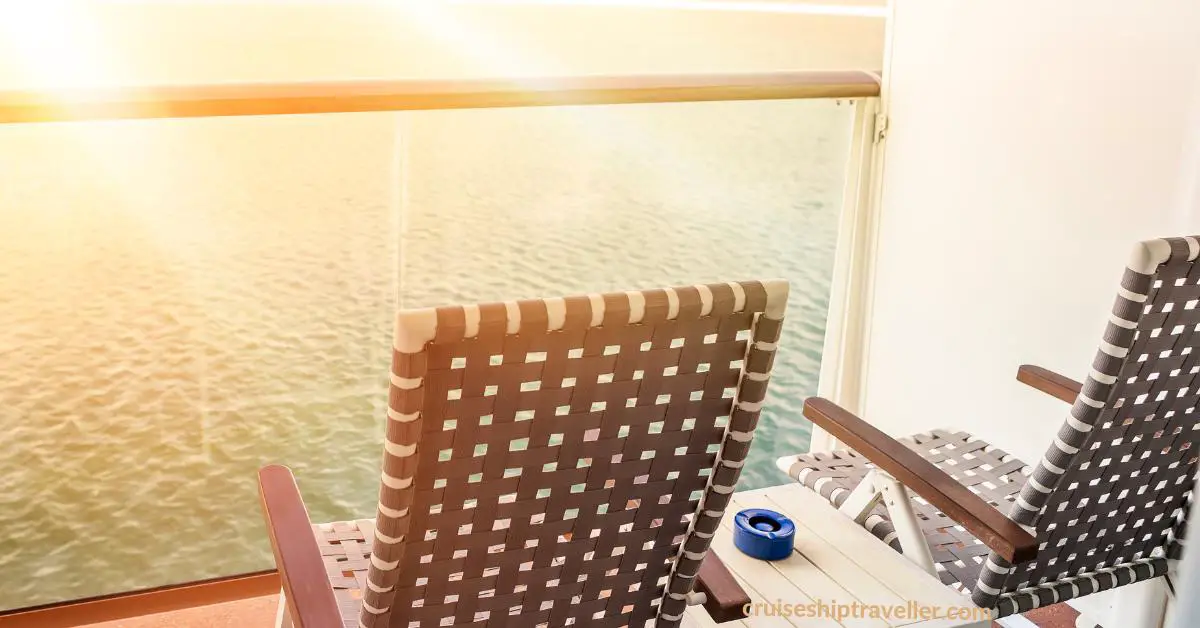 AIDA Cruises
AIDA cruises is a German cruise line owned by Carnival Corporation plc.   They are based in German, targeting the German-speaking market of younger demographics looking for an active cruise experience.
They have 14 mid-sized cruise ships in the fleet, all designed very prominently with big red lips across the bow and eyes on either side.
All Aida cruise ships provide several indoor and outdoor smoking areas.
Smoking is allowed on all balconies.
Cabin smoking is not permitted.
Costa Cruises
Costa Cruises is an Italian-based cruise line owned by Carnival Corporation since 2000. 
The cruise line caters to the Italian market but offers itineraries around the globe.  
Not only do Costa Cruises allow smoking on cabin balconies, they also provide wind-proof ashtrays.
Smoking is allowed at clearly indicated external smoking areas and on guest cabin balconies, where wind proof ashtrays will be made available.

Costa Cruises
Cabin Smoking: Electronic smoking devices can be used in cabins.
Costa Cruises also offer Cigar Lounges which can also be used by smokers of cigarettes and pipes.
Costa Cruise smoking policy here.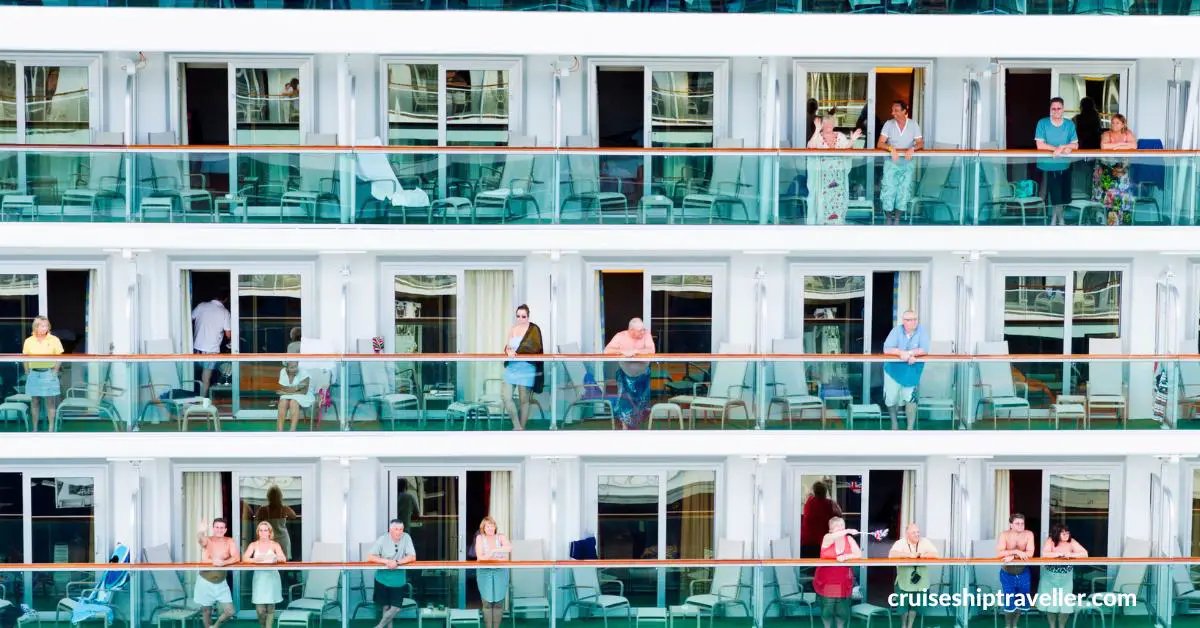 Fred Olsen 
Fred Olsen is a Norwegian-owned cruise line based in the UK.  They currently have a fleet of four cruise ships catered towards the British market.
As well as allowing smoking on their balconies, Fred Olsen even permits electronic cigarettes that emit no vapor (not even water) to be smoked in the cabins. This is a real rarity on any cruise line.
Fred Olsen cruise ships allow smoking on balconies except for terrace balconies on two ships in the fleet, as per the quote below:
Smoking will only be permitted on cabin balconies (excluding Terrace Balconies on Bolette and Borealis), and in designated open deck areas.

Fred Olsen Cruises
Cabin Smoking:  Only electronic cigarettes that emit no vapor can be smoked in the cabin.  
"Electronic cigarettes that don't emit vapour, may be used in cabins"

Fred Olsen
You can see the Fred Olsen ship-specific designated smoking areas here.
Tui Cruises
TUI Cruises are a German-based cruise line, 50% owned by Royal Caribbean Cruises Ltd.  (This is not the same TUI UK which owns the British cruise line Marella Cruises).
They are marketed toward German customers looking for a more high-end cruise experience.
The Mein Schiff cruise ships allow smoking on the balconies.
They also provide designated smoking areas both outside and indoors on all ships.
Cabin smoking: is not allowed in any form.
NCL – Garden Villas Suites
Generally, Norwegian Cruise lines do not allow guests to smoke on balconies. 
However, one exception is for the premium Garden Villas suites, which have large terrace areas where smoking is allowed.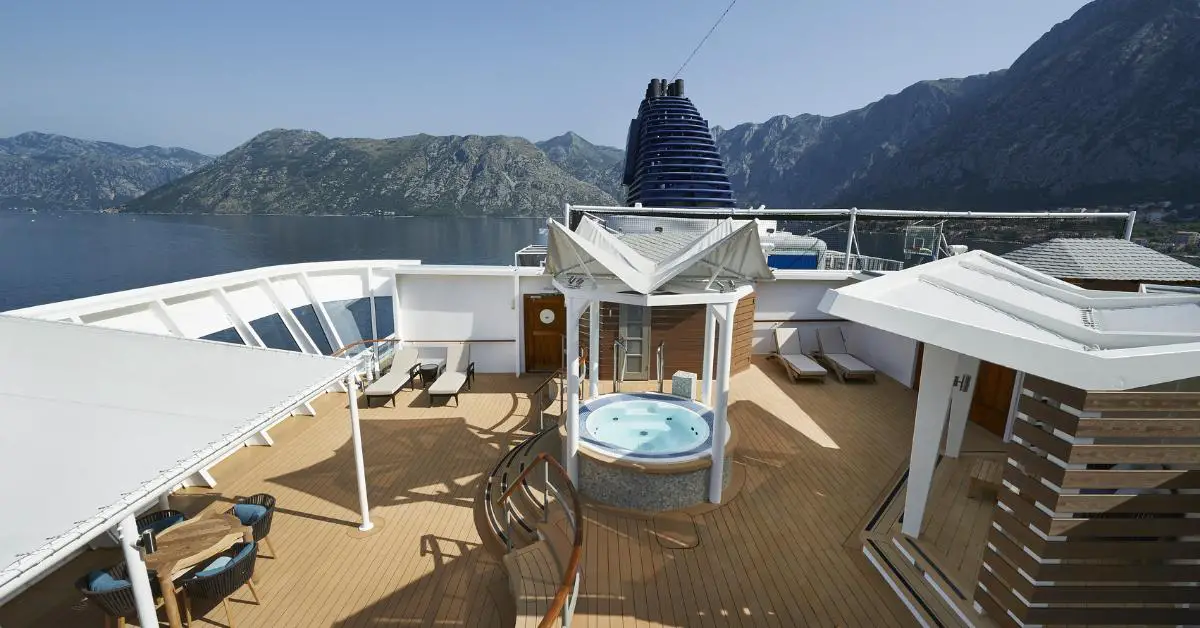 Which Cruise Lines Allow Vaping on Balconies?
With one exception, all the above cruise lines allow vaping on the balconies. In addition, two of the main cruise lines also allow vaping, but no cigarettes, cigars or pipes.
You can vape on the balconies of:
Aida Cruises
Costa Cruises
Holland America
NCL (Garden Villa Suites Only)
Princess Cruises
TUI Cruises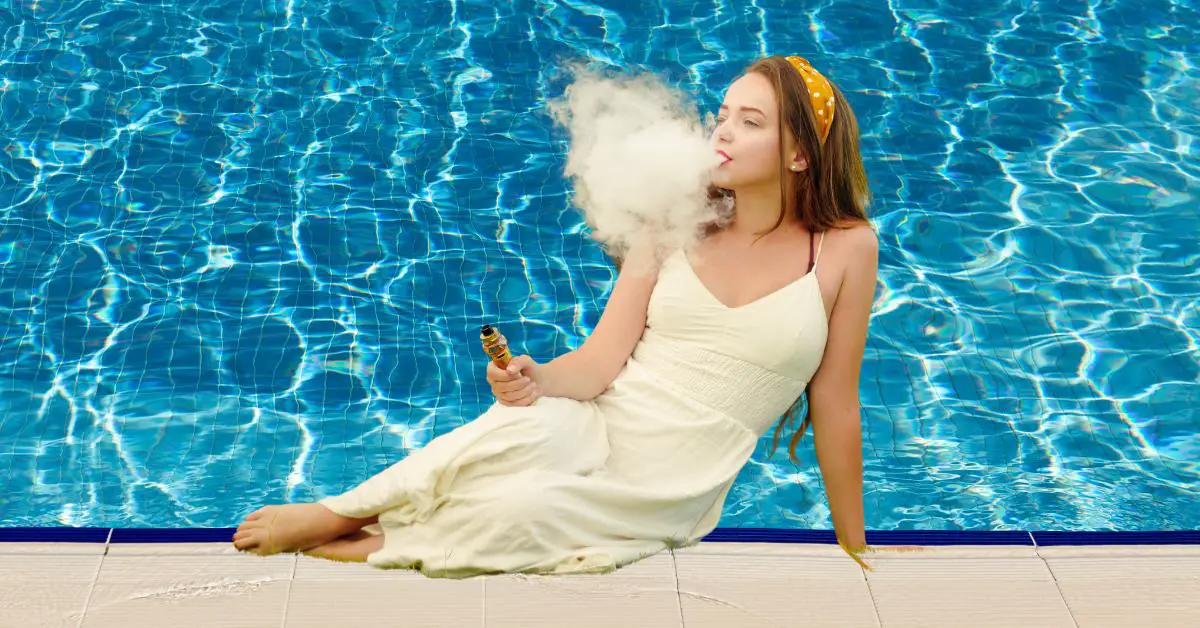 How to Smoke on to Smoke on Cruise Ship Balcony?
Assuming you are allowed to smoke on your cruise balcony, firstly ou'll need to light up on the balcony, not in your cabin as that is prohibited. Only standard lighters can be used, you can't use anything more powerful even if it's windy, and due to the breezy conditions you'll often encounter it can help to have a windproof ashtray.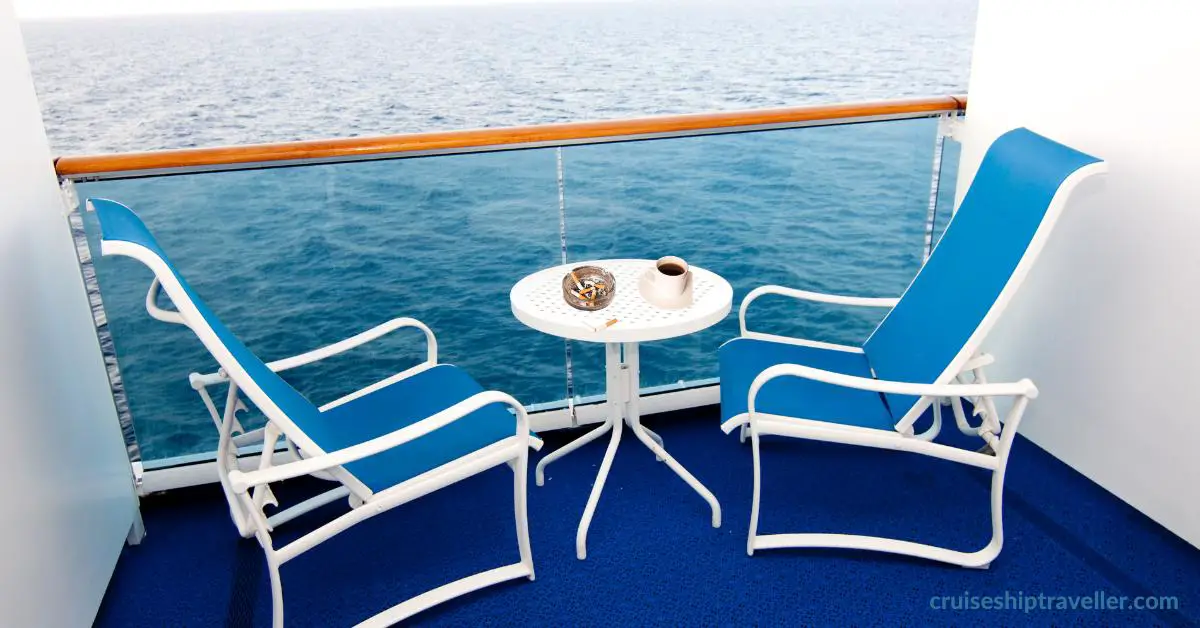 How Would Cruise Ship Know If You Smoke On Private Balcony?
While you may think its safe to sneak a smoke on your cruise ship balcony there are few ways you could get caught.
Firstly, if your smoke passes to another balcony on either side, its possible the guests could report it.
Secondly, many balconies can be seen from various areas of the ships. This includes not only other passengers who might be above or looking up from lower decks, but also CCTV. Another thing to bear in mind, is even if you think you can't be seen, its possible your reflection can. This has happened more notably when people have been caught having sex on the balconies via the reflections in any glass.
What Happens If You Are Caught Smoking on a Balcony?
If you are caught smoking on your balcony you are likely to be fined in the region of $250 to $500.
Smoking in undesignated areas is a fire risk the cruise lines and especially cruise captain do not want to see. The safety of all passengers onboard is paramount. After all in the past fires have been known to cause a cruise ship to sink.
Repeat offenders could be asked to leave the ship.
Related Posts: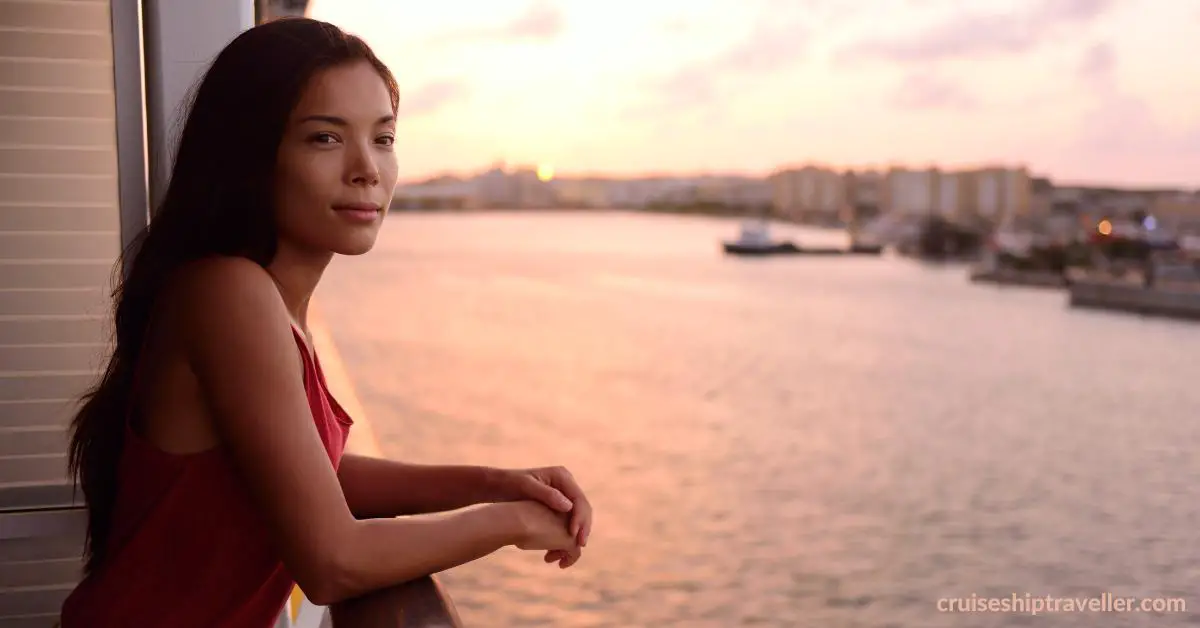 Frequently Asked Questions
Can You Smoke on the Balcony of your Cabin on Norwegian Cruise?
Norwegian Cruise Line generally do not allow smoking from the vast majority of their cabin balconies. However they do offer a premium suite named the Garden Villas. These are large staterooms which can hold a number of guests and relatively large terrace areas where smoking is permitted.
Can You Smoke on Carnival Cruise Balcony?
Carnival Cruise do not allow any smoking on their balconies. This is the same rule across the entire fleet of cruise ships. You can only smoke in the designated areas which are both located indoors and outdoors of the ships.
Can You Smoke on Celebrity Cruise Balcony?
Celebrity Cruise do not smoking of any kind inside the ship. This includes balconies and cabins. There are no indoor smoking areas on a Celebrity cruise ships, not even in the casinos.