If you are a smoker, we will help you find the most smoker-friendly cruise ships, including where to find the designated smoking areas for your cruise line.
Each cruise line is different. Some allow indoor smoking and have smoking lounges, whereas others prohibit smoking indoors.   
For non-smokers will also highlight where the smoking areas, both indoors and outdoors, on the cruise lines so you can avoid them.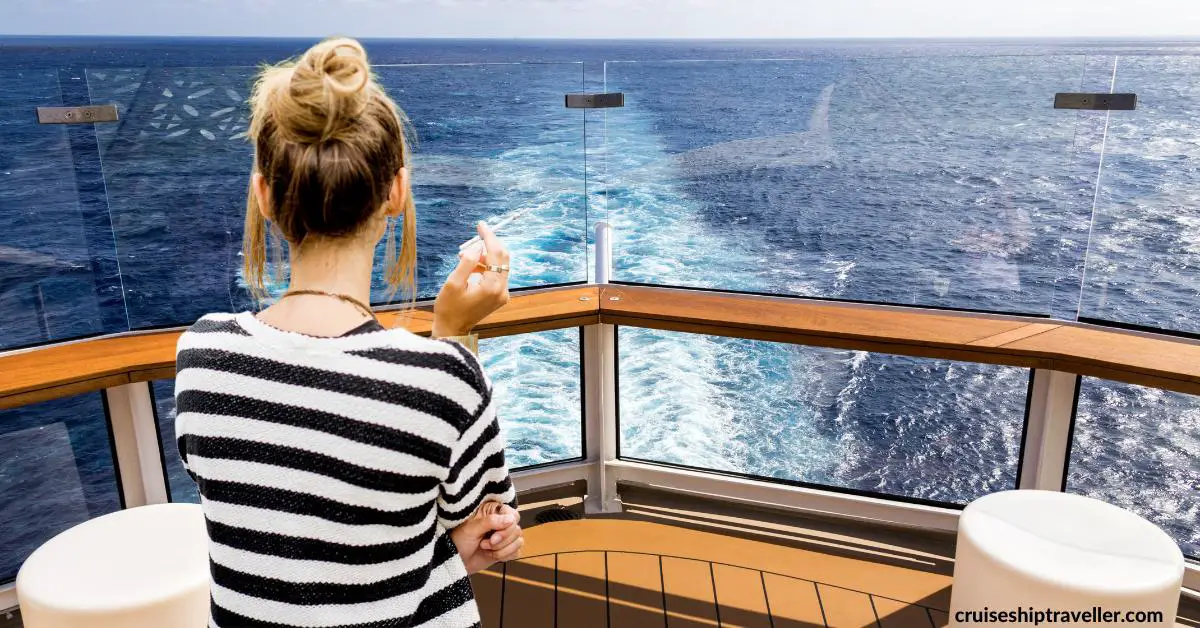 Is Smoking Cigarettes Allowed on Cruise ships?
All Cruise ships allow smoking cigarettes, cigars, and e-cigarettes in designated areas, indoors or outdoors.  
The locations of the smoking areas vary for each cruise line.  All tend to have outdoor smoking areas, but only a few cater to indoor smokers via a lounge or sometimes in the casinos.
If you use a type of e-cigarette, we have covered them in more detail, as to whether you can bring vape pens on a cruise and where you can use them.
Can I Smoke Cigarettes in my Cabin?
No cruise lines allow guests to smoke cigarettes or cigars in the cabins.  If they do, they risk the smoke setting off the fire alarms and any consequences of being caught. Some cruise lines allow vaping
Is Balcony Smoking Allowed?
In the past, most cruise lines used to allow smoking on the balcony. Over the years, almost all prominent cruise lines have banned smoking from balconies. 
The reason for the ban was predominantly because of passenger complaints and feedback.  Apart from the health issues, some people don't like being so close to a potential safety hazard. 
However, if you value being able to relax and smoke from your own balcony, four cruise lines allow smoking on the balconies.
Cruise Ships That Have Cigar and Pipe Lounges
Although cigars can typically be smoked in most designated areas, some cruise ships cater to a good old-fashioned cigar-smoking experience by offering Cigar Lounges & Cigar Bars.
Cruise Lines that offer cigar lounges include:
Crystal Cruises
Cunard
Norwegian Cruise Line
Regent Cruises
Royal Caribbean
Silversea Cruises
Double check each individual ship via the deck plan because not every ship in the fleet may have one.
Cigar or sometimes Cigar and Cognac lounges tend to be more of a premium offering and are found on the smaller and more luxuriously marketed cruises lines.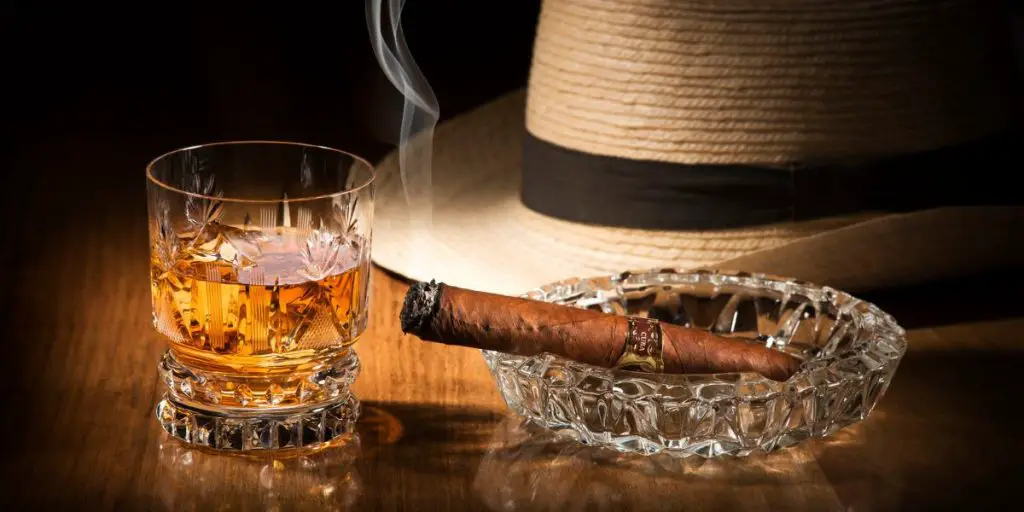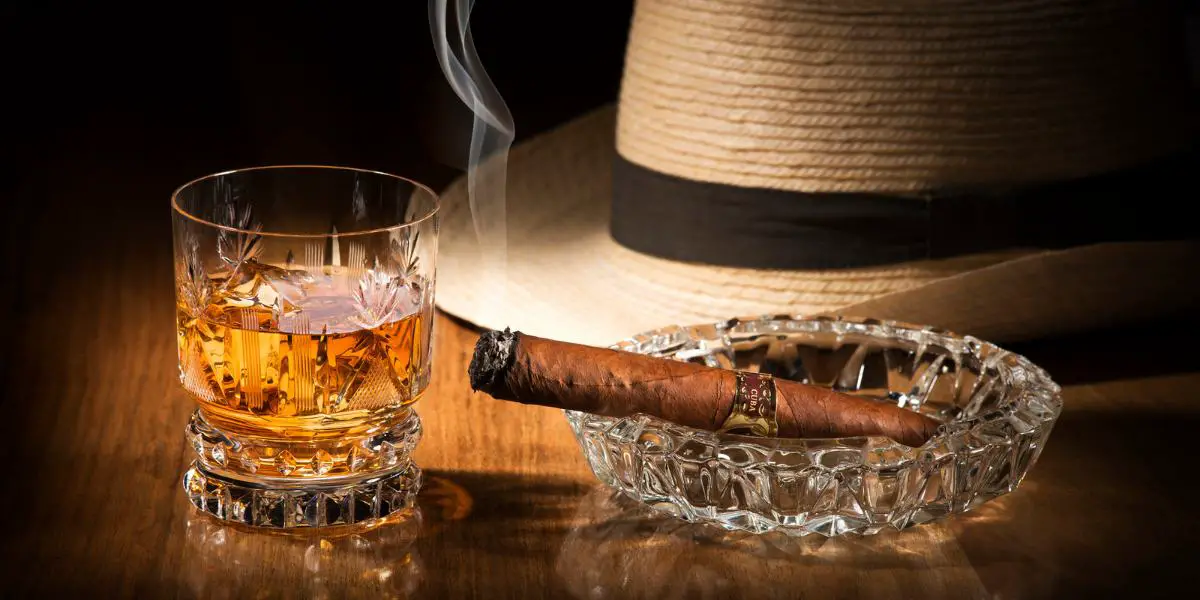 What Happens If You Get Caught Smoking On Cruise?
If you are caught smoking outside the designated areas, you will be reminded to go to the nearest smoking areas.
If caught smoking from a balcony, you will likely receive a warning for breaking the rules.  If you continue to break the rule, you could be fined and possibly kicked off the ship.
You risk setting off the fire alarms if you are caught smoking in your stateroom.  Smoking in a cabin causes smoke-related damage to the furniture and furnishings, especially over time, as well as an unpleasant smell for future guests.
Therefore, you would likely be fined up to $500 to cover any cleaning expenses to cover the costs of replacing air filters, cleaning of carpet and drapes as well as bed blankets and pillows.
Where Can You Smoke on Carnival Cruise?
Carnival Cruises are considered a smoker-friendly cruise when it comes to where you can smoke, providing designated areas indoors and on the outer decks.
Inside, you can smoke in the casino any additional designated rooms, which will most likely be for the slot machines. 
Carnival cruise does not allow smoking in cabins or balconies like most cruise lines.
Carnival Cruise Smoking Policy
The Carnival smoking policy states 
Smoking is a fire and safety hazard on a ship. Consequently, it is strictly limited to specific exterior deck areas and in the casino when seated and playing.  

All staterooms and suite accommodations, including outside balconies, are NON-SMOKING. This policy applies to all forms of smoking, including but not limited to cigarettes, cigars, pipes, vaporizers, electronic cigarettes and marijuana.

Carnival Cruise
It is also worth noting that for all ships, you can't smoke outdoors when the ship might be refueling.
On embarkation and debarkation day, smoking is not allowed outdoors while the ship is refueling.
You can find the full Carnival Smoking Policy here.
Carnival Cruise Ship Smoking Areas
You can find the smoking locations for every Carnival cruise ship here.  All ships are individually covered, including Carnival Mardi Gras, Panorama, Horizon, Vista, Breeze, Magic, Dream, Conquest, and all the rest,
Where Can You Smoke on Royal Caribbean?
Royal Caribbean smoking rules are pretty complex in that they can vary depending on which cruise ship you are on and from where the ship departs.
On all ships, you will find smoking areas outside.  
Some ships allow cigars and pipes to be smoked in designated smoking rooms inside the ship.
Casino smoking rules vary based on where the ship has departed from, although only ships departing from the UK and Australia don't allow smoking in the casino.  Depending on departures from other countries will determine if smoking is throughout the casino or within a designated room in the casino area.
There is no smoking allowed in cabins or on balconies.
Royal Caribbean Smoking Policy
The Royal Caribbean smoking policy states the following:
Cigarette, cigar, e-cigarette and pipe smoking is permitted in designated outdoor areas.

Casino Royale allows smoking and has a designated area for non-smoking guests.
Regarding smoking in the casino rules vary depending on the location of your departure they say:
All cruises departing from China and Hong Kong will not have a non-smoking area in the casino. Smoking is not permitted in the casino for any ships departing from Australia and the United Kingdom.

Royal Caribbean
You can read the full Royal Caribbean smoking policy here.
Where Can You Smoke on Disney Cruise Ship?
Disney cruise provides minimal smoking areas on board their fleet of ships, with designated smoking areas only located outdoors.  There aren't any casinos on Disney Cruise ships, and no additional indoor smoking areas are provided.
Disney Cruise Smoking Policy
The Disney Cruise Smoking Policy clearly states the Disney Cruise smoking areas for each ship in the fleet, except for the newest Disney Wish.
Disney Magic and Disney Wonder

Deck 4, outdoors, starboard side from 6:00 PM to 6:00 AM

Deck 9, forward, portside, any time Disney

Dream and Disney Fantasy

Deck 4, port side, aft, on the outside Promenade

Deck from 6:00 PM to 6:00 AM Deck 12, port side, aft, the outdoor area accessible through the Meridian Lounge at any time

Deck 13, port side, forward, near Currents Bar, at any time

Disney Cruises
You can read the full Disney Smoking policy here.
If you forget which side of the ship is which, check out tips for remembering port and starboard.
Where Can You Smoke on Norwegian Cruise Line?
Norwegian Cruise Lines provide outdoor smoking areas on all ships in the fleet.
Onboard casinos allow cigarettes to be smoked, but they disallow cigars and pipe smoking.
Although they do have indoor smoking rooms, you are only permitted to smoke cigars in them.
You can't smoke in your cabin or on the balcony, although there is an exception for the Garden Villas balcony suites.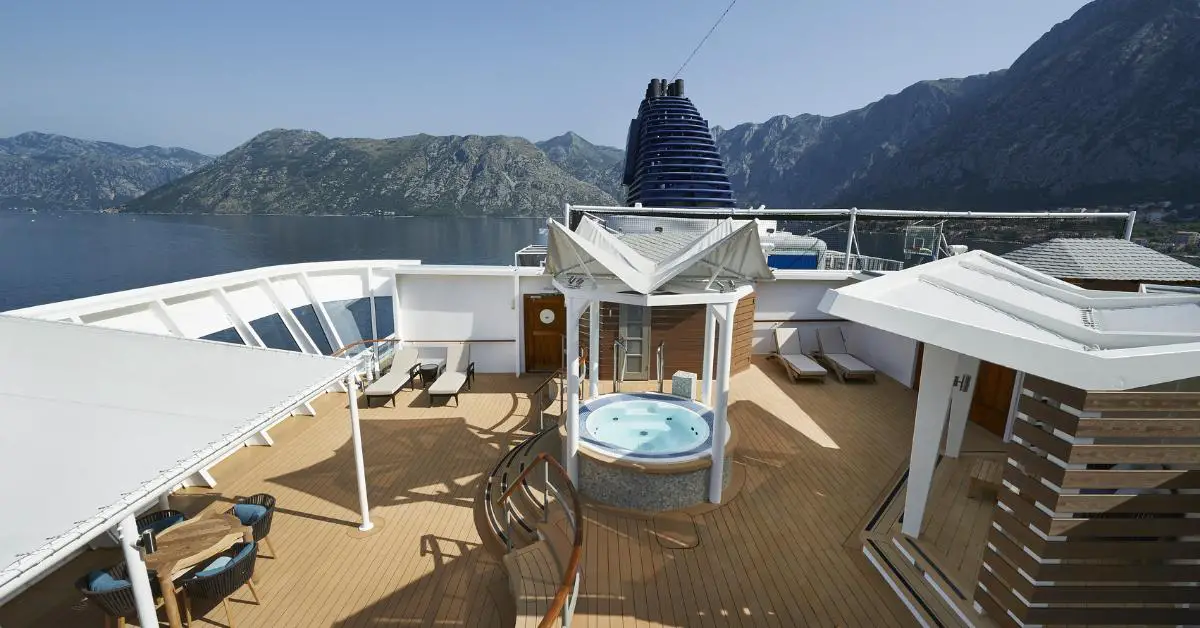 Norwegian Cruise Smoking Policy
They state indoor areas are smoke-free
with the exception of the cigar lounges and the casino, throughout all our ships are smoke-free. Dedicated outdoor areas are assigned to smoking.

NCL
NCL gives separate considerations to cigar smokers more than most other cruise lines.  Rules vary slightly depending on the specific ship
Cigar smoking is permitted in the designated cigar lounge. Cigarettes, pipe, electronic cigarettes and vapor smoking devices are not permitted in the cigar lounge. Cigar and pipe smoking on board Norwegian Sky, Norwegian Sun, Norwegian Star and Pride of America is permitted only in designated outdoor areas as there is no cigar lounge onboard.

NCL
Regarding smoking in the casino, they state:
"Norwegian Bliss, Norwegian Joy and Norwegian Encore have a designated smoking room within the Casino. On all other ships, active Casino players may smoke cigarettes, electronic cigarettes and vapor smoking devices in the Casino during gaming hours. Cigar and pipe smoking is not permitted in the Casino."

NCL
You can read the full Norwegian Cruise Line Smoking Policy here.
How To Get Away With Smoking On A Cruise Ship
This is a question more commonly asked when thinking about bringing weed on a cruise, where we covered in more detail the ways to sneakily have a smoke.  This also applies to anyone who wants to use the less intoxicating Delta 8 on a Cruise.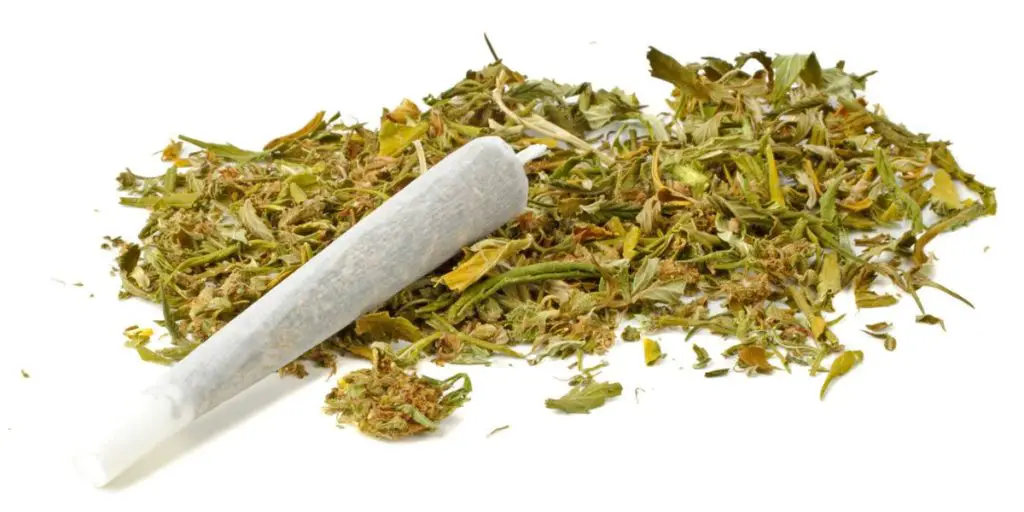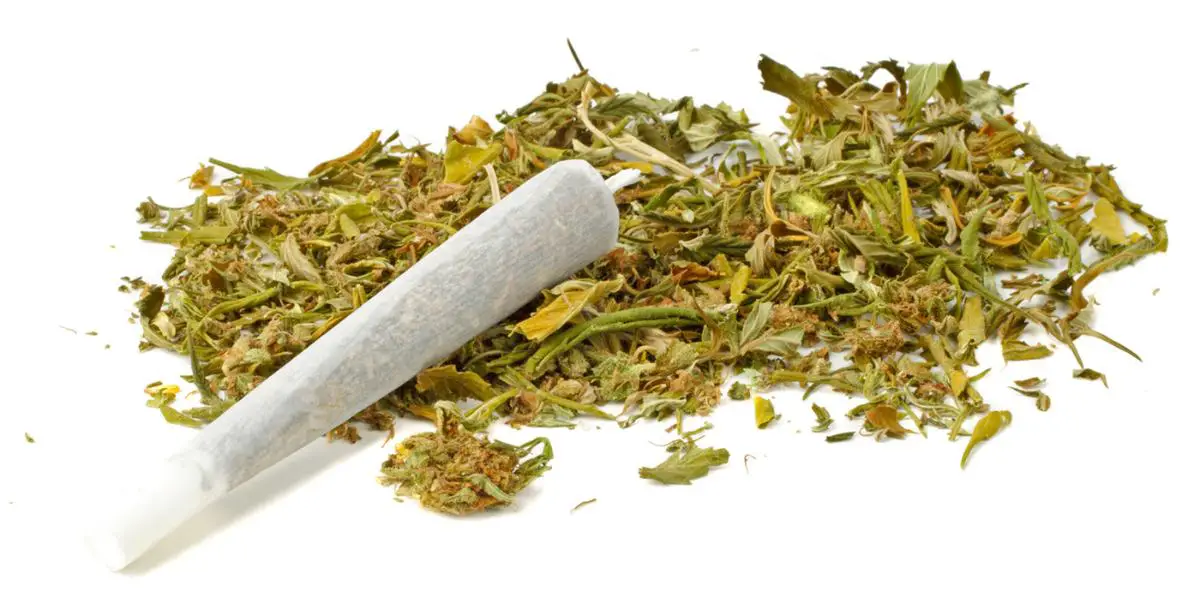 When it comes to getting away with smoking cigarettes or cigars on cruise ships, smoking is allowed on all cruise ships so it is best to smoke them in designated areas.  Why break the rules when you don't need too?  
If you break the rules, you are potentially creating a hazard and upsetting other guests with their own health and safety concerns.
Whatever you don't, try getting away with smoking in your cabin, as you risk setting off fire alarms and getting fined.
However, people still try using various methods which are covered in "how to get away with smoking on a cruise ship".
Frequently Asked Questions
Can you Bring a Lighter on a Cruise?
Standard cigarette lighters can be brought on a cruise ship.  However, more powerful torch lighters are prohibited.  Also, any novelty lighter that looks like a weapon or any other banned items will not be allowed on board.
Why Can't You Smoke in a Cruise Cabin?
Smoking real cigarettes and cigars is a potential fire hazard that cruise lines massively want to avoid because worst case scenrio it could sink a cruise ship,.  On top of that, they increase the cleaning required, and even flavored vapes can leave an unwanted smell in the cabin and furnishings that can be difficult to get rid of quickly for the next guests.
Can You Bring Cigarettes On A Cruise
You can take as many cigarettes on a cruise as you like, although they can be purchased on board and in ports of call.  Sometimes, you can get them duty-free, so they are cheaper to buy once on the ship.
Can You Bring Cigars On A Cruise
Cigars are allowed on cruises, but you can only smoke them in the designated smoking areas.  Depending on which cruise ship you are on, some have specific areas where cigars are prohibited, but others have areas where only cigars are allowed, as is the case with NCL.
Can You Bring Nicotine On A Cruise? 
Nicotine in all forms is allowed on a cruise.  All cruise ships have smoking areas, even if they are only outdoors.  
Nicotine tobacco products are allowed to be taken onboard as are vapes and any other form of nicotine, including gum and patches for those trying to stop or reduce their smoking.
Can You Buy Cigarettes on a Cruise?
Cruise ships have duty-free shops onboard which sell cartons of cigarettes.    Depending on the cruise line, you can often buy single packs of cigarettes from the bars at which you are allowed to smoke at.
These will most likely be in the casino bar if smoking is allowed.  Expect bars close to any designated smoking areas to sell them.
You'll typically have to wait until the ship has disembarked before they are sold.
Are There Non-Smoking Cruise Ships?
There are no non-smoking cruise ships in existence.   At the very least, all the leading cruise lines offer smoking areas outdoors. Only Disney and Celebrity cruise lines don't have any indoor smoking areas.  
If you want to avoid smoke on your cruise, you can look up the locations of the smoking areas on the deck maps and plan to avoid them.
Other smaller cruise lines with no indoor smoking areas include:
Azamara
P&0, Ponant
SeaDream
Viking Ocean
Windstar
Conclusion
Smoking is allowed on all cruise ships. Some are more smoking-friendly than others offering both indoor and outdoor areas.
Do the smoking policies influence your choice of cruise in anyway?
Let us know your thoughts in the comments.