If you are looking to hook up on a cruise, one of the best decisions you can make from the start is to choose one of the best singles cruises, those that have a higher ratio of single passengers with whom you are most suited to possibly hooking up on a cruise with.
Whether you are looking for a younger partying crowd or perhaps of a more mature age hoping to mingle with a higher number of solo travelers within your age range, there are certain choices that stand out as more suitable than others that are less likely to be full of couples and families.
Even better are those that actively encourage single to mix through meet-ups and a range of day and evening activities.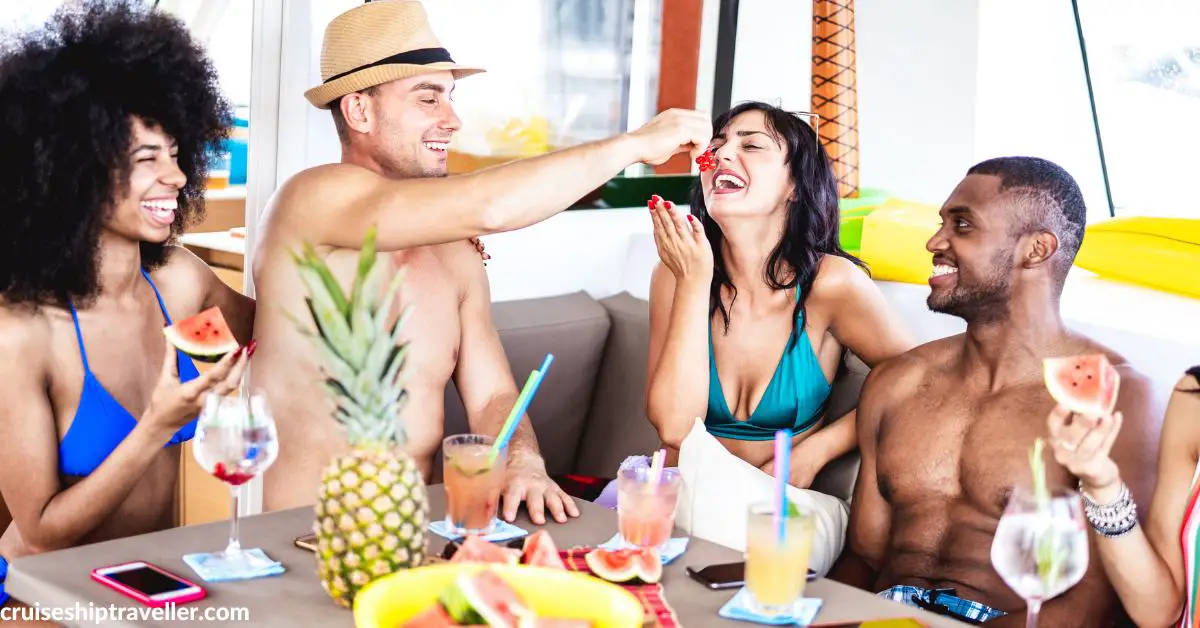 Where it makes sense, we have tried to divide the best choices into age groups, but ultimately you choose the age ranges you'd most like to mix with rather than your own age bracket if you prefer and the ships that offer the experience and activities you most prefer.
Best Regular Cruises Lines For Singles to Hook Up
Some of the main cruise lines offer cruises catered towards solo travelers, and although there will be lots of couples and families onboard, there will always be singles onboard.
Some regular cruises will be marketed towards singles, even though not specifically a dedicated chartered singles cruise event that will provide lots of specific events and activities to mix singles in groups.
On a regular cruise, you'll have to attend events and activities like everyone else and aim to meet singles that way.
Saying that, plenty of singles, both men and women, are potentially looking for cruise ship hookups.  It's a known fact while away on a cruise vacation or mini-break passenger's libidos tend to increase.
Below are some of the most popular choices for people looking at hooking up on a regular cruise.
Norwegian Cruise Line Singles Cruises
Norwegian Cruise Line cruises are ideal for younger solo travelers.  They offer a great mix of active daytime activities as well as good nightlife.
When it comes to awards, Norwegian Cruise proudly states on their cruises for singles and solo travelers page that they have been voted the Best Cruise Line for Solo Travelers 6 years in a row by Porthole Magazine.
Before you travel with NCL, you can start getting to know fellow passengers online in "Singles Meet & Mingle"
One of the main advantages of sailing single with Norwegian is that they offer single "Studio" cabins on certain ships in the fleet.
These include:
 Norwegian Breakaway
Norwegian Epic
Norwegian Getaway
Norwegian Pride of America
Norwegian Breakaway and Norwegian Getaway are the NCL Breakaway class of ship.   
The studio cabins are all located on the same deck, so all the singles and solo travelers will be together and can possibly meet in the nearby Studio Lounge.
Although it's worth pointing out that just because the studio rooms are singles, doesn't mean they are the cheapest cabins on the ship. 
So if budget is a factor, you might find it cheaper to pick a double occupancy room.
They aren't the largest ships in the NCL in the fleet, but they are packed with entertainment for their size.
Including:
2 pools
Water park
Basketball courts
Mini Gold courses
Volleyball courts
The  Spice H2O  adults-only pool at aft of the ship that becomes a Dance Club in the evenings is a popular feature for singles to mingle.
Norwegian Epic has the only tube-and-bowl waterslide on a cruise ship.
For an unusual and memorable place to meet for a drink it has its own ice bar, but you'll need to wrap up.
Pride of America is designed to sail year-round in Honolulu, Hawaii.  It's a smaller vessel with open-air pools on top decks and plenty of restaurants and bar areas to socialize.
NCL Singles Cruises are good for: Under 40's who enjoy active daytime activities and nightlife in the evenings.
Here we have covered Norwegian singles cruises in more depth.
Carnival Singles Cruises
Carnival Cruises are known as the "fun ships" and are popular with 20-somethings to early 30's looking to party and have fun both day and night.
The ships are also popular with families and couples, so to find the best Carnival cruise for singles, choose short cruises which are popular with groups of friends and if possible, avoid going during school breaks.
Choose times when the kids should be at school and not away with parents on cruise vacations. 
Even though there might be kids onboard, there are plenty of adults-only areas.
Look out for the singles mixers, which are often held on the first night and are a great start to get socializing with other singles. 
All rooms on Carnival Cruises are double occupancy which means you'll have to pay a singles supplement.
Carnival singles cruises are good for: 20's to 30's looking for fun activities day and night.
Carnival are our one of our top choices for best cruise lines for singles 20s.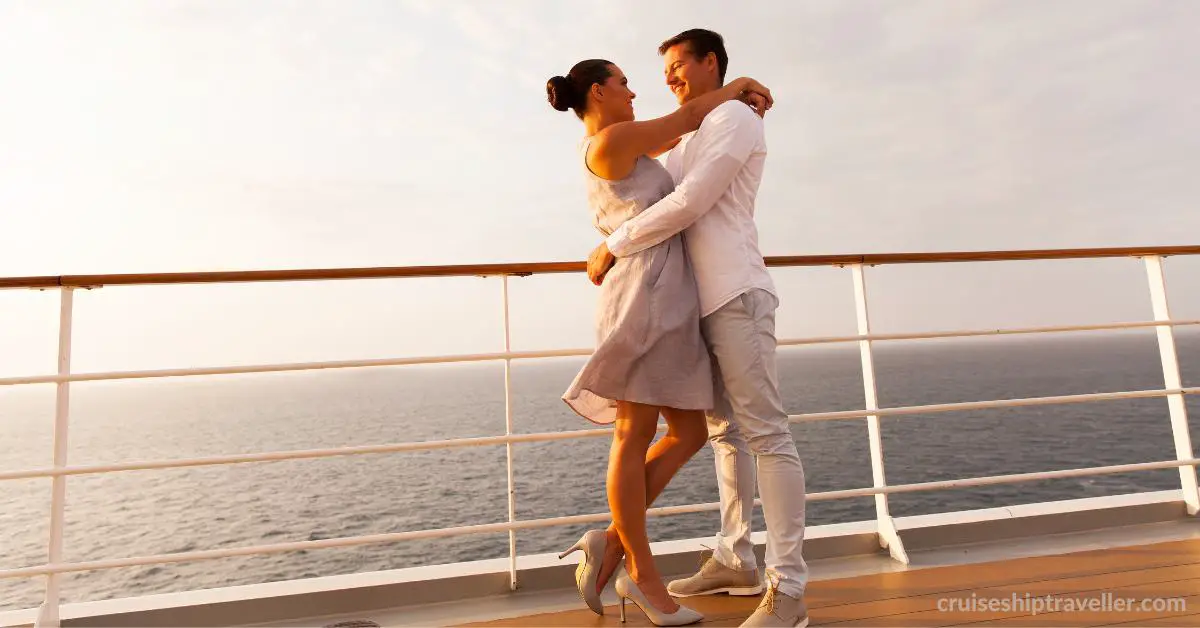 Royal Caribbean Singles Cruises
Royal Caribbean cruise ships are well known for offering a wide range of day and nighttime entertainment options.  Literally too many to mention.
In short, they include things from cooking classes to escape rooms to trivia competitions to sporting activities galore and lots more.
Royal Caribbean cruises will often be frequented by families and couples, but there will always be singles onboard. 
Not all Royal Caribbean cruise ships cater to solo travelers in terms of offering single cabins.
However, a select few do offer studio staterooms that don't incur a supplement fee. 
Some ships have a range of inside studio staterooms, virtual balcony staterooms, and various sizes of super studio oceanview staterooms with balconies. 
They are available on 
Anthem of the Seas
Brilliance of the Seas
Harmony of the Seas
Quantum of the Seas
Ovation of the Seas
Spectrum of the Seas
If you prefer the option of a studio room with a balcony, these are offered by
Anthem of the Seas
Ovation of the Seas
Quantum of the Seas
Read on for more information on Royal Caribbean cruises for singles and who they are best suited to.
Celebrity Cruises for Singles
Celebrity cruises might be an option for those that like to have fun but not at higher energy levels, such as the likes of Carnival.
The Celebrity cruise ships offer good value for the quality, and the newer ships in the fleet offer single cabin rooms:
Celebrity Apex (24 single staterooms)
Celebrity Ascent (32 single staterooms with Infinite Veranda)
Celebrity Beyond (32 single staterooms with IInfinite Veranda)
Celebrity Edge (16 single staterooms with IInfinite Veranda)
Celebrity Silhouette (4 single staterooms)
Celebrity offer their own very in-depth Ultimate guide to cruising solo.
Virgin Voyages Singles Cruises
Virgin Voyages cruises are all for adults only and both ships have single cabins for solo travelers.  
The ship's aim  to offer some slightly different features to the most well-known cruise lines such as an onboard tattoo parlor to immersive entertainment experiences in a bid to make cruising seem more cool compared to the impressions some people have of the other main cruise lines.
Although suitable for a wide range of ages, the Virgin Voyages cruises are popular with 50s and over.
Chartered Singles Cruises
The most obvious hook-up cruises that are best for singles are cruises that are specifically targeted towards singles. 
Singles cruises are singles-orientated events that can be booked via travel agencies. 
You will be booking with a group of other singles onboard a regular cruise line ship, with other nonsingle guests who booked the regular way, or possibly the whole ship if its a smaller vessel.
The socializing of the group on each particular adult single cruise often begins online via a dedicated Facebook group.
On some occasions, the singles event organizers arrange meet-ups the night before the cruise in local port hotels 
When it comes to choosing a cabin, you can have the option of sharing a room with someone of the same gender.
If you opt for your own room, you'll often have to pay a supplement fee.
The ideal thing about singles cruises is there will be a clear itinerary of events for you to attend and virtually everyone attending will be single.
These cruises are much more geared towards mixing singles together, so as well as meeting up and eating together you'll also be mixing via all kinds of activities and events, including:
Cocktail mixing
Dance lessons
Karaoke nights
Speed meeting
Theme parties
Trivia events
As well as the option to explore various onshore excursions.
Chartered singles cruises tend to be more popular with slightly older people who are over 30.
Some singles cruises will be marketed towards specific age groups for example, singles in 30s, over 40's, over 50s, and over 60's and seniors.
To make sure you are booking a proper singles cruise and not just a regular cruise marketed towards singles, ask to see a list of the events and activities in advance.
It's worth pointing out that not everybody on a singles cruise is looking to hook up. 
Some people just feel more comfortable mixing with singles, while others might be looking for a longer-term relationship partner rather than a short-term hook-up.  Others might be in a relationship already and just away with friends.
SinglesCruises
One of the most well-known examples of a chartered singles cruise is the aptly named "Singles Cruise" one of the largest singles cruise agency in the United States.  They have been organizing dedicated singles cruises since 1991 and offer some of the best cruises for singles to hook up.
At any one time they are typically offering 18 to 20+ singles cruises for 3, 5 to 7 nights, and more to locations in the:
Bahamas
Bermuda
Caribbean
 Europe
Mexico
South America
Singles-packaged events can be booked via travel agents like Singlescruises on a range of well-known main cruise lines, including:
Carnival
Celebrity Cruises
Norwegian Cruise Line
Royal Caribbean
If you don't specifically book a singles cruise event and instead book a regular cruise, you won't be able to participate in those singles activities, which reduces the chances of hooking up with those singles as they will all be mixing together and you wouldnt be able to join in.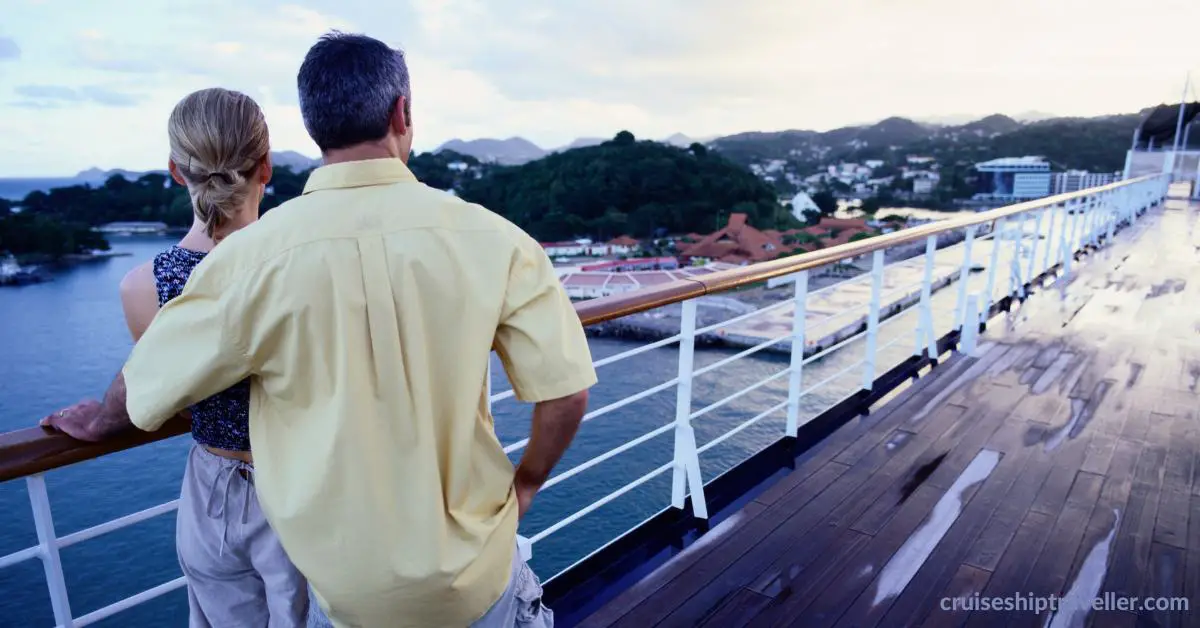 Best Cruises for Over 40's to 50's to Hook Up
If you are over the age of 40 to 50 you may want less full-on activity and party atmospheres and instead prefer a slightly quieter experience and calmer setting in which to meet fellow singles.
These cruises for solo travelers are more about finding singles with similar interests than full-on fun and games day and night.
Holland America Line for Singles
Holland America cruise line is a popular cruise line often used by a slightly older crowd, including singles.
Through their  Solo Travellers Party Holland America offers numerous opportunities for solo travelers to meet and mingle throughout their cruise.  
Each ship hosts solo traveler mixers, cocktail parties, games, and other social events early on in the voyage.
In addition, across all Holland America ships, there are dozens of fun and exciting activities designed to help singles connect, such as 
Cooking demonstrations
Dancing classes
Exercise classes
Lectures
Sports challenges
Wine tastings
Through their Single Partners Program you can be booked in with a same-sex non-smoking passenger.  Even if they don't find you a partner, you don't have to pay any extra.
On newer Holland America ships, there are single cabins available.
Other Cruises for Singles Over 40 to 50
Other cruise lines that may be of interest to older solo travelers looking to mix with and meet other singles include:
Cunard (Luxury British Cruise line)
Fred. Olsen single cruise information (UK based cruise line)
P&O Cruises for solo travelers (British cruise line)
You can check how each cruise line above caters to singles on their solo travels by visiting the links above.
Cunard Cruises for Singles
Cunard is a luxury British cruise line which is popular with a more mature group of passengers, typically over 50's and seniors over 60.  
There are solo cabins available on all ships in the Cunard fleet and plenty of activities to choose from.
Find more information here about the Cunard Solo Travellers Experience.
Fred. Olsen Cruises for Singles
Fred.Olsen is a UK cruise line that attracts more mature adults, including singles.
Activities include arts,  cooking, and dancing classes.
Fred.Olsen even providing gentlemen hosts as ladies dance partners.
There are single cabins available on all ships with no extra single supplement charges.
For more Fred. Olsen single cruise information.
P&O Cruises for Singles
P&O cruises are a popular British cruise line.   They have some large ships full of activities both day and night.
For singles Arcadia and Aurora are both adult-only ships, so might be better options than the more family-orientated ships, which will have kids onboard, especially during the school holidays.
See P&O Cruises for solo travelers for more info.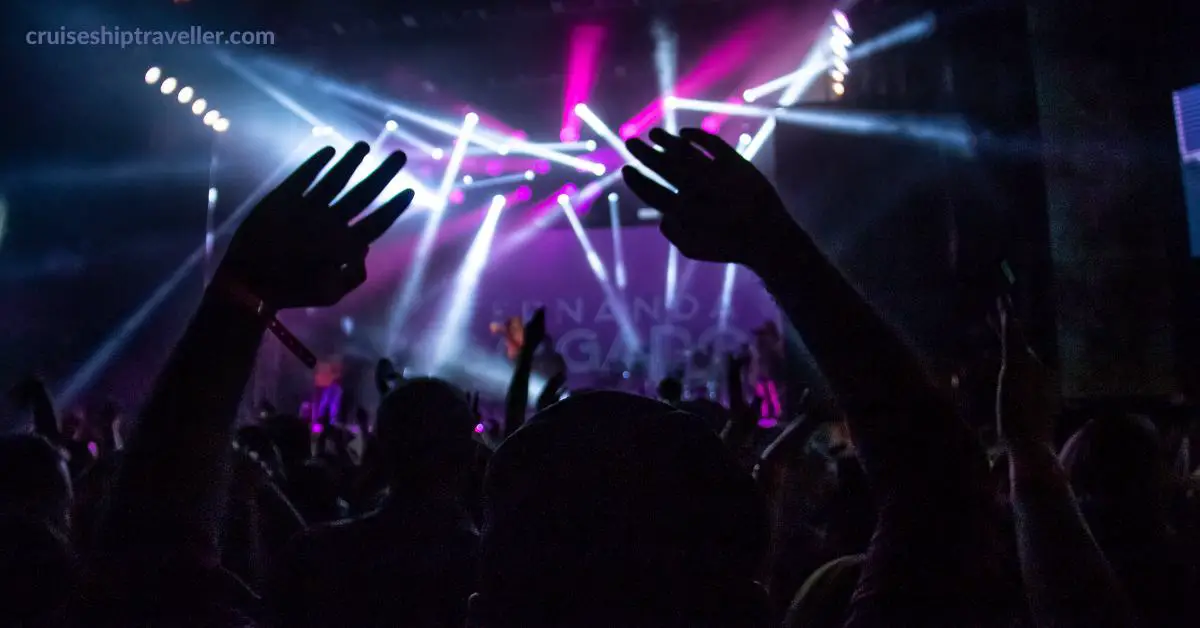 Music Cruises
Similar music tastes can be a great start to getting to know other singles on board.
There is a wide range of music-themed cruises available every year featuring world-famous artists, whether they be 20-40-year-old rock bands or new upcoming acts.   There are choices for every taste.
Examples include:
Blues
Christian music
Country Music
Dance
Flower Power / Hippy
Reggae
Rock
Heavy Metal
As well as music by the decade, 60s, 70s, 80s, 90s, and 2000's.   
Themed Cruises for Singles
Themed cruises are another option for mixing with people with like-minded themed interests.  For some, this can make it much easier to chat with people with a common interest.
There are all kinds of non-musical-themed cruises to suit all tastes.
Some theme cruise examples include:
Cat Lovers
Golden Girls
Golf 
Gothic
Sports 
Star Trek
Wrestling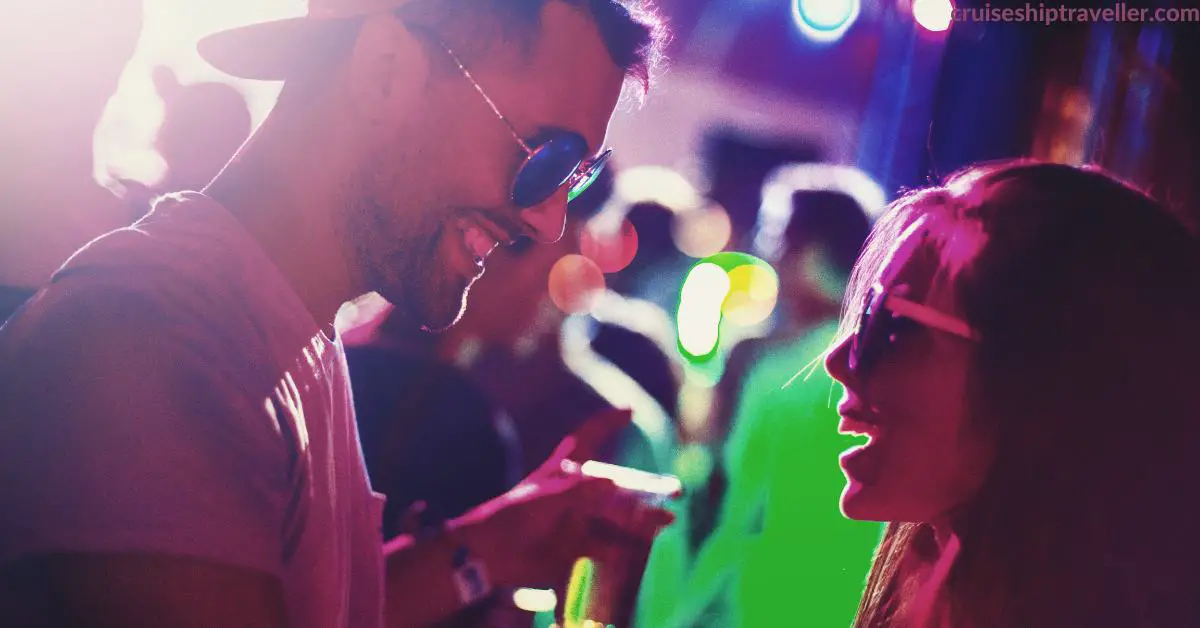 Party Cruises for Singles 
The best party cruises for singles tend to be the short three to five-night cruises on affordable mainstream lines like
Carnival
Norwegian Cruise Line
Royal Caribbean. 
These cruises attract a younger crowd and offer a lively party scene that many enjoy.
They are all ideal for the 18 to 30 age range.
Cruising can be expensive, especially if traveling solo and having to pay room surcharges.
If you're on a budget, you can save some money by cruising on older, smaller ships within the mainstream fleets. These ships usually have lower cruise fares but still offer a great party atmosphere. 
Another tip is to find a single friend to go with and share a room.  Just let them know it's your intention to possibly hook up while you are both away so they know what to expect and won't miss you around when you do. 
Lifestyle Cruises for Singles
Elsewhere we have covered "swinging or lifestyle cruises" and nude cruises.  These are more suited to people who already live the lifestyle.
Most of the people who go on these will be couples.   Although single men and women are welcome, it's the women (sometimes referred to as unicorns because of their rarity) who will find it easier to mix with other willing couples).
Although it might be worth mentioning, one common signal people into the lifestyle is the hidden meaning of upside down pineapple on their cruise door or perhaps on their clothing or person.   Even if they aren't aware of its secret meaning, its can be a flirty conversation starter.
Lifestyle Cruises Singles Policy's
Temptation cruises allows both single men and women on board.
Bliss Cruises only permits singles onboard if they are staying with a couple.
For more information, see the best lifestyle cruises.
<<Image of singles guys….or single guy chatting up woman)
Best Cruises for Single Guys
The best cruises for single men are ones with lots of fellow single women on to socialize and mingle with. 
This could be via onboard parties and nightclubs or via lots of various onboard activities, which offer numerous opportunities to mix with and get to know other single guests.
Chartered singles cruises are a particularly good option if you want to be sure the majority of the guests are specifically looking to mix wit a singles crowd.
Choose the ships most suited to your age range and activities interests.
As regards cost it helps if you choose a cruise ship with single cabins so you can avoid any additional surcharge costs.   Although on some instances, there are cheaper double-occupancy staterooms available 
Hooking up with Cruise Staff
Hooking up with cruise staff is best avoided.  While cruise staff may be easy to chat with they are not there for social pleasure and are being paid to be friendly to passengers.
If the staff member was caught having a relationship with a passenger, they could potentially lose their job.
That's not to say hooking up with staff is unheard of.  It does happen but is best avoided.  If you choose the right cruise, you should have plenty of other options anyway.
Frequently Asked Questions
Do You Get Laid On A Singles Cruise?
Its possible to get laid on a cruise, but just like when you socialise with people on land its not always a given.   You will increase your chances of getting laid on a cruise if you choose one more geared to singles and partying.
We have tips here on how to get laid on a cruise.
Can You Get Condoms on a Cruise Ship?
Not all cruise ships sell condoms onboard, so be safe and make sure you take your own.
Can You Get Plan B on a Cruise Ship?
Most cruise ships don't stock the morning-after pill, so either pack your own and or take other forms of protection.
Wrapping Up
If your primary intent is hooking up on a cruise with other singles, you have a wide range of different cruise types to choose from.   
If your absolute priority is to hook up and get laid, a dedicated singles cruise is will probably be your best choice as you'll know for sure almost everyone in the group is single and has specifically chosen a singles cruise so more likely looking for the same thing (but not always).
If you are looking to have an alround great time with a more likely possibility of hooking up, there are a wide range of regular and themed type cruises to choose from.